Industry Outlook
Unmanned Surface Vehicles (USVs) are autonomous vehicles that are capable of float on water surface. Although unmanned aerial vehicles (USVs) have been around for past few years and their numbers are growing consistently. Despite the fact that these are still not as pervasive as their aerial versions, unmanned surface vehicles (USVs) have tremendous potential to set down their roots very deep. For several applications right from small vessels used security surveillance to autonomous cargo ships, it is sure that in coming years, numerous mariners will work from a home office. Consequently, unmanned surface vehicles (USVs) market is expected to reach US$ 4.88 Bn from US$ 1.62 Bn in 2018 growing with a growth rate of 11.7% throughout the forecast period from 2019 to 2027.
Market Synopsis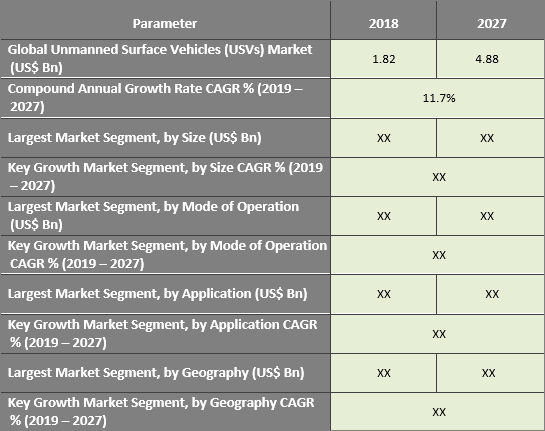 Get a sample copy for more information
"Large and Extra-large Unmanned Surface Vehicles are Expected to Achieve New Heights in Coming Years"
Based on the size availability unmanned surface vehicles (USVs) are classified into small size USVs, medium size USVs, large size USVs, and extra large size USVs. At present large size, unmanned surface vehicles are leading the way in terms of market value in the global USVs market. Large USVs are extensively used for military & defense application including surveillance and counter insurgency. Besides military applications, large USVs are also used for carrying heavy cargo and commercial end-use. The significance of large USVs is expected to grow even further in coming years allowing the segment to cement its position firmly at the top.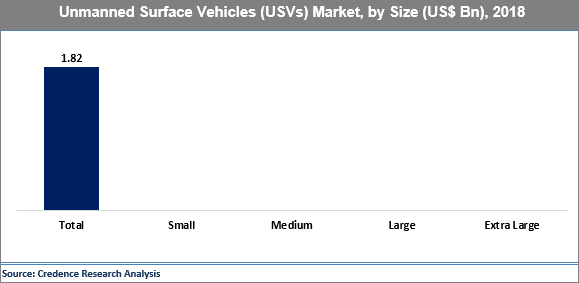 Get a sample copy for more information
"Completely Autonomous USVs are Soon to Takeover the Market from Semi-autonomous Versions"
Unmanned surface vehicles are broadly classified into semi-autonomous and fully autonomous based on their mode of operation. At present, the market is dominated by semi-autonomous USVs, however, the segment is expected to lose its market share to autonomous version in coming years. With rapid proliferation of geo-location technologies, GPS systems and radar systems, fully autonomous USVs are anticipated to cement its position firm across different end-use applications. End-use applications such as defense, scientific survelliance, and other mission-critical application often prefer autonomous USV thus, encouraging the growth of this variant.
Get a sample copy for more information
"High Defense Expenditure in the Region Helped North America to Achieve Top Spot in Global Unmanned Surface Vehicles Market"
With the presence of the United States, the biggest spender on defense budget across the globe, North America emerged as the worldwide leader in unmanned surface vehicles (USVs) market. At present defense and military department of the United States are heavily incorporating USVs for surveillance and other military operation. Besides, use of USVs for scientific research and off-shore surveys are also encouraging the growth of the market in this region. With tremendous growth opportunities, North America is expected to maintain its position throughout the forecast period from 2019 to 2026.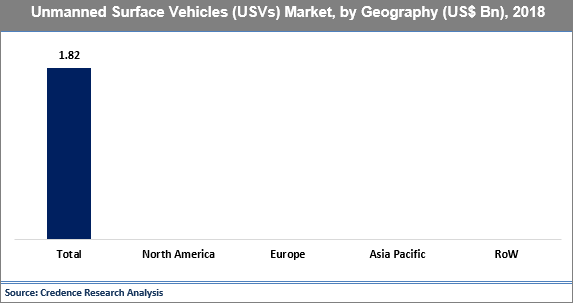 Market Segmentation
ATTRIBUTE
DETAILS
Research Period
2017-2027
Base Year
2018
Forecast Period
2019-2027
Historical Year
2017
Unit
USD Billion
Segmentation

by Size (2017–2027; US$ Bn)
• Small
• Medium
• Large
• Extra large

by Mode of Operation (2017–2027; US$ Bn)
• Semi-autonomous
• Autonomous

by Application (2017–2027; US$ Bn)
• Defense
• Scientific Research
• Oil & Gas
• Renewable Energy
• Off-shore Survey
• Commercial
• Others (Search & Rescue, Debris Removal, etc.)

Geography Segment (2017–2027; US$ Bn)
• North America (U.S.,Canada)
• Europe (U.K., Germany, France, Rest of Europe)
• Asia Pacific (China, Japan, India, Rest of Asia Pacific)
• Rest of the World (Middle East & Africa, Latin America)
Competitive Landscape
The research study covers some of the leading unmanned surface vehicles (USVs) including Elbit Systems Ltd., Rafael Advanced Defense Systems Ltd., Teledyne Technologies, Inc., Textron, Inc., ASV Global, Atlas Elektronik GmbH., 5G International, Inc., Eca Group, Liquid Robotics, Inc., and Searobotics. Almost all the aforementioned companies are leading companies with respect to the military and defense and autonomous systems providers. These companies are facing fierce competition with each other in order to acquire vital government contracts. Furthermore, these companies are also buckling up to confront new entrants in the market as this particular market hold tremendous potential for new companies. These companies are also striving hard to introduce their products equipped with state-of-the-art technology in order to claim their market share. Other competitive analysis and business strategies are discussed in details in the research study.