Helicopters have among the highest rates of crashes as compared to other aircrafts including airplanes, balloons and blimps. Although the fatality rate is relatively low, economic loss in helicopter crash is significantly high. Subsequently, unmanned helicopters have been developed in order to operate in critical operations posing danger to human life. Unmanned helicopters are unmanned systems designed to operate without any human operator onboard. These are equipped with artificial intelligence system along with a combination of sensors and autonomous control systems. This helps these helicopters to operate and navigate by themselves safely even in harsh environments having numerous obstacles.
The overall market is primarily driven by the rising expenditure by the governments over unmanned systems in the defense sector. Unmanned systems offer numerous advantages including reduced personnel loss, more efficient operation in harsh conditions and low overall cost of operation. In addition, unmanned helicopters offer the benefit of operation in critical terrains where unmanned aircraft face limitation in operation. Various national governments are promoting research activities for development of robust autonomous helicopter design. Similarly, aerospace & defense companies such as Lockheed Martin Corporation, Northrop Grumman Corporation, Saab Group and several others are investing heavily on designing more effective autonomous helicopter so as to cater to wide range of applications.
Apart from the defense sector, unmanned helicopters market is also driven by the increasing prospects for these helicopters across commercial applications. Unmanned helicopters are already being used for agriculture surveys and are considered to be viable solution for air cargo. Similarly, unmanned helicopters are believed to be significantly suitable for transporting passengers. Thus, wide range of prospective applications for unmanned helicopters is expected to substantially drive the overall market in the following years. However, challenges such as requirement of skilled personnel and limited radio control in remote areas pose significant challenge for unmanned helicopters. Continual efforts improving autonomous controls and flight time is expected to subside the impact of these challenges in the following years.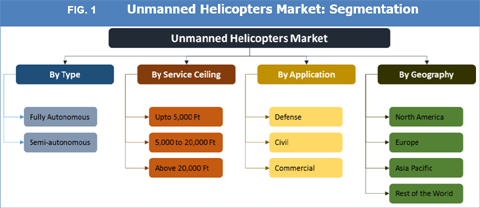 Some of the major players profiled in the report are Lockheed Martin Corporation, Northrop Grumman Corporation, Boeing Company, Airbus SE, Leonardo S.p.A., China North Industries Corporation (Norinco), Aviation Industry Corporation of China (AVIC), Israel Aerospace Industries Ltd., Aeroscout GmbH, American Unmanned Systems, LLC, Aurora Flight Sciences (Boeing company), AirStar International, Inc., Yamaha Motor Company, Saab Group, Russian Нelicopters JSC and several others. Majority of the players are focused upon conducting extensive research & development for betterment of unmanned helicopters design. One of the major challenges for unmanned helicopters sector is payload carrying capacity and endurance. Companies operating in the market emphasize on developing designs capable of carrying more payload systems with minimized helicopter weight. In addition, several companies, especially in China, are inclined towards developing unmanned helicopters capable of conducting combat operations.