"Increasing adoption of artificial intelligence in the automotive industry is fueling the growth of Valet Robot Market"
Globally, the valet robot market is expected to grow with a CAGR of more than 15% during the forecast period from 2019 to 2027. Globally, robots have been introduced to conduct various regular tasks such as security, cleaning and many more. As the demand for additional help increases, the adoption of robots in also increasing with time. Advancements with the help of artificial intelligence have made it's easy to develop and modify machines in a way that is needed. In this case, machines a.k.a robots are used to perform the activity of valet parking in public areas. Increasing implementation of artificial intelligence in every step of life, valet parking is also witnessing the effect of automation and AI.
At areas such as airports, these valet robots are helping airport officials interact with passengers and provide them assistance at the airport. Valet robots scan the vehicle and conduct a security check, and then lifts up the vehicle and parks it at a suitable space. Studies have concluded that, these robots can fit 50% more cars in the same parking space, reducing the inconvenience caused usually. Such advantages of valet robots have increased their adoption and thus results in increasing market size in various regions. Moreover, increasing urbanization, growing influx of people in central locations of major cities, and growing venture capital investments, are also driving the growth of valet robots market during the forecast period. However, technical issues such as malfunctioning of the robots and upcoming self-driven vehicles are likely to have a negative impact on the valet robots market.
Market Synopsis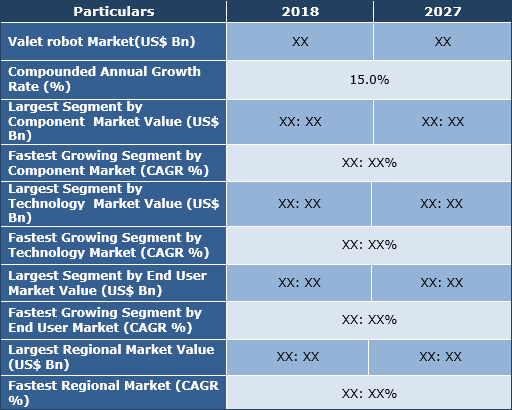 Get a sample copy for more information
"Airports segment is expected to Continue Dominating the Market"
In 2018, the airports end-user segment led the market by contributing the maximum market share in the global valet robot market. Valet Robot is a new concept, which increases the efficiency of parking as many cars in possible space. This concept is highly adopted at the airports, as these places deal with large number of vehicles. The integration of artificial intelligence within airports have mainly resulted in the implementation of valet robotic services.
Introduction of advanced technology machines at the airports mainly focus on improving the airport services and is expected to lead to enhanced customer experience, in the coming few years. This has increased the demand for robots to perform the parking activities at the airport parking lots along with security checks. European countries such as France, UK, Netherlands and others have already established the automated robotic valet system. Along with this, many other developed countries are now initiating in introducing the valet robots at their major airports. This increasing adoption at the airports is fueling the growth of valet robots market during the forecast period.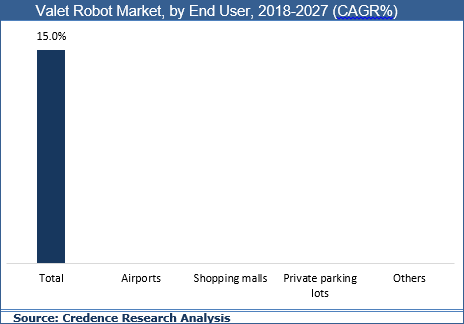 Get a sample copy for more information
"Asia Pacific to Register the Fastest Growth"
Europe dominates the valet robot market. In 2018, the regional market accounted for nearly 31% of the total revenue generated worldwide. Increasing adoption of advanced technologies to make human work easy is the major factor attributed to this high market size. As the rate of adoption of valet robots parking is high in Europe compared to other countries, this region holds the maximum market share. As many of the European airports are in the list of busiest airports in the world, robotic valet parking helps in smoothing the process and releasing the pressure from the passengers. Moreover, airports apart from France, UK and Netherlands have also taking initiatives to undergo trial runs on the valet robots and make a decision on the installation of this system.
Furthermore, in North America and Asia-Pacific, significant activities have been observed based on factors such as emerging economic conditions, increasing number of financial districts, investments in smart city development, and rising urbanization in metropolitan cities. These factors are likely to drive the growth of valet robots market in these regions.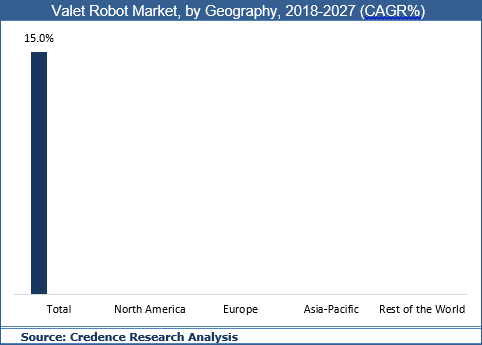 Get a sample copy for more information
Some of the prominent players operating in the Valet Robot Market include Stanley Robotics, FATA Automation, Inc., Applied & Integrated Manufacturing, Inc., Skyline Parking AG, Robotic Parking Systems, Inc., CityLifts India Ltd, Smart City Robotics, Dayang Parking Co. Ltd., Westfalia Technologies, Inc. and EITO&GLOBAL INC.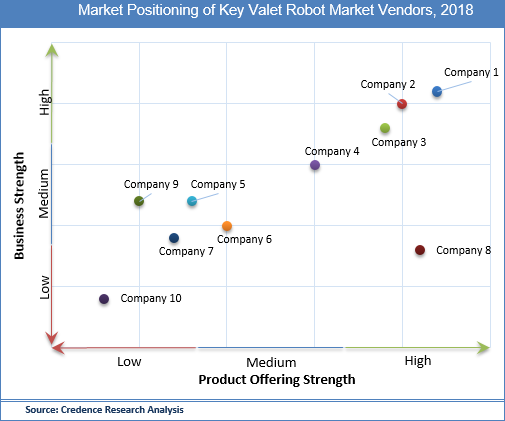 Historical & Forecast Period
This research report presents the analysis of each segment from 2017 to 2027 considering 2018 as the base year for the research. Compounded Annual Growth Rate (CAGR) for each respective segments calculated for the forecast period from 2019 to 2027.
Report Scope by Segments
The Valet Robot Market report provides market size and estimates based on market dynamics and key trends observed in the industry. The report provides a holistic view of global Valet Robot Market based on application, and geography. Key segments covered in the report are as follows:
ATTRIBUTE
DETAILS
Research Period
2017-2027
Base Year
2018
Forecast Period
2019-2027
Historical Year
2017
Unit
USD Billion
Segmentation

Component Segment (2017–2027; US$ Bn)
• Software
• Hardware

Technology Segment (2017–2027; US$ Bn)
• Sensor Technology
• Mobile Technology
• RFID
• Others

End User Segment (2017–2027; US$ Bn)
• Airports
• Shopping malls
• Private parking lots
• Others

Geography Segment (2017–2027; US$ Bn)
• North America (U.S., Rest of North America)
• Europe (U.K., Germany, France, Rest of Europe)
• Asia Pacific (China, Japan, India, Rest of Asia Pacific)
• Rest of the World (Middle East & Africa, Latin America)
Key questions answered in this report
What was the market size of valet robot in 2018 and forecast up to 2027?
Which is the largest regional market for the software segment?
What are the major trends followed in valet robot market across different regions?
Who are the key valet robot companies leading the market?
What are the key strategies adopted by the leading valet robot companies in market?
Unique data points of this report
Statistics on valet robots penetration and spending worldwide
Recent trends across different regions in terms of adoption of valet robots for various end-users
Notable developments going on in valet robot industry
Attractive investment proposition for segments as well as geography
Comparative scenario for all the segments for years 2018 (actual) and 2027 (forecast)