Industry Outlook
Vehicle security system prevents vehicle theft and avoids usage of vehicles by some unauthorized person. A significant rise in the number of automotive across the globe and proportional growth in crime associated with automotive considerably accelerated the demand for vehicle security system. Consequently, vehicle security systems market scored a value of US$ 7.31 Bn in 2017 and projected to mark US$ 13.08 Bn by 2026. The market contemplated growing with a growth rate of 6.7% throughout the forecast period from 2018-2026.
Market Synopsis
Get a sample copy for more information
Immobilizers Zoomed Ahead Over Vehicle Security Systems in Terms of Market Value
Central locking systems and vehicle alarm systems were the leading vehicle security systems and adopted by several automotive manufacturers. However, aforementioned technology came with serious shortcomings and antisocial elements were successful to break-in and attempted vehicle theft. Immobilizer vehicle security systems do not allow engine to start in case of unauthorized entry. This does not allow the criminals to fly-away with the vehicles. It is one of the most trusted security systems and extensively preferred by leading automotive manufacturers over alarm and central locking systems. Immobilizer security systems projected to lead to the overall segment in terms of market value.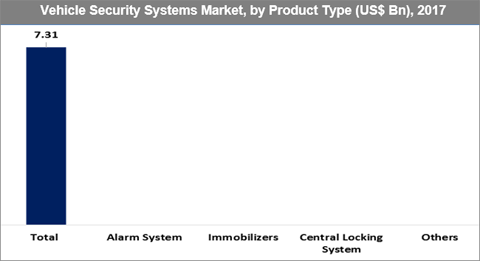 Get a sample copy for more information
OEM and Aftermarket Market Value Runs in Close Quarters in Vehicle Security Systems Market
The market value and market share of OEM and aftermarket vehicle security systems indicated head-to-head competition with each other. However, OEM has an upper hand on aftermarket in terms of trust and peace of mind with respect to consumers' preference. Although the cost of OEM vehicle security is quite high compared to aftermarket, OEM was successful in installing trust factor and encouraging consumers to go for this distribution channel. However, developing countries of Asia Pacific are price driven economies and consumers here often go for low-cost aftermarket alternative. Therefore, large number of vehicle security systems by aftermarket gained enough market share to challenge OEM in Asia Pacific.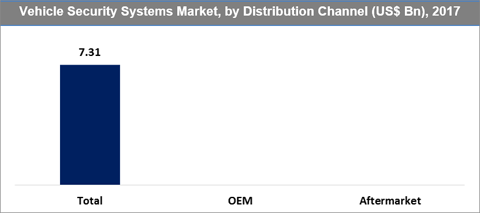 Get a sample copy for more information
Passenger Cars Undisputedly Dominated the Vehicle Security Systems Market
In 2017, passenger cars are the clear winner in terms of market value and share in overall vehicle security systems market. Majority of the crimes such as vehicle thefts are associated with passenger cars and realizing the fact, automotive manufacturers roll out their every product with security features. Unfortunately, another vehicle type not yet got enough attention with respect to security systems. Commercial vehicles including public transport and school buses vehicle security system are gaining some momentum and projected to grow with a considerable growth rate in coming year.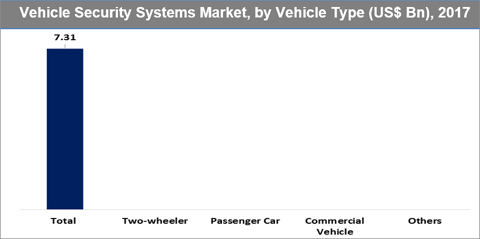 Asia Pacific Secured the Majority of Market Share in Vehicle Security Systems Market
Largest automotive vehicle market tag helped Asia Pacific to claim majority of market share to dominate overall vehicle security systems market. The region is home to some of the largest automotive manufacturers and the demand for passenger cars is considerably high in developing countries. In addition, rise in the number of criminal activities associated with automotive and especially vehicle theft urged demand for vehicle security systems in Asia Pacific. North America and Europe trailed Asia Pacific in terms of market value. Introduction of biometrics security and passive entry system is highly encouraged in North American automotive manufacturers. High demand coupled with disposable income ranked North America second in global vehicle security systems market.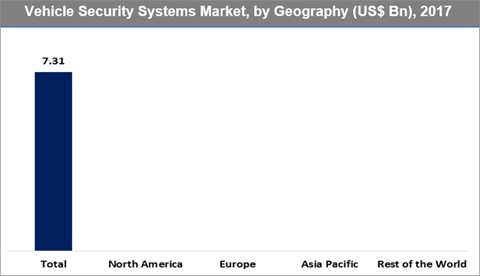 Market Segmentation
ATTRIBUTE
DETAILS
Research Period
2016-2026
Base Year
2017
Forecast Period
2018-2026
Historical Year
2016
Unit
USD Billion
Segmentation

By Product Type (2016–2026; US$ Bn)
• Alarm System
• Immobilizers
• Central Locking System
• Others (Keyless Entry, Passive Entry, etc.)

By Technology (2016–2026; US$ Bn)
• GPS
• Mobile Communication
• Biometrics
• Real-Time Location System

By Distribution Channel (2016–2026; US$ Bn)
• OEM
• Aftermarket

By Vehicle Type (2016–2026; US$ Bn)
• Two-wheeler
• Passenger Car
• Commercial Vehicle
• Others (Earthmoving Vehicle, Adventure Sports Vehicles, etc.)

Geography Segment (2016–2026; US$ Bn)
• North America (U.S. and Canada)
• Europe (U.K., Germany, France, and Rest of Europe)
• Asia Pacific (Japan, China, India, and Rest of Asia Pacific)
• Rest of World (Middle East & Africa (MEA), Latin America)
Fortifying Product Security is the Key for Leading Vendors to be on the Forefront
Vehicle security system is one the few components in automotive manufacturing that is quite consolidated and is characterized by few but strong competitors. These companies are backed by heavy funding for research and development for product improvement. Besides, these companies face each other to acquire long-term partnership with leading automotive manufacturers as their OEMs. Strategic geographic expansion is also of the vital strategies observed closely by these players, which makes entry of new companies more difficult. Some of the key vehicle security systems vendors profiled in this research study include Hella KGaA Hueck & Co., Continental AG, Robert Bosch, Denso Corporation, Delphi Automotive PLC, Valeo S.A., Omron Corporation, Lear Corporation, TRW Automotive, Alps Electric, and Mitsubishi Electric Corporation among others.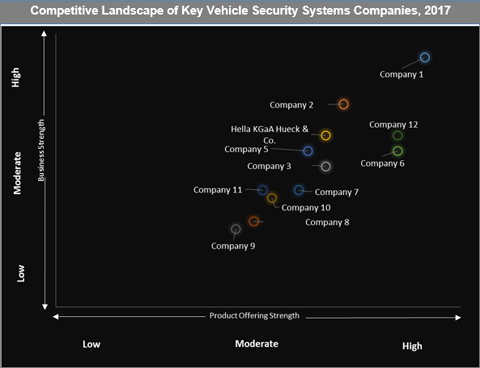 Key questions answered in this report
What are the recent trends in global vehicle security systems market and possible prospective for automotive security systems providers?
How rise in demand for automotive and crimes associated with them created a postive environment for growth of global as well as regional automotive security systems market?
Which are the largest and fastest growing segment in product type, technology, distribution channel and vehicle type?
Which is the most attractive geographical region/country for overall vehicle security systems market?
How developing technology and biometrics systems play a crucial part in overall vehicle security systems market in coming years?
What is the market value, estimation, and tendencies in developing regions such as Asia Pacific, Middle East & Africa, and Latin America?