Growing Popularity of Smart Homes Driving the Video Intercom Devices Market Growth
Video intercom devices market was valued at US$ 16.24 Bn in 2017 and expected to grow at a CAGR of 13.5% during the forecast period from 2018 to 2026. Video intercom device facilitates audiovisual communication and is considered an advanced from of simple voice intercom. The audiovisual feature of the intercom enables a person sitting inside a building to recognize and communicate with any visitor and thereby decide whether to permit the visitor an entry or not. The increasing installation of video intercom devices can be attributed to the growing popularity of smart homes across different regions. Governments in various countries are investing heavily in the development of smart cities. This in turn is creating positive demand for security infrastructure and devices such as video intercom devices. In addition, growing security concerns is another prominent factor aiding the video intercom devices market growth. These factors are expected to positively influence the video intercom devices market growth.
Market Synopsis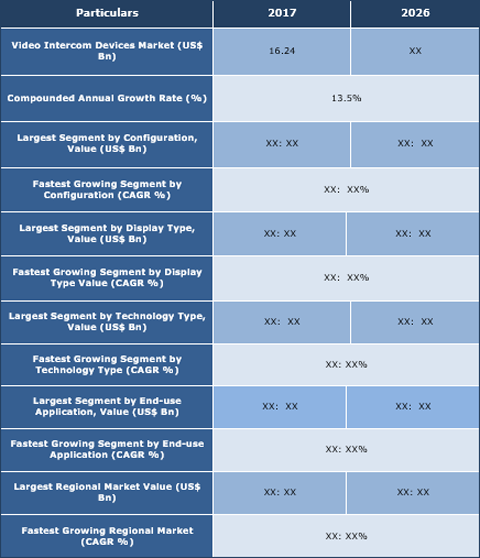 IP Technology based Video Intercom Devices to Gain in Prominence in the Years to Come
Technological advancements have led video intercom devices to switch from analog-based technology to IP based technology. This move is further beneficial as it facilitates better assistance to customers. For instance, recently Panasonic introduced a new full IP video intercom system. The new system works with a wide range of devices, including networked CCTV cameras, SIP phones and network video recorders. The system can be connected using a single cable thereby reducing installation complexity and cost. Similarly, Aiphone Corporation recently replaced its analog technology based video intercoms with IP networked technology thereby increasing the application area of the products. Moreover, it also improved the interoperability and audio-video quality of the devices.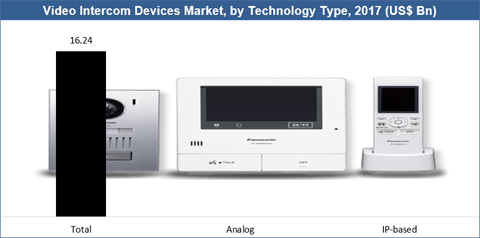 North America Being an Early Adopter of "Smart Technology" has helped the Market to flourish in the Region
The global video intercom devices market was dominated by North America accounting for more than 35% of the overall market value in 2017. The video intercom devices market in the region is driven by rising spending over security systems coupled with strong home automation industry. Factors such as sophisticated communication infrastructure and strong inclination towards 'smart' technologies contributes to the overall growth of the video intercom devices market in North America. Therefore, considering the aforementioned factors the adoption of security systems with advanced security features are expected to be on the rise in the region. Moreover, people also consider these systems as a value-added service for better quality of living.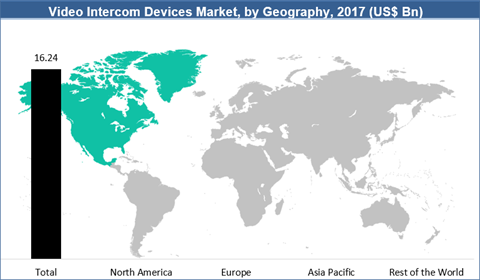 R&D activities to Remain in the Centre Stage in Coming Years
One of the most common strategies adopted by players in the video intercom devices market is product innovation, which is directed towards improving the existing products and developing new video intercoms devices with better functionalities. For instance, in December 2017, Hikivision introduced a new two-wire design video intercom. The new intercom boosts various new features and facilitates convenient installation and enhanced residential security with high-definition imaging. Similarly, The Ring, a company specializing in home security products launched a video doorbell equipped with an intercom with night infrared vision.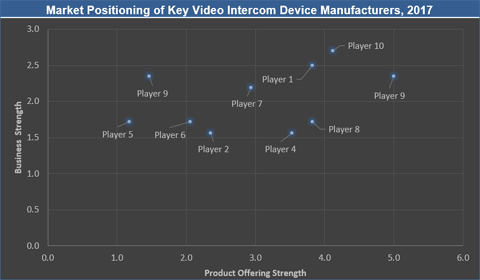 Historical & Forecast Period
2016 – Historical Year
2017 – Base Year
2018-2026 – Forecast Period
This research report presents the analysis of each segment from 2016 to 2026 considering 2017 as the base year for the research. Compounded Annual Growth Rate (CAGR) for each respective segments are calculated for the forecast period from 2018 to 2026.
Report Scope by Segments
The report elucidates the detailed outline of global video intercom devices market by categorizing the market in terms of configuration, display type, technology type, end-use application and geography.
Configuration (2016–2026; US$ Bn)
Display Type (2016–2026; US$ Bn)
Technology Type (2016–2026; US$ Bn)
End-use Application (2016–2026; US$ Bn)
Residential
Commercial
Educational
Industrial
Government
Geography Segment (2016–2026; US$ Bn)
North America

Europe


United Kingdom
Germany
France
Rest of Europe

Asia Pacific (APAC)


China
Japan
India
Rest of APAC

Rest of the World (RoW)


Middle East & Africa (MEA)
Latin America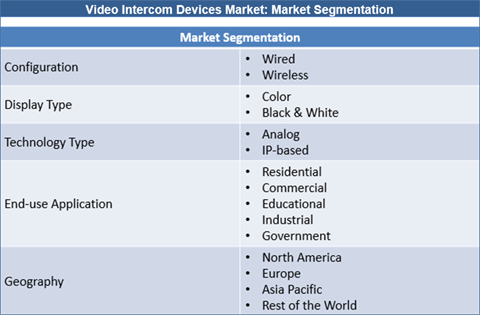 Key players profiled in the report include Panasonic Corporation, Honeywell Security, Legrand SA, Samsung, Airphone Corporation, Godrej Group, Zenitel, Zicom, Comelit Group S.P.A., Hangzhou Hikvision Digital Technology Co. Ltd. and Dahua Technologies Co. Ltd. among others.
Key questions answered in this report
What was the global video intercom devices market size in 2017 and forecast for 2026?
What are the current market trends in the video intercom devices market?
What are the various valuable opportunities for the players?
Which are the bestselling video intercom device brands in the market?
Which is the largest regional market for video intercom devices?
Which region expected to be the fastest growing and why?
What are new products launched by the leading video intercom device manufacturers?
What are the key strategies adopted by the leading players in market?
What are the technological trends existing in the market?