Overview:
The global video streaming market was valued at US$ 38.11 Bn in 2018 and is projected to witness noteworthy growth, expanding at a CAGR of 17.7% during the forecast period from 2019 to 2027. Advancements in technology have made anything-anytime-anywhere a scalable and definite reality for content consumption. It has added an extra convenience to video consumption through live streaming or video on demand. Earlier, consumption of video content has been in the form of television and cinema. Videos were taken and transmitted in an analog form and consumption of the content was made convenient in physical form through a disc rental and delivery services through mail. From many decades now, video has been an essential media for entertainment and communication. Nevertheless, the advent of digital integrated circuits and computers has led to compression video. Since the past decade, there has been consistent increase in the amount of network traffic carrying video content. Amongst these, the application for video streaming have a significant share. Several applications like live TV, video telephony, video conferencing, video on demand (VOD) and Internet protocol television (IPTV) use video streaming incessantly.
High adoption of digital technologies across various verticals has led to the inclination towards various streaming solutions and services. Proliferation of online streaming over media such as YouTube, Netflix, Amazon Prime, etc. is expected to rise in the years to come. This, in turn is likely boost the growth of the overall video streaming market worldwide. Moreover, growing adoption of smart devices owing to the growing acceptance of social media platforms and digital mediums for activities such as branding and marketing is projected to enhance the market growth in the near future.
Market Snapshot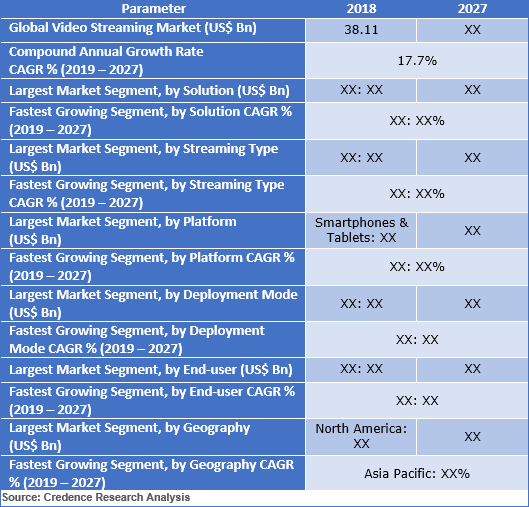 Get a sample copy for more information
"Smartphones & Tablets garnered Largest Market Share in 2018"
In 2018, smartphones & tablets segment accounted for the largest market share. The segment is expected to grow at a significant rate during the forecast period from 2019 to 2026. In the last few years, consumption of online media has shown incredible growth. Also, devices used for accessing digital content have evolved incessantly. This has improved the array of platforms on which a user can stream video and audio content. Amongst the digital platforms, smartphones & tablets have taken over as the most preferred medium of consuming online media. The market for smartphone has seen an exceptional growth in the last few years. Increase in the number of mobile devices & tablets is making it easier for consumers to access video and music content on the go which in turn is boosting the video streaming market worldwide.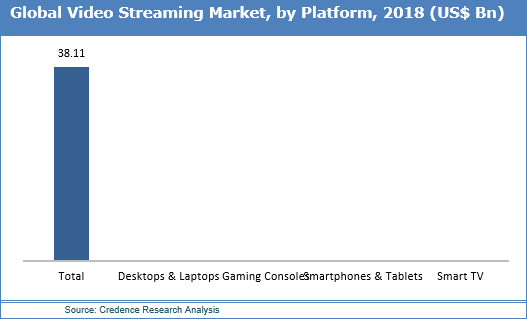 Get a sample copy for more information
"North America dominated the Video Streaming Market in 2018"
Based on geography, North America represented the largest market share for video streaming in 2018. The region is likely to grow at a substantial growth rate during the forecast period from 2019 to 2027. The U.S. market led the North America video streaming market in 2018 and is expected to retain its position in the years to come. Over 80% of all U.S. smartphone users now stream video on their devices. The usage is mainly being driven by users who are in the age group of 25 or younger, who spend twofold as much time watching video content on Netflix and YouTube mobile applications compared to users who are over the age of 25. In the U.S., media consumption has shown remarkable increase and has seen a substantial jump from traditional media to new (digital) media. The rise of digital media players such as Netflix, Amazon, Hulu, Apple TV, etc. are challenging the traditionally maintained reign of television as the key entertainment hub. As a result, rising use of mobiles and tablets coupled growing popularity of online streaming is facilitating the regional growth.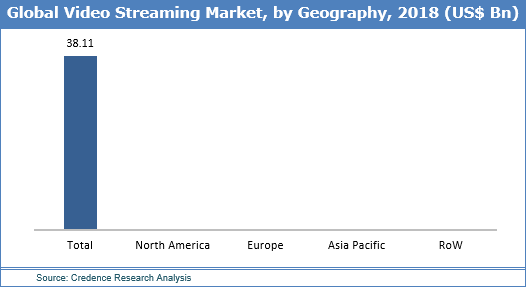 Get a sample copy for more information
Competitive Insights
The major players identified in the video streaming market include Netflix, Inc., Amazon.com, Inc., Hulu, Google, Inc., Microsoft Stream, Adobe Inc., Akamai Technologies, Inc., Apple Inc., AT&T Inc., Cisco Systems, Inc., Kaltura, Inc., IBM Cloud Video (Ustream, Inc.), and Wowza Media Systems, LLC among others. These players are incessantly concentrating on strengthening their portfolio in order to cater the rising needs of the customers. Partnerships and new product/service development remains some of the major strategies adopted by the leading players to have an edge over their counterparts. For instance, in July 2019, Hulu launched a novel live TV guide and reintroduced 4K streaming. The live guide shows which live TV shows are currently available for watching on the streaming service and also shows what new is coming up in the upcoming weeks.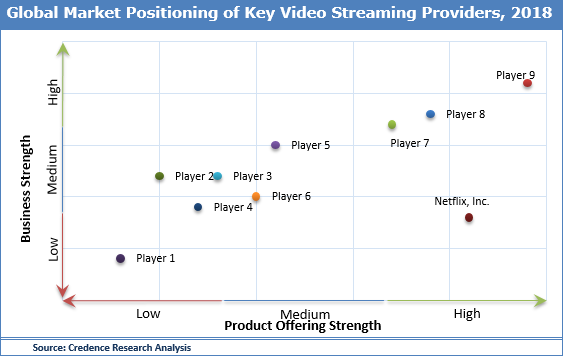 Historical & Forecast Period
The research report presents the analysis of each segment from 2017 to 2027 considering 2018 as the base year for the research. Compounded Annual Growth Rate (CAGR) for each respective segments calculated for the forecast period from 2019 to 2027.
Report Scope by Segments
Smart electronics market report provides market size and estimates based on market dynamics and key trends observed in the industry. The report provides a holistic view of global video streaming market based on solution, streaming type, platform, deployment mode, end-user, and geography. Key segments covered in the report are as follows:
ATTRIBUTE
DETAILS
Research Period
2017-2027
Base Year
2018
Forecast Period
2019-2027
Historical Year
2017
Unit
USD Billion
Segmentation

Solution Segment (2017-2027; US$ Bn)
• Transcoding and Processing
• Video Management
• Video Delivery and Distribution
• Video Analytics
• Video Security
• Others

Streaming Type Segment (2017 – 2027; US$ Bn)
• Live Video Streaming
• Video on Demand Streaming

Platform Segment (2017 – 2027; US$ Bn)
• Desktops & Laptops
• Gaming Consoles
• Smartphones & Tablets
• Smart TV

Deployment Mode Segment (2017 – 2027; US$ Bn)
• Cloud
• On-premise

End-user Segment (2017 – 2027; US$ Bn)
• Enterprise
• Consumer

Geography Segment (2017-2027; US$ Bn)
• North America (U.S., Rest of North America)
• Europe (U.K., Germany, France, Rest of Europe)
• Asia Pacific (Japan, China, India, Rest of APAC)
• Rest of the World (Middle East & Africa, Latin America)
Key questions answered in this report
What was the market size of video streaming market in 2018 and forecast up to 2027?
What are the key factors driving the global video streaming market?
What are the key market trends and high-growth opportunities observed in the video streaming market?
What are the drivers of the video streaming market?
Which is the largest regional market for video streaming market?
Which segment will grow at a faster pace? Why?
Which region will drive the market growth? Why?
Which players are leading the video streaming market?
What are the sustainability strategies adopted by the key players operating in the market?