Video surveillance as a service (VSaaS) refers to the provision of remote monitoring and video management services in exchange of a timely fee. Traditional deployments of video surveillance systems included installations of various components such as analog or network cameras, video encoders and decoders, storage devices, network infrastructure and video management software, among others. Traditional deployment video surveillance systems provided end-users with a higher degree of control over monitoring and recording capabilities. However, technological advancements in the camera and network technology along with increasing need to adapt to the latest market offerings made it cumbersome to maintain on-site video surveillance systems. Video surveillance as a service (VSaaS) has offered a viable solution for end-users to stay updated with the latest technological development in the field of video surveillance without incurring high investment costs. In addition, with the use of video surveillance as a service (VSaaS), customers are no longer required to maintain on-site skilled team of technicians. Thereby, video surveillance as a service (VSaaS) has gained immense popularity among various organizations for the purpose of remote monitoring and security provision.
Some of the key driving factors in the video surveillance as a service (VSaaS) market include constant technological advancements in the field of cameras, storage, and IP networks, among others. With video surveillance as a service (VSaaS), end-users can ensure the deployment of latest technologies to provide on-site security and safety. Other factors driving the growth of this market include the subscription based models which enable end-users to deploy customized video surveillance systems in exchange of a monthly or yearly fee instead of direct investments towards various equipment and software. Rising security threats and increasing need to provide safe and secured environment have led to the higher adoption of video surveillance as a service (VSaaS) in the recent years. However, lack of awareness among users and concerns related to information security pose as major challenges in the growth of the video surveillance as a service (VSaaS) market across the world.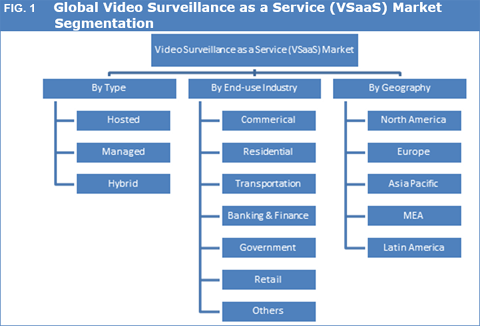 The report titled "Global Video Surveillance as a Service (VSaaS) Market- Growth, Future Prospects and Competitive Analysis, 2016 – 2024" offers strategic insights into the global video surveillance as a service (VSaaS) market along with the market size and estimates for the duration 2014 to 2024. The said research study covers in-depth analysis of multiple market segments based on mode of type, end-use industry and cross-sectional study across different geographies and sub-geographies. The study covers the comparative analysis of different segments for the years 2015 & 2024. The report also provides a prolific view on market dynamics such as market drivers, restraints and opportunities. In addition, the report covers a section providing analysis on the key market trends including switch from analog to digital systems, high-definition cameras, and integrated security applications based on video surveillance in various end-use industries.
In order to help strategic decision makers, the report also includes competitive profiling of the leading providers of video surveillance as a service (VSaaS), market positioning and key developments. Some of the major players profiled in the report are Axis Communications AB, ADT LLC dba ADT Security Services, Bosch Security Systems, Brivo Systems LLC, Cisco Systems, Inc., Honeywell International, Inc., IndigoVision Group plc., Verint Systems, Inc., MIRASYS LTD., Smartvue Corporation, OZVISION, Inc., Cameramanager B.V., MOBILE VIDEO SOLUTIONS INC (IVIDEON), and Genetec Inc.
Other in-depth analysis provided in the report includes:
Current and future market trends to justify the forthcoming attractive markets within the video surveillance industry
Market fuelers, market impediments, and their impact on the market growth
In-depth competitive environment analysis
Trailing 2-Year market size data (2014 – 2015)
SRC (Segment-Region-Country) Analysis
Overall, the research study provides a holistic view of the global video surveillance as a service (VSaaS) market, offering market size and estimates for the period from 2016 to 2024, keeping in mind the above mentioned factors.