Market Overview
A polysulfide construction sealant is a form of sealant used in building projects. Polysulfide construction sealants are frequently used to seal joints between concrete and masonry and metal and masonry. They are also employed in the sealing of roofing seams and flashings. Polysulfide construction sealants offer dependable, flexible, and water-resistant joints in various applications such as roofing, glazing, and flooring. The polysulfide construction sealant market is driven by the rapidly increasing construction of commercial and residential buildings and the growing demand for glazing and panels in new high-rise buildings. Polysulfide construction sealants also provide safety and ease of application, further driving market demand in the upcoming years. In addition, it is anticipated that the demand for polysulfide construction sealants will rise due to the rise in light- and environmentally-friendly buildings. However, the market expansion is constrained by government regulations in several nations regarding emissions of VOCs (volatile organic compounds).
Key Trends
Rapidly increasing maintenance and renovation activities in the global construction sector is one major trend Credence Research Inc. anticipates in the polysulfide construction sealant market. Rising disposable income and growing consumer living standards have resulted in an increase in renovation and maintenance projects, which is expected to drive the polysulfide construction sealants market. Polysulfide construction sealants fill gaps between two or more substrates and form a barrier that prevents other materials from passing through. They keep air and heat out of building structures, improving structural durability and strength.
Another trend that Credence Research Inc. expects to continue in the polysulfide construction sealant market is manufacturers' increasing focus on developing products with renewable content. As the high costs and restrictions on changing chemical compositions continue to threaten the growth of the polysulfide market, some top manufacturers are refocusing their efforts on creating new products that are more organic and environmentally friendly. Market players in polysulfide construction sealants are focusing their investments on introducing new products as they understand the characteristics of the product and its scope of application. As polysulfide construction sealant does not emit harmful fumes or gases, it is becoming increasingly popular for green building projects.
Economic Impact Analysis
When the economy slows, industries begin to suffer. The polysulfide construction sealant market report, 2022-2028, examines the economic downturn's predicted effects on the construction industry's major product usage. Demand in the construction sector is inherently volatile around the world.
According to a Credence Research Inc. market report, the global polysulfide construction sealant market will be significantly impacted by the recession. The already sluggish global market growth is anticipated to worsen as more countries fall into a recession. Construction workers report declining business leads over the past few months and are concerned about having a backup plan in case of a downturn in the economy. The recession negatively impacts the construction industry, reducing the demand for construction workers and related activities, and limiting the market for polysulfide construction sealants.
Ukraine-Russia War Impact
The Russian invasion of Ukraine and the resulting global humanitarian crisis have increased risk exposures in the world's money flows, goods, and commodities markets. The illegal and unprovoked conflict between Russia and Ukraine has caused significant revenue losses for Europe's polysulfide construction sealant markets. EU countries are closely coordinating their initiatives to combat rising costs and a lack of resources. Additionally, the trade-in polysulfide construction sealants in Asia is significantly impacted by the conflict between Ukraine and Russia. Additionally, rising energy prices have increased the price of raw materials. On the other hand, the increased government subsidies following Ukraine and Russia Wars have impacted the North American polysulfide construction sealant market.
China COVID Outburst December 2022
The current state of COVID-19 in China is likely to have negative repercussions on the polysulfide construction sealant market in 2023. The overall long-term impact of COVID-19 depends on several factors, along with the pandemic's global spread and duration, various governments' responses, and the disease's severity. China's economy shrank faster in December 2022 when it abruptly reversed its Covid Zero policy. These restrictions have significantly disrupted the supply chain for large companies that use polysulfide construction sealants. The labor shortage is also affecting market expansion. Additionally, many other economies have started implementing restrictions due to closely following the COVID-19 situation in China, which will significantly impact the global polysulfide construction sealant market.
Regional Analysis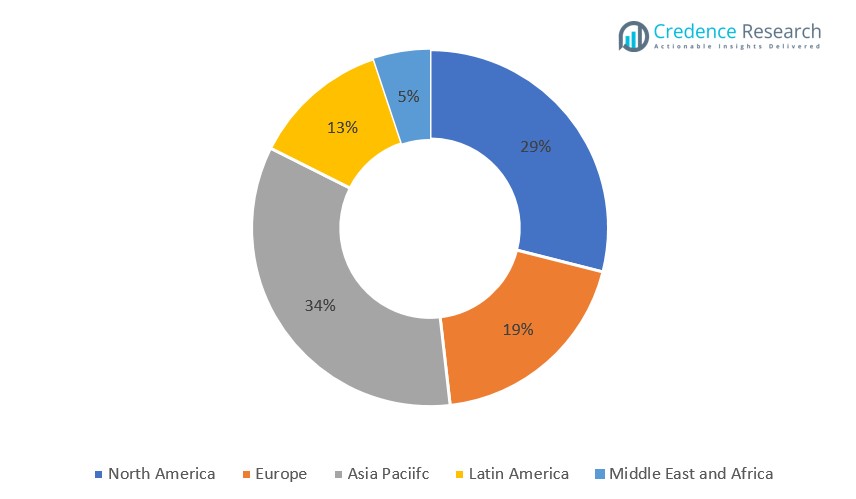 The Asia Pacific accounted for the largest revenue share in the global polysulfide construction sealant market in 2022 due to increased construction activities brought on by the region's expanding population, rapid urbanization, and rising disposable income. Polysulfide sealants are widely used in glazing applications such as skylights, roofing systems, and window & door frames, fueling demand in the Asia Pacific region. Besides, North America accounted for the second-largest global market for polysulfide construction sealants in 2022. Growing regional demand for green construction is a major factor driving market demand. Using polysulfide construction sealants increases the energy efficiency of buildings and reduces environmental stress. Green building standards like LEED are essential for promoting the regional market growth.
STAR Analysis
In 2022, our client, a major player in the polysulfide construction sealant market, wanted to expand and set up new production facilities in new markets, especially the Middle East and Africa (MEA), due to the region's recent vigorous infrastructural development activities that support market demands.
The client requested a comprehensive analysis of the polysulfide construction sealants market, including examining the major regional players and their distribution channels. The client also requests a breakdown of these players' long-term distributor agreements and distribution strategies. The client wants to look at these regions from a manufacturing standpoint and a target market standpoint.
The client contacted Credence Research Inc., which assisted the company in making geographic expansion plans and establishing a new manufacturing plant. Credence Research Inc. provided the client with detailed and comprehensive information on all aspects, such as distribution channel networks, market sizing, specific regional demand and supply, and import/export statistical information for the major regional countries. The client report also analyses the market's competitive environment and the regional investment strategies employed by the leading regional market participants. Credence Research Inc further provided the client with a customized report on companies in the regional polysulfide construction sealant market and planned to partner with end users and regional distributors strategically. For example, Sika AG, a major player in the polysulfide sealants market, has invested in 51 new plants, 21 new national subsidiaries, and 22 acquisitions, focusing on developing markets in the Middle East and Africa (MEA).
The client's decision to establish a new production facility was made possible by Credence Research Inc.'s in-depth analysis report on the polysulfide construction sealant market. Furthermore, a thorough analysis from the perspectives of manufacturing, competitor pricing, and distribution networks aided the client in selecting the appropriate polysulfide construction sealant plant location and expanding geographical serving areas, allowing the client to double its sales revenue. Leading market players are turning their attention to developing countries in search of new opportunities and higher yields and margins as competition for investment opportunities in developed markets heats up.