Industry Outlook
Aviation industry across the globe is witnessing a spurt in terms of number of aircraft and airports. Airport snow and ice management equipment are an essential part of airport arsenal to maintain smooth and safe operation of air traffic, especially in countries having long and cold winter seasons. Furthermore, drastic climatic changes due to global warming triggered acyclic nature of snowfall and extended winters in some places certainly helped the airport snow & ice management equipment market to maintain its steady growth and expected to proliferate with a consistent rate throughout the forecast period from 2018 to 2026.
Market Synopsis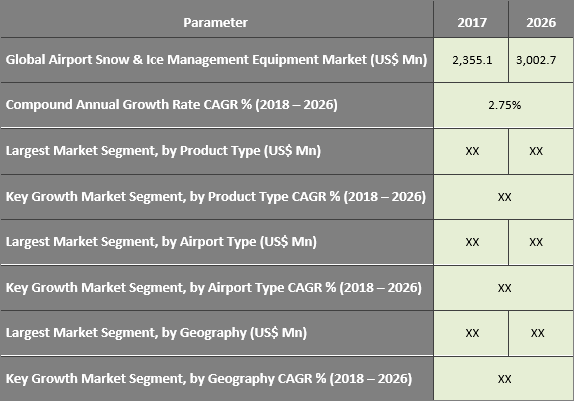 Get a sample copy for more information
"Commercial Snow Plow Scooping Out Majority of Market Share Among Other Product Type"
A variety of snow and ice management equipment are available and used across different airports. The equipment by product type is classified into snow blowers, snow plow, snow loader, snow broom and spreader and sprayer for de-icing chemicals. Among all the aforementioned product types, commercial snow plow grabbed the majority of market share. Snow plow is one of the most preferred snow management equipment at it can effectively use to plow out snow on airstrips, airfields, and taxiways among others. The versatility of the product made snow plow a must-have tool for fast and effective snow removal.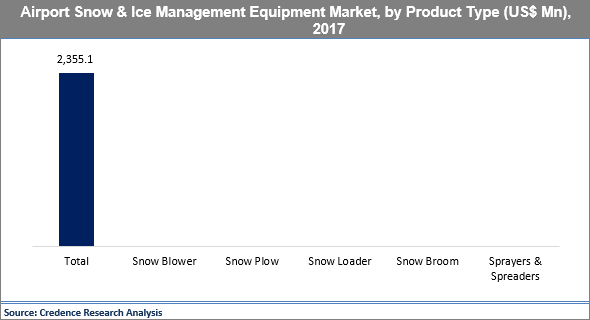 Get a sample copy for more information
"International Airport Bagged Majority of Market Share Compared to Domestic Airport"
By airport type, airport snow and ice management equipment market is broadly classified into international airport and domestic airports. According to the market research international airport claimed the majority of market share against domestic airports. International airport authorities pay keen attention towards safety and timely operation of flights landing and taking off. In order to maintain the operational serenity of international airport in winters, majority of international airports equipped themselves with snow and ice removing equipment. However, domestic airport is also encouraging the overall growth of market with fastest growth rate among the two airport type.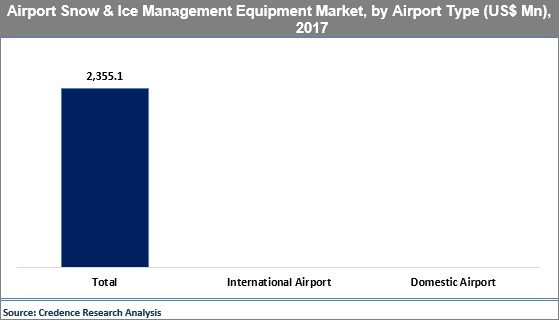 Get a sample copy for more information
"With Highest Number of Aiport, North America Clearly Emerged as Global Leader in Aiport Snow & Ice Management Equipment Market"
North America placed itself as the global leader in airport snow & ice management owing to a vast number of airports in this region with more than 17,000 airports in both the U.S. and Canada. The region is also prone to some of the harshest winters across the globe and hence the demand for snow and ice removal equipment is rising consistently in this region. Although North America is followed by Europe in terms of market value, Europe is not expected to chase down the market value of North America. Asia Pacific and Rest of World projected to lag in market value in coming years.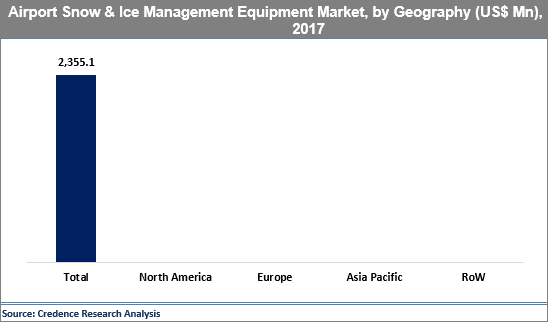 Market Segmentation
ATTRIBUTE
DETAILS
Research Period
2016-2026
Base Year
2017
Forecast Period
2018-2026
Historical Year
2016
Unit
USD Million
Segmentation

By Product Type (2016–2026; US$ Mn)
• Snow Blower
• Snow Plow
• Snow Loader
• Snow Broom
• Sprayers & Spreaders

By Airport Type (2016–2026; US$ Mn)
• International Airport
• Domestic Airports

Geography Segment (2016–2026; US$ Mn)
• North America (U.S. and Canada)
• Europe (U.K., Germany, France, and Rest of Europe)
• Asia Pacific (Japan, China, India, and Rest of Asia Pacific)
• Rest of World (Middle East & Africa (MEA), Latin America)
Competitive Landscape
The research study covers some of the leading airport snow & ice management equipment including Al-jon Manufacturing LLC, The Danfoss Group, M-B Companies, Inc., Team Eagle Ltd., Henke Manufacturing Corporation, Oshkosh Corporation, Kiitokori Oy, Alamo Group (USA), Inc., Multihog Limited, The Swiss Boschung Group, Alamo Group, Inc., and Kodiak America. The market offers tremendous opportunities for new entrants as the market currently is consolidated with limited number of players. Several local manufacturing companies are trying to develop their product portfolio in order to acquire contract from leading airports. The competitive landscape is expected to show radical changes in coming years.