Market Excerpt
Increasing market competition and rising need to reduce operations cost increasing the demand for assembly line solutions
Assembly line has become a key component of manufacturing process. Manufacturers across different industries facing challenges from rising market competition. Manufacturers across the globe are looking forward to reduce their operating cost and increase profitability is competitive environments. Use of assembly line solutions streamline product process and allows mass production for manufacturers while reducing manufacturing errors. It also helps manufacturers to ease out maintenance after product manufactured in assembly line. All these benefits are motivating manufacturers to invest in assembly line systems for lean manufacturing and to maintain their sustainability in competitive environments. Increasing industrialization in emerging market also expected to fuel the demand for assembly line solutions in the near future.
Assembly line systems are designed for maximum possible production at up front which creates scalability issue for manufacturers. In addition, modifications in existing system are very complex task and expensive, and takes several weeks or months to complete. All these challenges limiting its application in small and medium size organizations.
The global market for assembly line solutions market is expected to witness considerable growth of 6.8% throughout the forecast period from 2018 to 2026.
Market Synopsis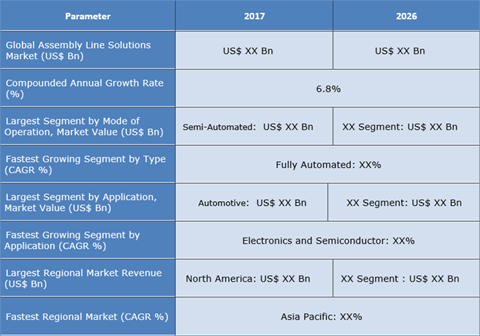 Get a sample copy for more information
Asia Pacific is the most attractive market with rising industrialization in India, China and Southeast Asia market
Asia Pacific is the growth pole in the lobal market and industrialization in major countries such as India, China and Southeast Asian countries growing at significant pace. Global manufacturers are looking forward to expand their operations in Asia Pacific market through mergers, acquisitions and partnerships. India is evolving as one of the major consumer for automobiles. Rising demand for passenger and commercial vehicles in India motivating manufacturers to invest in this potential market. In 2017, India observed a highest growth in top 10 passenger car producing countries. India has produced around 3,905 thousand units of passenger cars in 2017, production increased by 7% compared to 2016 from 3,886 thousand units. Moreover, multinational automakers are looking forward to strengthen their footprints in growing automobile market in India. Volkswagen AG (Germany) and Tata Motors (India) are looking forward for tie-up to bring affordable cars for price sensitive South Asian market. China is one of the leading automotive manufacturers in the world. China produced around 29 million motor vehicles in 2017. Manufacturers in China are looking forward to develop vehicles of international standards and speeding up their international expansions. In order to achieve their goals, Chinese manufacturers are investing in technologies to gear up their production. In addition, Southeast Asian countries are emerging as a potential manufacturing base with industrial revolution and low production cost. All these factors are expected to increase the demand for advance production technologies in the region which will drive the demand for assembly line solutions in the region.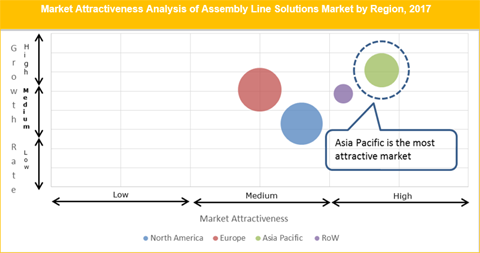 Get a sample copy for more information
Automotive industry is the largest end-use segment and semiconductor and electronics industry expected to witness the fastest growth
In 2017, automotive industry accounted for the more than half of the market shares in the overall assembly line solutions market. Industry is expected to witness steady demand for assembly line solutions with increasing production of vehicles and increasing investment in advanced technologies. Rising complications in electronics devices and increasing demand for advance electronics. This is swiftly increasing installations of assembly line solutions.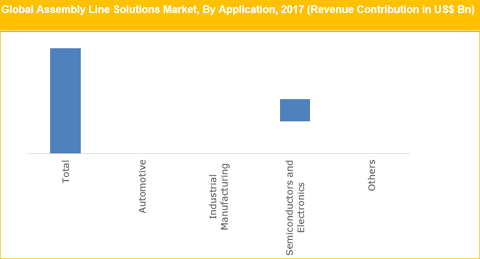 Get a sample copy for more information
The global assembly line solutions industry is highly competitive with large number of vendors and continuous advancement assembly line technology
The global assembly line solutions industry comprises large number of multinational recognized players and characterized highly fragmented in the nature. Continuous advancement in assembly line technologies and demand for customized solutions also increasing stiff competition in the global industry. Manufacturers are focusing on providing customized needs of customers to maintain sustainability in the competitive environment. In addition, assembly line manufacturers focusing on to improve capabilities of their solutions. In March 2016, Align Production Systems introduced new electric three wheeled transporter. This transporter improves efficiency of assembly lines at production plant. Some major players in the global assembly line industry include Some major competitors profiled in this study include ALIGN PRODUCTION SYSTEMS, LLC; ACRO Automation Systems, Inc., Adescor Inc., Central Machines, Inc., Eriez Manufacturing Co., Fusion Systems Group, Gemtec GmbH, Hochrainer GmbH, SITEC Industrietechnologie GmbH, UMD Automated Systems and others.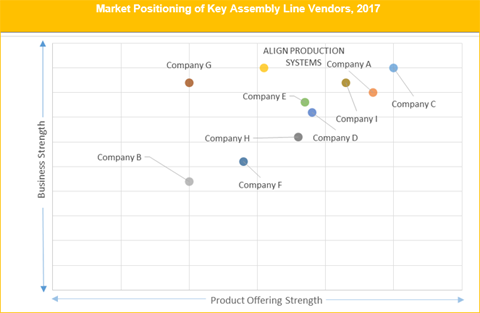 Why it is recommended to invest in our assembly line market research study?
This research report on assembly line market provides comprehensive analysis of market trends and dynamics. This study also includes in-depth analysis of different types of assembly lines and their demand in different end-use industries. This study identifies major market driving and restraining factors affecting the growth of global assembly line market. The research report on assembly line solutions also provides quantitative as well as qualitative analysis of segments and sub-segments covered in the scope of the study. This research report also highlights key attractive segments in the global assembly line market. This research study also provides high level industry analysis which include key players' market positioning, value chain analysis and attractive investment preposition. The study also includes profile of key vendors in assembly line industry. The assembly line market is segmented into following categories:
Historical & Forecast Period
2016 – Historical Year
2017 – Base Year
2018-2026 – Forecast Period (CAGR from 2018 to 2026)
ATTRIBUTE
DETAILS
Research Period
2016-2026
Base Year
2017
Forecast Period
2018-2026
Historical Year
2016
Unit
USD Billion
Segmentation

By Mode of Operation (2016–2026; US$ Bn)
• Manual Assembly Lines
• Semi-automated Assembly Lines
• Fully Automated Assembly Lines

By Application (2016–2026; US$ Bn)
• Automotive
• Industrial Manufacturing
• Electronics and Semiconductors
• Others (food & beverages, chemical etc)

Geography Segment (2016–2026; US$ Bn)
• North America (U.S. and Canada)
• Europe (U.K., Germany, France, and Rest of Europe)
• Asia Pacific (Japan, China, India, and Rest of Asia Pacific)
• Rest of World (Middle East & Africa (MEA), Latin America)
Key questions answered in this report
What is the global market size of assembly line solutions market?
What are the key investment areas in the global assembly line market?
Which market trends and dynamics driving the growth of global assembly line industry?
Who are the major players and their market winning strategies in the global industry?
Who are major customers for assembly line solution providers?
Which is largest and most potential application segment for assembly line solutions?
Who are regional leaders?
Which are key developments in each segment?