Industry Outlook
Bronchitis treatment market accounted for a market value of US$ 3,345.8 Mn in 2017 and projected to grow at a CAGR of 4.9% during the forecast period from 2018 to 2026. Bronchitis treatment market is growing gradually throughout the forecast period due to strong product pipeline equipped with target-specific drugs, and rising prevalence & awareness related to the treatment & diagnosis of bronchitis. The major cause of bronchitis is frequent cigarette smoking coupled with exposure to air-pollutants. Thus, overall growth of global bronchitis treatment is significant and expected to maintain its growth throughout the forecast year with the help of upcoming drugs currently present under trials.
Market Synopsis
Get a sample copy for more information
"Continuous research & development in the field of bronchitis treatment expected to bring novel drugs in the market & ultimately assist the overall growth"
During the forecast period from 2018 to 2026, phospodiesterase-4inhibitors identified as the fastest growing segment due to major factors such as Roflumilast are beneficial in chronic bronchitis to decrease exacerbations & relieve dyspnea, and physicians treat chronic bronchitis on priority as its more complex compared to acute bronchitis. Roflumilast also plays key role in improving the lung function and assists recovery of patients. Thus, novel drugs entering in the market will increase the growth of overall bronchitis treatment market, as there is huge market demand for target-specific drugs in the market.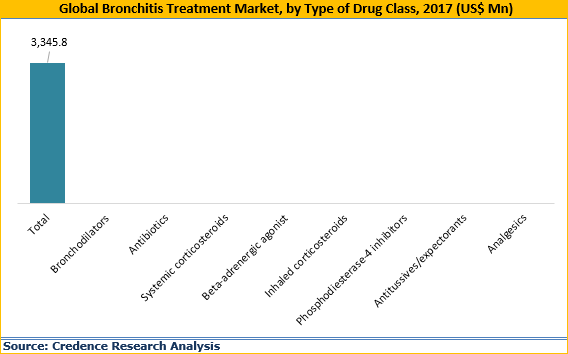 Get a sample copy for more information
"Increasing prevalence & awareness related to the bronchitis in Asia Pacific makes it the fastest growing region throughout the forecast period"
The Asia Pacific will grow significantly throughout the forecast period from 2018 to 2026, the key factors responsible for growth of bronchitis treatment market in this region are rising prevalence of bronchitis due to high level of air-pollution & smoking population, and increasing awareness and accessibility related to bronchitis treatment. There are several awareness campaigns carried out by government and non-government organizations in developing countries of Asia Pacific such as China, India, Indonesia, and Thailand due to which bronchitis treatment market is growing significantly in this region. China & India have highest population suffering with bronchitis that mainly caused due to air-pollution and huge cigarette smoking population. According to World Health Organization (WHO), it has been recorded that in Asia around one third or 2.2 million of the world's 7 million premature deaths occur due to respiratory disorders caused due to air-pollution each year.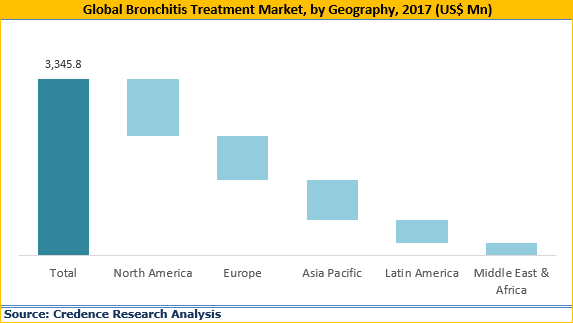 Get a sample copy for more information
Historical & Forecast Period
The bronchitis treatment market analyzed considering current market trends for base year 2017 and based on future trends CAGRs calculated for the forecast period from 2018 to 2026.
Report Scope by Segments
This report provides in-depth analysis related to bronchitis treatment market covering market elucidations and assumptions provided based on in-depth qualitative and quantitative data collected through primary and secondary research. Industry stakeholders have assisted to analyze and study market dynamics such as drivers, opportunities & challenges further concentrated to region-level & country-level. This report also includes comprehensive analysis of global bronchitis treatment market segmented as types of drug class, and geography. The report also gives information related to competitive landscape of the major players present and operate in bronchitis treatment market that covers in-depth data covering company information such as latest business strategies, financial data, & product profiles.
ATTRIBUTE
DETAILS
Research Period
2017-2027
Base Year
2018
Forecast Period
2019-2027
Historical Year
2017
Unit
USD Billion
Segmentation

Type of Drug Class (2016–2026; US$ Mn)
• Antitussives/expectorants
• Bronchodilators
• Beta-adrenergic agonist
• Systemic corticosteroids
• Inhaled corticosteroids
• Phosphodiesterase-4 inhibitors
• Analgesics
• Antibiotics

Pipeline Analysis (Till 2026; US$ Mn)
• Phase III
o Cyclosporine
o Combination Product: Extracorporeal Photopheresis (ECP)

Geography Segment (2016–2026; US$ Mn)
• North America (U.S., Canada)
• Europe (U.K., Germany, Rest of Europe)
• Asia Pacific (Japan, China, Rest of APAC)
• Latin America (Brazil, Mexico, Rest of LATAM)
• Middle East and Africa (GCC, Rest of MEA)
The key manufacturers present in the market reported based on product portfolio, current market updates, financial information, and key strategies. This report also include attractive investment proposition studied with the aid of PESTEL analysis, which based on detailed geographical research. Major companies studied in the overall report are AstraZeneca Plc, DBV Technologies SA, F. Hoffmann-La Roche Ltd., Han Wha Pharma Co. Ltd., and Mucosis BV among others.
Key questions answered in this report
Which is the trending drug class type in the market preferred for bronchitis treatment & Why?
What are the current market strategies & policies planned & applied by key companies & competitive landscape of the bronchitis treatment market?
Which are the important & potential geographical markets (regions and countries) in bronchitis treatment market?
Which is the largest and fastest growing region globally?