Industry Outlook
Cosmetic dentistry market accounted for a market value of US$ 17,549.6 Mn in 2017 and projected to grow at a CAGR of 5.0% during the forecast period from 2018 to 2026. The major market trend identified in cosmetic dentistry market that is assisting its growth is conservative dentistry practices followed by dentists which requires thin, and highly flexible restorations to maintain minimal damage to original tooth structure. The cosmetic dentistry market is evolving gradually with novel technology advancements with high preference for dental transformations and application of cosmetic dentistry products and services to provide better appearance are the factors assisting growth of cosmetic dentistry. The cosmetic dentistry market trends is driven by consumers and not dentists with their choices related to procedures, young patients are well aware and understand importance of enamel preservation for future restoration options. Hence, clinics have been focusing on advertising to attract more consumers along with modern systems and equipment further assisting the growth of cosmetic dentistry market.
Market Synopsis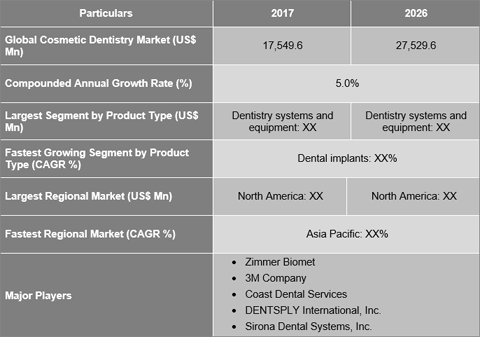 Get a sample copy for more information
"Technological advancements in dentistry systems and equipment expected to drive the market growth throughout the forecast period"
In 2017, dentistry systems and equipment accounted for the highest market share due to key driving factors such as increasing penetration and application of novel technologies such as dental CAD/CAM systems & light curing equipment and increasing awareness related to dental reformation in baby boomers as well as millennials. During the forecast period 2018 to 2026, dental implants is anticipated to grow at the fastest CAGR due to increasing application of 3D printing in dental implant creation, and high demand from customers for cost efficient & tooth-like dental implants that gives natural look. According to the British Dental Health Foundation with modern technologies such as dental CAD/CAM the efficiency of procedure has developed, predictability is high in case of restorations, and minimum chances of rework or errors were observed.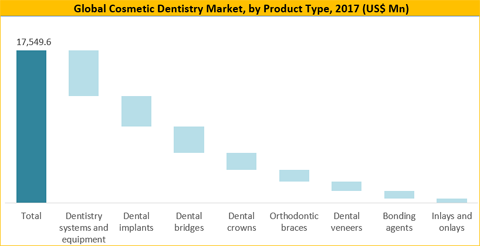 Get a sample copy for more information
"Asia Pacific will experience exponential growth in the near future due to increasing awareness related to cosmetic reformation in developing countries"
North America identified as the largest cosmetic dentistry market in 2017 due to key market driving factors such as high public awareness related to cosmetic dental procedures, highly accessible modern dentistry technologies, and high penetration due to aggressive advertising strategies applied by dental service providers. According to American College of Prosthodontists, 15 million people in the U.S. have crown and bridge replacements for missing teeth and around 35 million Americans have missing teeth in one or either jaws. Hence, there is huge potential in the U.S. and with incessant development in the field of cosmetic dentistry the North America market expected to maintain its dominance throughout the forecast period from 2018 to 2026. Asia Pacific identified as the fastest growing cosmetic dentistry market due to increasing adoption of modern dentistry technologies in developing countries such as China & India, and evolving government regulations & reimbursement policies. According to South Korea signifies the most developed dental implant market in Asia Pacific because of being base of a number of leading dental implant global companies. The key factors assisting the growth of South Korea cosmetic dentistry market are high consumer awareness and early adoption & accessibility to a wide range of cosmetic dentistry products.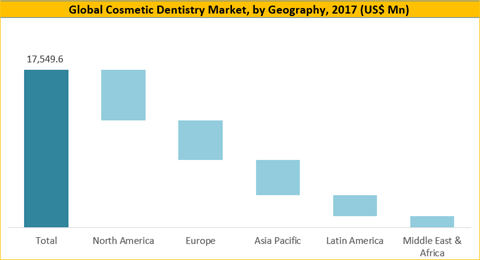 Get a sample copy for more information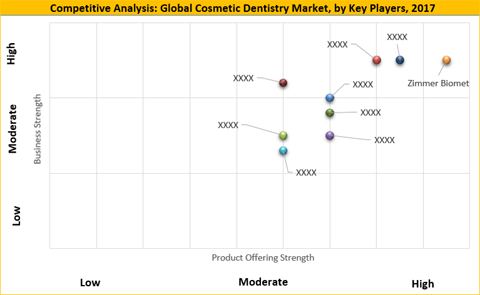 Historical & Forecast Period
The cosmetic dentistry market analyzed considering current market trends for base year 2017 and based on future trends CAGRs calculated for the forecast period from 2018 to 2026.
Report Scope by Segments
This report on cosmetic dentistry market covers in-depth quantitative and qualitative data associated with the key market dynamics such as drivers, opportunities & restraints along with regional and country-specific market trends. An exhaustive summary of the global cosmetic dentistry market provided in the report by segmenting the market based on product type, and geography. The objective of publishing this in-depth research report is to assist the industry stakeholders in carrying-out decisions and strategy implementation in the cosmetic dentistry market.
ATTRIBUTE
DETAILS
Research Period
2016-2026
Base Year
2017
Forecast Period
2018-2026
Historical Year
2016
Unit
USD Million
Segmentation

Product Type Segment (2016–2026; US$ Mn)
• Dentistry systems and equipment
o Instrument delivery systems
o Dental chairs
o Dental handpieces
o Light curing equipment
o Dental scaling units
o Dental CAM/CAD systems
o Dental lasers
o Dental radiology equipment
• Dental implants
• Dental bridges
• Dental crowns
• Bonding agents
• Orthodontic braces
• Inlays and onlays
• Dental veneers

Geography Segment (2016–2026; US$ Mn)
• North America (United States and Canada)
• Europe (U.K., Germany, Rest of Europe)
• Asia Pacific (China, Japan, Rest of Asia Pacific)
• Latin America (Brazil, Mexico, Rest of Latin America)
• Middle East and Africa (GCC, Rest of MEA)
This report further describes the major qualitative assessment factors including key market trends, market drivers, opportunities, and restraints, to gain precise understanding of global cosmetic dentistry market. Moreover, the major players operating in the market are analyzed based several attributes such as product portfolio, business strength, and key market strategies. The report also provides attractive investment proposition based on the extensive geographical research carried out based on PESTEL analysis. Key players profiled in the report include Danaher Corporation, Institut Straumann AG, 3M Company, Zimmer Biomet Holding, Inc., Coast Dental Services, Align Technology, Inc., Biolase, Inc., DENTSPLY International, Inc., Sirona Dental Systems, Inc., Planmeca Oy, and A-dec Inc. among others.
Key questions answered in this report
What are the key segments of cosmetic dentistry market?
What are the recent market strategies acquired by key companies functional in cosmetic dentistry market?
Which are the most attractive regions dominating and rapidly growing in cosmetic dentistry market?
Which is the largest and fastest growing product in cosmetic dentistry?
What is the competitive landscape of cosmetic dentistry market and market positioning of key players operating in this market?