Cystoscopes Market to Exhibit Steady Growth During the Forecast Period
The global cystoscopes accounted for a market value of US$ 334.9 Mn in 2017 and expected to attain market value of US$ 612.4 Mn by 2026 at a CAGR of 6.9% during the forecast period from 2018 to 2026. Video cystoscopes encompassed maximum market share in 2017 and maintained dominancy through 2026 as well. Of the available non-video cystoscopes, flexible non-video cystoscopes estimated fastest CAGR during the forecast period from 2018 to 2026. Easy viewing of complete anatomy enabling enhanced diagnostic and treatment procedures are the primary reasons catalyzing the video cystoscopes market growth. Cystoscopes are majorly adopted by hospitals owing to availability of skilled professionals and desired sterile environment for procedures to be carried out. Hospitals thus accounted for largest market share in 2017 and continued to enjoy supremacy through 2026 as well. With newer and advanced cystoscopes emerging in the market and its ease of use has ascertained demand for it among ambulatory care services leading to fastest CAGR during the forecast period. Photocure ASA reported (February 2018), around 1.2 million cystoscopies are performed annually in U.S. Rising incidence rate of urethral infections due to cross contamination can be reduced by the use of disposable cystoscopes. Currently, manufacturers do provide a disposable endosheath protective barrier that ensures minimal patient-to-device contact thus preventing contamination. Disposable cystoscopes would cater to various benefits of ease of use for staff, reduced preparation time and high safety margin.
Cystoscopes market encompasses a vast market out-reach across various geographies owing to the rising prevalence of bladder cancer, kidney stones and other bladder conditions. Rising awareness on newer cystoscopes has created a demand for it across the globe thus catalyzing the overall market growth. North America accounted for the maximum market share of above 38% in 2017 in terms of value, while Asia Pacific accounted for fastest CAGR during the forecast period. Growing prevalence of bladder conditions, developing healthcare infrastructure and rising prevalence of skilled healthcare professionals has contributed to Asia Pacific's market growth in the forecast period.
Market Synopsis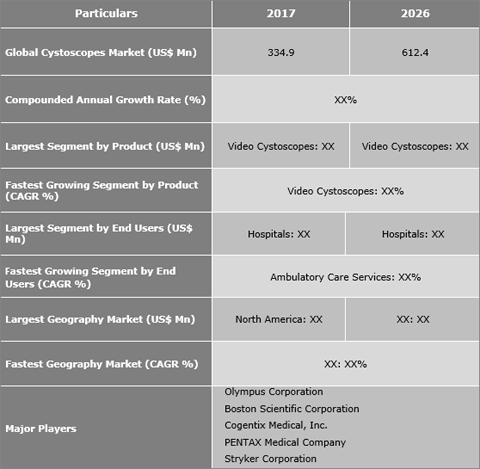 Video Cystoscopes to Maintain Supremacy Throughout the Forecast Period
Video cystoscopes accounted for maximum market share in 2017 and expected to continue similar trends during the forecast period from 2018 to 2026 as well. Video cystoscopes enable enhanced diagnosis with shorter procedural time thus gaining maximum market attractiveness. Rising investments in developing advanced cystoscopy technologies has driven the market growth. Blue Light Cystoscopy with Cysview is the latest addition to video cystoscopes technology that enhances diagnostic technique with shorter procedural time. This advancement has further catalyzed the global video cystoscopes market. Rising demand for minimal invasive procedure, increasing prevalence of bladder cancer & other urological conditions, and continuous research activities indicate steady market growth of video cystoscopes. Non-video cystoscopes gain market attraction among end users with low budget needs. The demand for these cystoscopes is steady, primarily among the low and middle-income economies.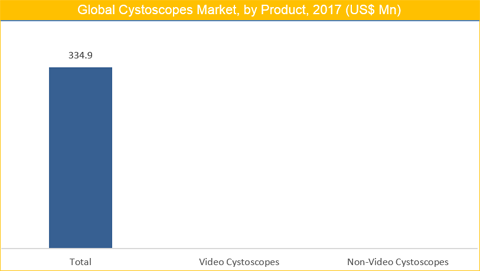 Hospitals Continue to Maintain Supremacy Across the Forecast Period.
Of the end users, hospitals contributed maximum to the overall market growth in 2017 and continues to hold dominancy through 2026 as well. Hospitals comprise skilled professionals, adopt newer technologies to maintain their status, provide desirable sterile conditions and have high disposable income thus backing the significant contribution to the overall cystoscopes market growth. Ambulatory care services will grow with fastest CAGR during the forecast period from 2018 to 2026. Increase in healthcare establishments and growing benefits for health insurance companies primarily accounts for its growth. According to an article published by American College of Surgeons (FACS) in 2017 suggested that, a shift of outpatient procedures from hospitals to ambulatory care services could account to savings US$ 25 Bn to Medicare over 10 years.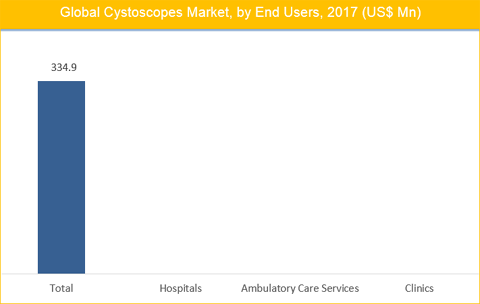 North America Enjoyed Supremacy in 2017 and Continues the Trend Through 2026
North America accounted for largest market share of above 38% in 2017 and continues to maintain this trend through 2026. Developed healthcare infrastructure, rise in awareness on the availability of newer and advanced cystoscopes, increased investments by industrial players on research activities and high disposable income of patients have favored the market growth in North America. Additionally, increased prevalence of bladder cancer and kidney stones catalyze the North America market growth. As per the American Cancer Society, 81,190 new cases of bladder cancer are estimated to be reported in 2018 along with 17,240 probable deaths in the same year. Asia Pacific exhibited fastest CAGR during the forecast period owing to the growing prevalence of bladder cancer, increase in adoption of new cystoscopic technologies and growing medical tourism.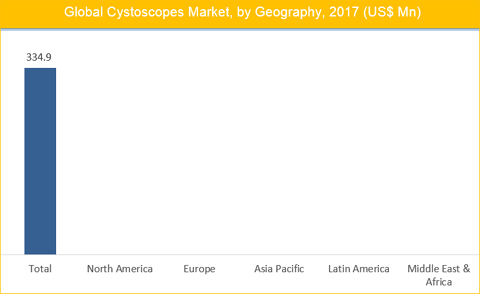 Global Cystoscopes Market Being Highly Competitive Provides Opportunities for New Market Players
The global cystoscopes market comprises market players having vast market outreach. Market leaders continuously invest in developing new and advanced cystoscopes making the market competitive. Market players such as Olympus Corporation and Karl Storz GmbH & Co. KG have adopted the new Blue Light Cystoscopy technology thus having a competitive edge to the market. Credence Research, Inc. believes that enhanced development in disposable cystoscopes would create market attraction among consumers. Development in line with this unmet need creates opportunities for emerging market players.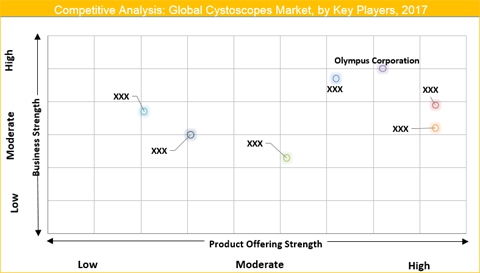 Historical & Forecast Period
2016 – Historical Year
2017 – Base Year
2018-2026 – Forecast Period
The study report comprises of market analysis for each considered segment during the period from 2016 to 2026, keeping 2017 as the base year. Forecast analysis for each segment has also been incorporated for the period from 2018 to 2026.
Report Scope by Segments
Global cystoscopes market encompasses current market trends and dynamics pertaining to various products available in the market, their market attractiveness and competitive landscape. The market dynamics has been explained in terms of market opportunities, drivers and restraints. The primary objective of this study report is to enable market players and other entities in brand management and strategic planning in cystoscopes market.
Product Segment (2016–2026; US$ Mn)
Video Cystoscopes
Non-Video Cystoscopes

Rigid Non-Video Cystoscopes
Flexible Non-Video Cystoscopes
End Users Segment (2016–2026; US$ Mn)
Hospitals
Ambulatory Care Services
Clinics
Country Segment (2016–2026; US$ Mn)
The report also comprises graphical representation of competitive landscape depicting market position of key market leaders based on their market initiatives, product portfolio, financial information and key developments. Key market leaders profiled in this report are Cogentix Medical, Inc., Fujifilm Corporation, Henke Sass Wolf GmbH, Karl Storz GmbH & Co. KG, Laborie Medical Technologies, Inc., Maxer Endoscopy GmbH, Medline Industries, Inc., Olympus Corporation, PENTAX Medical Company, Richard Wolf GmbH and Stryker Corporation.
Key questions answered in this report
What are the current market trends in global cystoscopes market?
What was the total volume sales of cystoscopes in 2017?
How good is the market attraction of Blue light Cystoscopy globally?
What was the market share of hospitals to the overall cystoscopes market in 2017?
What were the major reasons backing the expedited growth of ambulatory care services during the forecast period?
What are the major drivers catalyzing the global cystoscopes market growth?
What percent of market share did video cystoscopes contribute in 2017?
What was the sales volume of video cystoscopes in 2017?
Which industry player enjoyed supremacy in 2017?
Which country encompassed maximum market share in 2017?