Market Insights
The global Electric Vehicle Infotainment Market is expected to cross market value of USD 117.55 billion in 2027 from USD 5.7 billion in 2020. It is expected to grow at a CAGR of over 65.6% during the forecast period.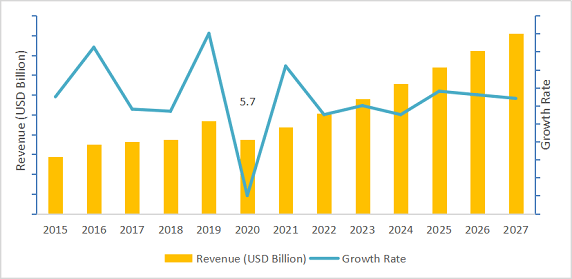 EV infotainment is a system that offers entertainment and information to the driver and passengers while they are in the car. The device incorporates touchscreens, audio/video (A/V) interfaces, keypads, and other components to include hands-free phone connections, navigational facilities, vehicle voice control, internet access, two-way messaging tools, and other security features. Credence Research is offering holistic information and absolute accuracy on the report titled "Global Electric Vehicle Infotainment Market".
Key Market Drivers and Restraints
Factors that have high impact on the market growth of industrial electric vehicle will be covered her. Also, covers factors that may challenge or act as opportunity for market will be discussed in order to identify the revenue generation.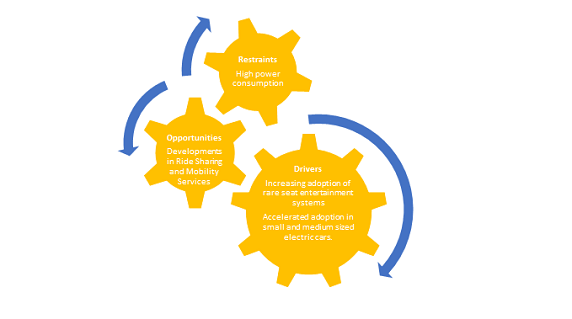 Integrated Telematics
Telecommunication devices are used in integrated telematics to send and receive data from one location to another. Integrated telematics offer important information to drivers, such as GPS, fuel tracking and eco-driving, to name a few. Embedded telematics aims to eliminate modules and replace them with telematics systems that perform various operational functions including anti-lock brakes, cruise control, climate control, and other features. Embedded telematics is suitable for use by many manufacturers and automotive industries because of the operational efficiency and comfort it provides.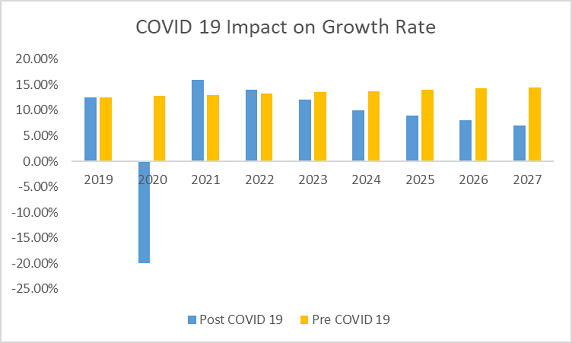 Asia-Pacific to Dominate the global market
On geographic front, the global market comprises six regions with all key economies pertaining to it. Credence Research is providing in-depth insight on prominent regions of global market. Asia-Pacific dominated with over 54.11% share in 2020.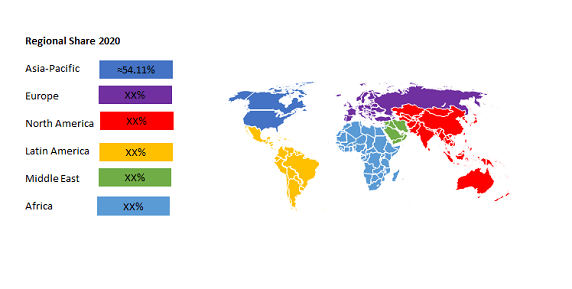 Global Market is led by the Heads-Up System and continue in the Future
Multimedia System, Heads-Up System, Navigation System, Driver Safety and Communication System and Rear Seat Entertainment System are the different System Types of global market. In 2020, Heads-Up System accounted for the largest share in global market owing to features like showing vehicle related information such as vehicle speed and fuel level, the heads-up category of infotainment systems will gain popularity in the coming years, providing a safer driving experience.
Wireless continue to dominate the global market in terms of Connectivity Type
Bluetooth, Cellular, Wireless and Wired Connectivity are various Connectivity Types of this market. The wireless networking infotainment systems segment had the highest share covering more than half of the market. Over the forecast period, rising customer perception is expected to drive demand for electric vehicle infotainment.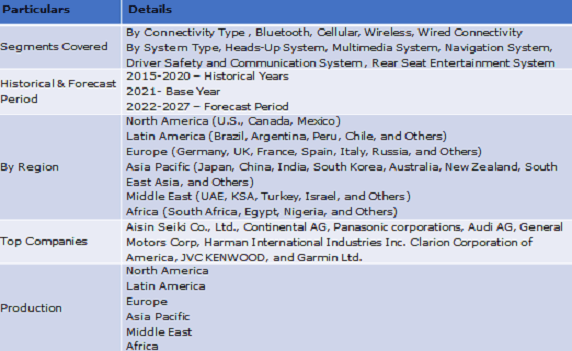 Frequently asked questions about global industry
Which are the different System Types of Electric Vehicle Infotainment?
Ans: Multimedia System, Heads-Up System, Driver Safety and Communication System, Navigation System and Rear Seat Entertainment System are the different System Types available in the market
Who are the key players in the global industry?
Ans: Continental AG, Audi AG, Panasonic corporations, Aisin Seiki Co., Ltd., General Motors Corp, Clarion Corporation of America, Harman International Industries Inc., JVC KENWOOD are the key players operating in this market
Which is the fastest growing Connectivity Type segment for global industry?
Ans: Wireless Connectivity Type offers tremendous opportunities to players
Which is the leading regional market for global industry?
Ans: Asia-Pacific has the largest share owing to various developments happening in this space
What will be the CAGR (2021 - 2027) of in global industry?
Ans: The market is anticipated to grow at a CAGR of 65.6% throughout the forecast period