Industry Outlook
At first, exoskeleton seemed to be unrealistic and distant thought of future. However, the actual exoskeleton appeared much earlier than anticipated and developers are introducing several exoskeletons for different end-use applications. These exoskeletons are gaining significant appreciation from end-use verticals including military & defense, industrial and medical applications. This further encouraged the demand and development of exoskeleton driving the new market across the globe.
Market Synopsis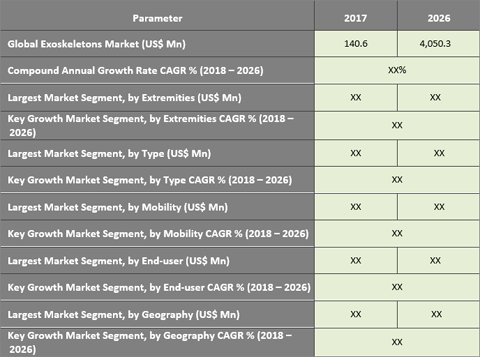 Get a sample copy for more information
"Lower Extremity Exoskeletons Locks Horn with Upper Extremity Exoskeleton for Market Value"
On the basis of extermities position, exoskeletons are divided into three basic categories including upper, lower and full-body exoskeleton. At present, majority of market share is dominated by upper exoskeleton and is extensively used for industrial applications. The upper exoskeleton are generally wore by worker allowing them to lift heavy load easily that is not possible without any external aid. Such exoskeletons are also used by soldiers in armed forces to carry loads as heavy as 45-50kg on their back. Lower extremity exoskeletons are mostly used for rehabilitation and walking aids for people suffering from walking deformities. Owing to the technological limitations, full body exoskeleton struggling to make mark in the overall exoskeleton market. However, full body exoskeleton projected to grow at a rapid pace in coming years.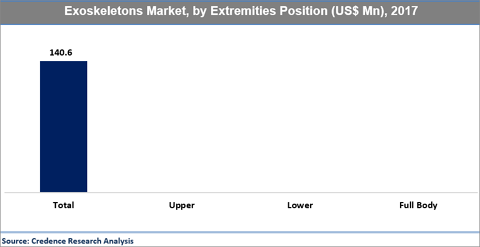 Get a sample copy for more information
"Mobile Exoskeleton are all set to Bring Revolution in Overall Exoskeleton Market"
By mobility, exoskeleton is broadly classified in fixed and mobile exoskeleton. As the name suggests both the exoskeleton have individual mobility trait and are used specifically for desired applications. For instance, fixed exoskeletons are extensively used for commercial and industrial applications allowing workers to orient heavy material from one position to another. However, fixed exoskeleton have limited applications and hence claims less market share compared to mobile exoskeleton. On the other hand, mobile exoskeleton are proliferating at a brisk rate and expected to maintain their dominance throughout and beyond the forecast period.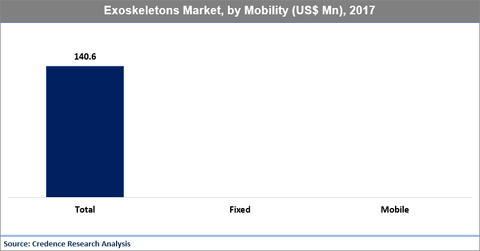 Get a sample copy for more information
"North America Region One of the First to Explore Potential of Exoskeleton"
At present, North America leads the overall exoskeleton market in terms of market value. The U.S. and Canada are incorporating exoskeleton on a considerable scale for various end-user applications and especially for military & defense applications. With consistent development of exoskeleton, the market here is projected to grow at a significant rate in coming years. With respect growth rate, Asia Pacific is estimated to register fastest growth throughout the forecast period. Lower cost compared to industrial robots and easy handling are few of the several major factors expected to drive the exoskeleton market in Asia Pacific in coming years.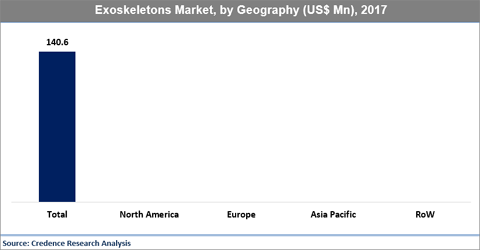 Get a sample copy for more information
Market Segmentation
ATTRIBUTE
DETAILS
Research Period
2016-2026
Base Year
2017
Forecast Period
2018-2026
Historical Year
2016
Unit
USD Million
Segmentation

By Extremities Position (2016–2026; US$ Mn)
• Upper
• Lower
• Full Body

By Type (2016–2026; US$ Mn)
• Powered
• Passive

By Mobility (2016–2026; US$ Mn)
• Fixed
• Mobile

By End-user (2016–2026; US$ Mn)
• Healthcare
• Defense
• Industrial

Geography Segment (2016–2026; US$ Mn)
• North America (U.S. and Rest of North America)
• Europe (U.K., Germany, France, and Rest of Europe)
• Asia Pacific (Japan, China, India, and Rest of Asia Pacific)
• Rest of World (Middle East & Africa (MEA), Latin America)
"Product Innovation Ignited Fierce Competition Between Major Exoskeleton Developers"
With almost endless end-use applications, exoskeleton offer world of opportunities for companies to claim their market share. Companies are trying to develop state-of-the-art application specific exoskeleton and hence are facing each other in a cut-throat competition. Some of the key exoskeletons vendors profiled in this research study include Lockheed Martin Corporation, Parker Hannifin, Honda Motor Co. Ltd., Hyundai Motor, ReWalk Robotics, MITSUBISHI HEAVY INDUSTRIES, Rex Bionics Plc, Suit X, ActiveLink, Bionik Laboratories Corp, DIH Technologies Corporation, Cyberdyne Inc., and Ottobock among others.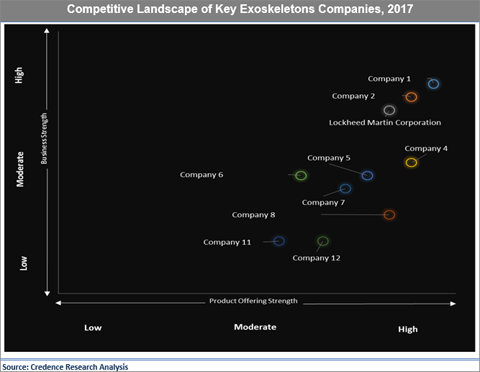 Key questions answered in this report
What are the recent trends in global exoskeletons market and possible perspective for automotive security systems providers?
How growth in advanced robotics and their demand for manufacturing and processing created a positive environment for growth of global as well as regional exoskeleton market?
Which are the largest and fastest growing segment in extremities position, type, and mobility?
Which is the most attractive geographical region/country for overall exoskeletons market?
How developing technology and exoskeleton systems play a crucial part in overall prosthetics market in coming years?
What is the market value, estimation, and tendencies in developing regions such as Asia Pacific, Middle East & Africa, and Latin America?