Industry Outlook
Major companies engaged in healthcare market have understood a new paradigm to be in healthcare for women. Healthcare for women in itself presents a separate market with different needs, attitudes and preferences as against healthcare for men. Healthcare marketers understand that women are indispensable customers in the healthcare industry for reasons such as that they account for over 50% of all physician visits, and they are the primary decision makers in healthcare. For several years, it has been widely assumed that the occurrence of diseases in women was the same as for men. With increasing body of evidence, it is suggested that this is not the case.
Introduction of novel devices that assist in enhancing the efficiency of diagnostic and surgical procedures and improving outcomes of diagnostic imaging devices are primarily driving the global gynecological devices market. Furthermore, increasing prevalence of gynecological diseases, and conditions respective to the reproductive system, gynecological cancers are growing the demand for corresponding treatments. Growing awareness regarding regular screening has also led to growth in diagnostic rates therefore increasing the demand for surgical procedures globally. Rising count of surgical procedures such as hysterectomies, endometrial ablation, sterilization and endoscopy is resulting in growing uptake of specialized surgical devices and hand instruments. Increasing demand for single-use products and frequent upgrading will further push the growth of global gynecological devices market. In contrast, stringent regulatory processes and rapid evolution of novel drug therapies and personalized may impede the growth of this market.
Market Synopsis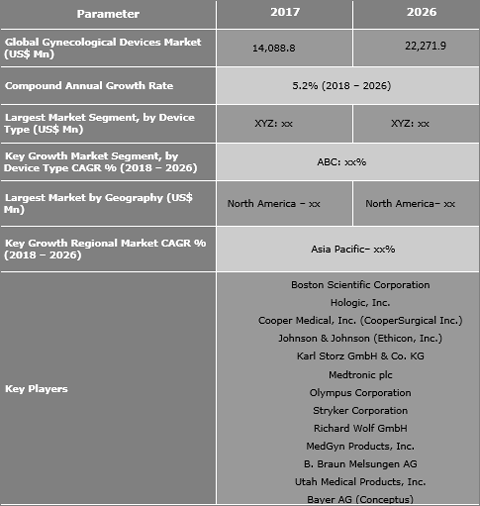 Get a sample copy for more information
Sustained Demand for Surgical Devices to Remain a Key Market Trend
Based on the product types, the global gynecological devices market is segmented into surgical devices, hand instruments, gynecological chairs and diagnostic imaging systems. Surgical devices such as endoscopy devices, endometrial ablation devices, fluid management systems and sterilization and contraceptive devices dominated the global market in 2017 and will continue their lead throughout the forecast period. High usage of endoscopes and female contraceptives are the key factors supporting the dominance of this segment. In this segment, there has been a persistent need for durable and efficient surgical instruments due to the growth in the number of surgical procedures being performed.
Further technological advancement and introduction of novel devices providing efficient and treatment, while also reducing the surgery time, are other factors supporting the growth of this segment in the forecast period. Availability of advanced ablation technologies such as radiofrequency, hydrothermal and balloon ablation techniques, and introduction of multi-purpose devices such as modular scissors system will offer additional boost to the market growth.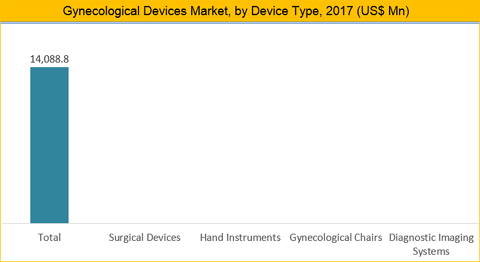 Get a sample copy for more information
Among the types of surgical devices, endoscopy devices occupy the largest share in the global market. Growing volume of minimally invasive surgical procedures such as laparoscopy, hysterectomy and colposcopy is urging the growth of this segment. Flexibility in device designs and improving treatment outcomes from these surgeries is also propelling the growth of this segment. Use of these devices in imaging of the internal organs is yet another feature that is supporting the dominance of endoscopy devices segment. As the market for gynecological endoscopy devices proliferates, the growth of fluid management systems segment will also progress correspondingly. Increasing awareness about implantable birth control devices that offer safe and long-term contraception will assist in gaining stability to the market. Among intrauterine devices, subdermal implants and vaginal rings, the intrauterine devices segment will drive the major revenue share through the forecast period.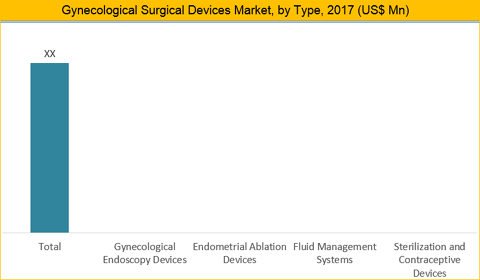 Get a sample copy for more information
North America to Dominate the Global Market, Attributed to High Awareness and Better Reimbursements
Currently, North America followed by Europe is the largest regional market for gynecological devices. Large prevalence of gynecological diseases and conditions in the region is due to greater numbers of screening programs being performed in the region, therefore leading to high diagnosis rate. Furthermore, factors such as high awareness in the general female population, and higher reimbursements are also driving the dominance of North America market. On the other hand, perpetual development of healthcare infrastructure in emerging markets of Asia Pacific will make the region to advance at the fastest growth rate. Increasing awareness due to growing number of screening programmes, entry of private insurance in the region is further attributed to the growth of Asia Pacific market. Realizing the untapped opportunities in the region, market players already having stronghold in North America and Europe, are gradually increasing their imprint in Asia Pacific market.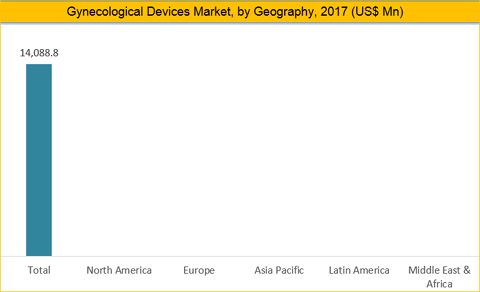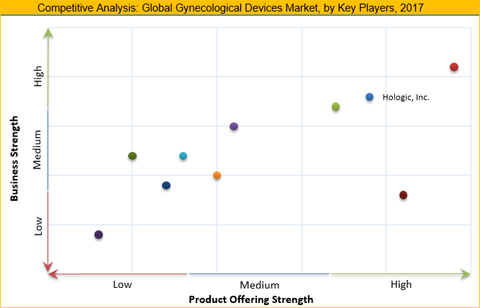 Historical & Forecast Period
This research report presents the analysis of each considered segment for the period from 2016 to 2026, having 2017 as the base year for estimations. Compounded annual growth rates (CAGRs) for each segment are calculated for the forecast period from 2018 to 2026.
Report Scope by Segments
This report includes qualitative and quantitative information on the Gynecological Devices industry, mapped for the period from 2016 to 2026. Qualitative information of this market is presented in the form of analysis for each market segment and drivers, challenges, opportunities, and competitive landscape. The global Gynecological Devices market is segmented in terms of technology, transplant type, application, usage area, and geography.
ATTRIBUTE
DETAILS
Research Period
2016-2026
Base Year
2017
Forecast Period
2018-2026
Historical Year
2016
Unit
USD Million
Segmentation

By Device Type (2016–2026; US$ Mn)
• Surgical Devices
o Gynecological Endoscopy Devices
 Colposcopes
 Hysteroscopes
 Laparoscopes
 Resectoscopes
 Endoscopic Imaging Systems
o Endometrial Ablation Devices
 Cryoablation Devices
 Hydrothermal Ablation Devices
 Radiofrequency Ablation Devices
 Balloon Ablation Devices
 Others (Microwave and Laser Ablation Devices)
o Fluid Management Systems
o Sterilization and Contraceptive Devices
 Intrauerine Devices
 Intravaginal Rings
 Subdermal Contracpeptive Implants
• Hand Instruments
o Vaginal Speculum
o Biopsy Forceps
o Others (Trocars, Tenaculum, Curettes, etc.)
• Gynecological Chairs
• Diagnostic Imaging Systems
o Mammography Systems
o Ultrasound Systems

Geography Segment (2016–2026; US$ Mn)
• North America (United States and Canada)
• Europe (U.K., Germany, Rest of Europe)
• Asia Pacific (China, Japan, Rest of Asia Pacific)
• Latin America (Brazil, Mexico, Rest of Latin America)
• Middle East and Africa (GCC, Rest of MEA)
The report presents qualitative and quantitative information respective to the global gynecological devices industry. Market dynamics such as drivers and restraints are included in this study giving insights on the prevalent trends and pain points. Whereas the market opportunities demonstrated in the report gives idea about the prominent aspects of the market that can be harnessed by the present and emerging market players. The study also includes profiles of some key players engaged in this market. The profiling is done on the basis of key parameters such as business overview, product portfolio, financial status and news coverage. The prime market players profiled in this report are Boston Scientific Corporation, Hologic, Inc., Cooper Medical, Inc. (CooperSurgical Inc.), Johnson & Johnson (Ethicon, Inc.), Karl Storz GmbH & Co. KG, Medtronic plc, Olympus Corporation, Stryker Corporation, Richard Wolf GmbH, MedGyn Products, Inc., B. Braun Melsungen AG, Utah Medical Products, Inc. and Bayer AG (Conceptus).
Key questions answered in this report
What is the current market size of the global gynecological devices market and how will it progress through the forecast period from 2018 to 2026?
What will be the overall position of surgical devices market?
In the light of growing gynecological cancers, will the markets for diagnostic imaging devices and biopsy devices progress at a faster rate?
What is the current status of hand instruments segment?
At what CAGR will the endometrial ablation devices segment progress? How intense will the demand for radiofrequency and ablation devices shape the overall market trends?
What are the key strategies adopted by the market players for strengthening their market position?
In which modes are the market incumbents penetrating the emerging markets in Asia Pacific?