"Incidence of spinal cord injuries has risen significantly on a global scale"
The global spinal fusion market is growing competently, expected to grow at a CAGR of 5.8%. Worldwide, increasing open and minimally invasive spine surgeries has significantly increased the revenue of spinal fusion devices. Growing geriatric population are more vulnerable to spine disorders, increasing incidences of fracture, trauma, deformity, tumor, scoliosis, and degenerative spine disorders globally will enhance the growth of the global spinal fusion market. Innovative product launches along with improvement in anterior/posterior spinal fusion procedures are factors driving the growth of the market.
Market Synopsis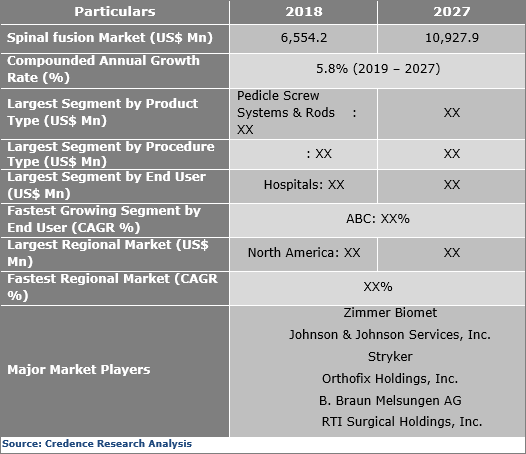 Get a sample copy for more information
"Pedicle screw systems & rods segment is expected to register higher growth by the end of 2027"
Utilization of bio-absorbable materials is becoming popular owing to their superior properties of being absorbed in the human body over time. Moreover, this eradicates repeat surgical procedures necessary to remove the implant after the bones have recovered fully. Pedicle screw systems & rods will show significant growth. Increased lumbar fusion and cervical fusion rates will further spur revenue growth during the forecast period. The new launch of advanced plating systems, interbody cages, hook fixation systems, and other products with enhanced structural stability and integrity will drive the demand in open surgeries. Additionally, a wide range of spine products for deformity, minimally invasive surgery, lumbar degenerative, cervical, biomaterials, vertebral body augmentation, and replacement will further spur revenue growth during the forecast period.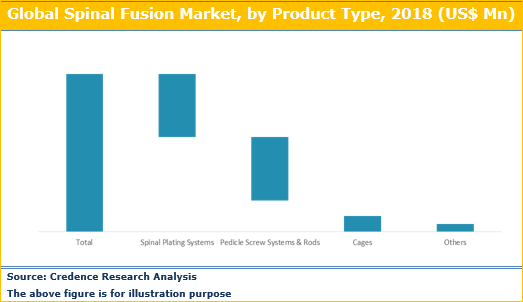 Get a sample copy for more information
"Interbody fusion segment is expected to register higher growth by the end of 2027"
Adult degenerative scoliosis, adult lumbar spondylolisthesis, broken vertebrae, Herniated disc, instability from conditions such as arthritis and spinal weakness will enhance the growth of anterior and posterior interbody fusion procedures globally. Even though the procedure is most commonly performed for lumbar area, thoracic vertebrae and cervical can also be treated in cases of accidents. Other spinal related conditions recommended by surgeons comprise spinal tumor, degenerative disc disease, vertebral fracture, and spondylosis. Increasing road accidents, aging population, heavy investment in the multispecialty hospital infrastructure, and rising incidences of incidence of spinal cord injuries will drive the market growth globally.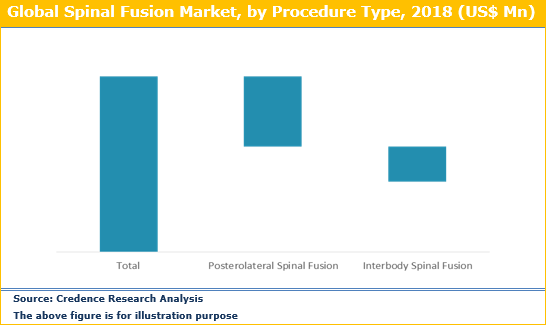 Get a sample copy for more information
"Increasing aging population, rising medical expenditure and the presence of top companies hold the U.S. in dominant position"
According to National Spinal Cord Injury Statistical Center, in the U.S., the number of individuals living with spinal cord injury is currently estimated to be around 288,000 individuals, with a range from 240,000 to 350,000 individuals. In 2018, North America generated maximum revenue share in the spinal fusion market due to an increase in technology expansion of spinal fusion procedures along with educating awareness about minimally invasive surgery. Product expansion in developing nations (mainly in the Asia Pacific), higher patient pool for spinal related disorders, low cost of surgery, and medical tourism will drive the product segment during the forecast period.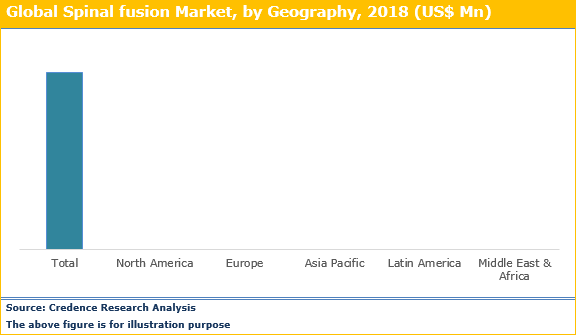 "Increased research and development with strong product portfolio in the developed regions"
Major players in the spinal fusion market are Zimmer Biomet, Johnson & Johnson Services, Inc., Stryker, Orthofix Holdings, Inc., B. Braun Melsungen AG, RTI Surgical Holdings, Inc., Life Spine, Inc., MicroPort Scientific Corporation, Integra LifeSciences, NuVasive, Inc., RTI Surgical Holdings, Inc., Exactech Inc., K2M Group Holdings Inc., Titan Spine LLC and others. Major manufacturers are focused on producing top quality bio-absorbable products. Partnership agreements, new product launch, acquisitions, and improved R&D will increase the expansion of the spinal fusion market in the emerging nations in the near future.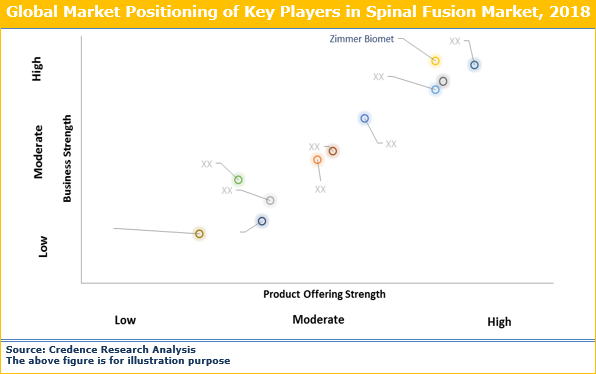 Historical & Forecast Period
This study report represents analysis for each segment from 2017 to 2027 considering 2018 to be the base year. Compounded Annual Growth Rate (CAGR) for each of the respective segments estimated for the forecast period from 2019 to 2027.
Report Scope by Segments
Market Segmentation
ATTRIBUTE
DETAILS
Research Period
2017-2027
Base Year
2018
Forecast Period
2019-2027
Historical Year
2017
Unit
USD Million
Segmentation

Product Type (2017–2027; US$ Mn)
• Spinal Plating Systems
• Pedicle Screw Systems & Rods
• Cages
• Others (Hook Fixation Systems, Other Interbody Devices)

Procedure Type (2017–2027; US$ Mn)
• Posterolateral Spinal Fusion
• Interbody Spinal Fusion

End-User (2017–2027; US$ Mn)
• Hospitals
• Orthopedic Clinics & Centers
• Ambulatory Surgical Centers

Geography (2017–2027; US$ Mn)
• North America (U.S., Canada)
• Europe (U.K., Germany, Rest of Europe)
• Asia Pacific (Japan, China, Rest of Asia Pacific)
• Latin America (Brazil, Mexico, Rest of Latin America)
• Middle East & Africa (GCC, Rest of Middle East & Africa)
The current report also comprehends qualitative and qualitative market valuation factors such as key market drivers, market trends, restraints and opportunities that give a better market understanding of the overall spinal fusion market. Additionally, the global report also comprises graphical representation of competitive landscape based on their market initiatives and strategies, product portfolio and business strengths.
Key questions answered in this report
What are the current market trends and dynamics in the spinal fusion market and valuable opportunities for emerging players?
Which segment accounts for the fastest CAGR during the forecast period?
Which product type segment holds a larger market share and why?
Are low and middle-income economies investing in the spinal fusion market?
What is the market trend and dynamics in emerging markets such as Asia Pacific, Latin America and Middle East & Africa?