Hairbrushes with various soft or rigid bristles are widely used by for hair maintenance across the world. Both men and women make use of various hair brushes for different applications such as styling, grooming, detangling and smoothening. In addition, other benefits such as better hair and scalp health and reduction of issues pertaining to dandruff have further fuelled the adoption of hair brushes among consumers. Hair brushes have also found immense applications in animal use where various groomers and pet owners make use of specialized brushes on animals such as dogs, cats, horses and cattle, among others. Various types of hair brushes such as radial/round hair brush, paddle hair brush, vented hair brush, cushion hair brush, and others (military hair brush, wide tooth brush, etc.) are available in the market currently. Moreover, leading providers of hairbrushes have been engaged in design and development of innovative and specialized brushes for both personal and professional applications.
Factors such as rising consumer awareness towards hair hygiene and increasing disposable incomes across the world have fueled the growth in the overall hairbrush market. Moreover, ongoing fashion trends and introduction of new and stylish hair care products have further boosted the demand for exquisite and high-end hairbrushes in most of the developed markets across the world. Thereby, the market is expected to witness significant growth during the forecast period. However, factors such as limited product innovation and declining profit margins pose as major challenges in the global hairbrush market.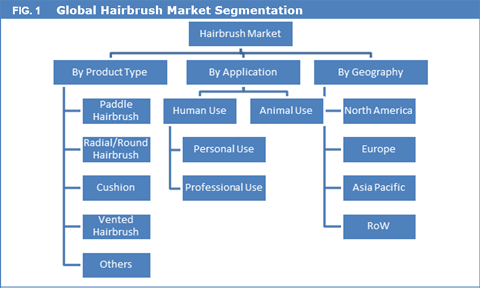 The report titled "Global Hairbrush Market- Growth, Future Prospects and Competitive Analysis, 2017 – 2025" offers strategic insights into the global hair brush market along with the market size and estimates for the duration 2015 to 2025. The said research study covers in-depth analysis of multiple market segments based on product type, application and cross-sectional study across different geographies and sub-geographies. The study covers the comparative analysis of different segments for the years 2016 & 2025. The report also provides a prolific view on market dynamics such as market drivers, restraints and opportunities. In addition, the report covers a section providing production and pricing trends in some of the major markets.
In order to help strategic decision makers, the report also includes competitive profiling of the leading providers of hairbrush, market positioning and key developments. Some of the major players profiled in the report are Conair Group Ltd., Procter & Gamble Company, Kent & Sons Plc., L'Oreal Group, Helen of Troy Limited, Tangle Teezer Limited, Ibiza Hair, Inc., Denman International Ltd., Mason Pearson Bros. Ltd. and Spornette International, Inc.
Other in-depth analysis provided in the report includes:
Current and future market trends to justify the forthcoming attractive markets within the hair brush industry
Market fuelers, market impediments, and their impact on the market growth
In-depth competitive environment analysis
Trailing 2-Year market size data (2015 – 2016)
SRC (Segment-Region-Country) Analysis
Overall, the research study provides a holistic view of the global hair brush market, offering market size and estimates for the period from 2017 to 2025, keeping in mind the above mentioned factors.