Industry Outlook
Growing demand for coagulation or hemostasis analyzers is mainly driven by the consistently increasing population base suffering from lifestyle diseases and blood disorders. Augmenting awareness about inherited blood disorders and improving diagnosis rates are predicted to increase the pace of hemostasis analyzers market. Emerging markets of Asia Pacific and Latin America are at present witnessing significant demand for automated analyzers justified by rapidly developing healthcare infrastructure.
Growing incidence of cardiac diseases and blood disorders is anticipated to catalyze the uptake of coagulation tests. It is an established fact that cardiovascular disease patients are at a higher risk of developing coagulation conditions causing ischemic stroke. Therefore increasing geriatric population and substantially growing patient pool of cardiovascular diseases will build the market growth for hemostasis analyzers. Moreover, improving automation and introduction of portable analyzers has further aided in increasing adoption of these systems in ambulatory and emergency care settings. Additionally, easy operating of these devices have also reduced the requirement of further skills at healthcare settings further increasing its adoption in remote settings and clinics.
Market Synopsis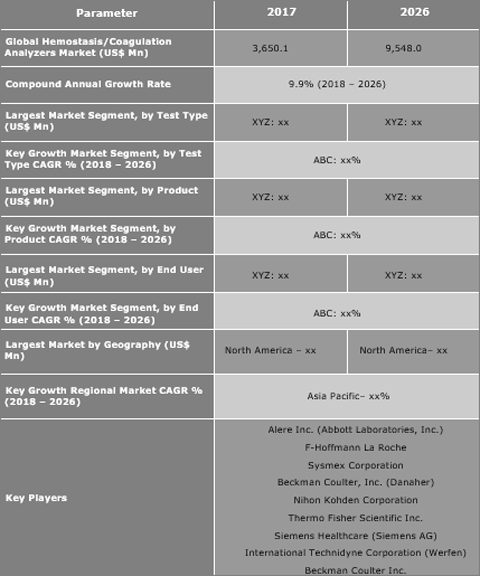 Get a sample copy for more information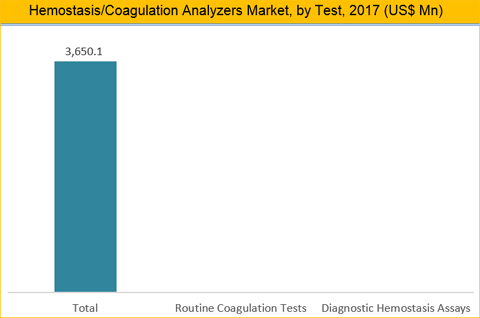 Growing incidence of hematological diseases and growing awareness to spur demand for routine coagulation tests
The modern coagulation laboratories perform a wide range of tests that allow accurate and comprehensive diagnosis. Some tests are also used for monitoring the effects of anticoagulant therapy. Based on the same, hemostasis/coagulation analyses are categorized into diagnostic hemostasis assays and routine coagulation tests. Routine coagulation tests are mainly performed in clinical laboratories, whereas diagnostic hemostasis assay tests are usually low throughput and performed in specialized laboratories for specific diagnosis and characterization of defect. PT and APTT test types in routine coagulation tests occupy the largest share in the global market. APTT test mainly detects coagulation inhibitors, monitors heparin therapy, and detects inherited abnormalities.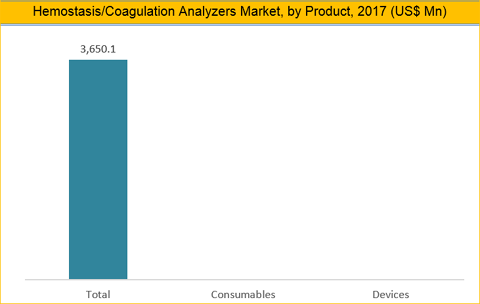 Get a sample copy for more information
Large purchase volume of consumables to spurt the market growth
Currently analyzers hold the largest share in the global hemostasis/coagulation analyzers market and will further advance at a fair growth rate. Some factors supporting the growth of this segment are the rapidly evolving healthcare infrastructure in the emerging economies of Asia Pacific, growing healthcare expenditure, with increasing incidence of lifestyle diseases. Upgrading of existing infrastructure to align with the latest technological development and invasion of point-of-care testing also supports the growth of this segment. Additionally, consumables segment will undergo the fastest progress in the global market. Large purchase volume on the ground of greater consumption is mainly attributed to the market growth. All the coagulation tests performed require reagents and therefore large inventory of the same needs to be maintained. Also, repeat orders of these items are frequent in clinical laboratories. Growing count of testing in developing markets is also expected to surge the demand and uptake for consumables.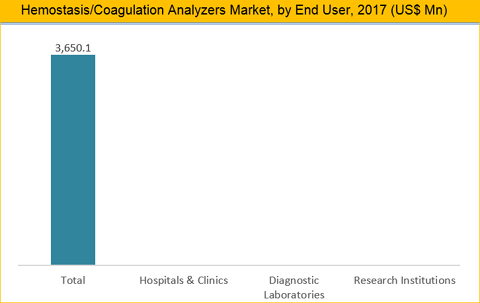 Get a sample copy for more information
Specialized diagnostic centers to dominate the end-use segment
Swift expansion in the number of hospitals and healthcare centers is a significant driving factor to the growth of the global hemostasis/coagulation analyzers market. Favorable government steps towards improving the healthcare infrastructure will also direct the market growth. Currently diagnostic centers followed by hospitals occupy the largest market share by end users due to fundamental fats such as higher patient footfall, and better affordability of these facilities in adoption of novel diagnostic technologies. Due to the ongoing trend of outsourcing of specialized hemostasis tests to diagnostic tests, this segment procures the largest market share on the global front.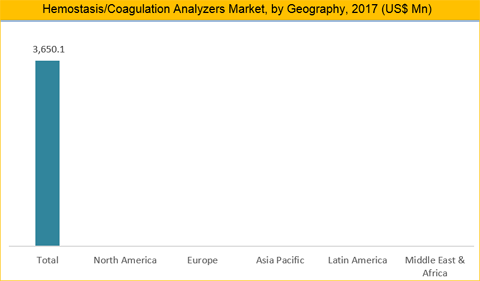 Asia Pacific to advance at a rapid pace due to growing awareness and healthcare expenditure
North America, followed by Europe is the largest regional market for hemostasis/coagulation analyzers. The region currently occupies over 30% of the global market. Encouraging healthcare policies, and existence of impressive healthcare infrastructure along with increasing prevalence of CVDs and hematological conditions contribute to the dominance of North America market. Good reimbursements also play a key role in the position in this market. On the basis of growing patient population, and proliferation of healthcare infrastructure, Asia Pacific and Middle East and Africa will be the fastest progressing regions. Improving awareness and growing medical tourism industry in Asian countries also facilitate the progress of this region.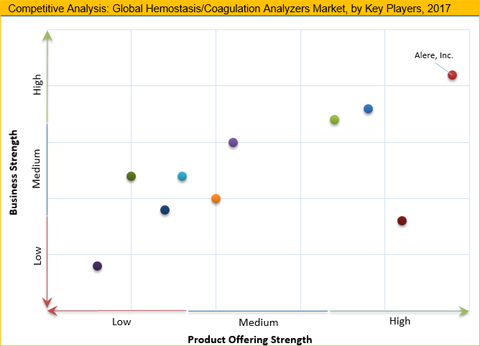 Historical & Forecast Period
This research report presents the analysis of each considered segment for the period from 2016 to 2026, having 2017 as the base year for estimations. Compounded annual growth rates (CAGRs) for each segment are calculated for the forecast period from 2018 to 2026.
Report Scope by Segments
The hemostasis/coagulation analyzers market report provides quantitative assessment of the industry terms of current and forecasted market size, while also presenting the market dynamics. This market is segmented based on drugs, type of infection, range of action, and geography.
ATTRIBUTE
DETAILS
Research Period
2016-2026
Base Year
2017
Forecast Period
2018-2026
Historical Year
2016
Unit
USD Million
Segmentation

By Test (2016–2026; US$ Mn)
• Routine Coagulation Tests
• Prothrombin time (PT)
• International Normalized Ratio (INR)
• Activated partial thromboplastin time (APTT)
• Thrombin time (TT)
• Fibrinogen
• D-dimer
• Diagnostic Haemostasis Assays
• VWF assays
• Platelet function testing
• Thrombophilia testing
• Factor inhibitors
• Factor assays

By Products (2016–2026; US$ Mn)
• Consumables
• Reagents
• Strips, Standards, Controls, Calibrations, etc.
• Devices
• Clinical Laboratory Analyzers
• Point of Care Analyzers

By End User (2016–2026; US$ Mn)
• Hospitals & Clinics
• Diagnostic Laboratories
• Research Institutions

Geography Segment (2016–2026; US$ Mn)
• North America (United States and Canada)
• Europe (U.K., Germany, Rest of Europe)
• Asia Pacific (China, Japan, Rest of Asia Pacific)
• Latin America (Brazil, Mexico, Rest of Latin America)
• Middle East and Africa (GCC, Rest of MEA)
The dynamics in the global hemostasis/coagulation analyzers market are studied for better understanding of the industry progress. Such market dynamics include drivers, challenges and opportunities, giving insights into the prevalent positive aspects and pain points. Major players in the market are also studied in terms of business overview, financial information, product portfolio and key developments. The key players operating in the global hemostasis/coagulation analyzers market profiled in this report include Alere Inc. (Abbott Laboratories, Inc.), F-Hoffmann La Roche, Sysmex Corporation, Beckman Coulter, Inc. (Danaher), Nihon Kohden Corporation, Thermo Fisher Scientific Inc., Siemens Healthcare (Siemens AG), International Technidyne Corporation (Werfen), and Beckman Coulter Inc.
Key questions answered in this report
What is the current and forecasted market value of the global hemostasis/coagulation analyzers industry?
How the market will progress though the forecast period from 2018 to 2016?
What are the major market dynamics prevalent and how strong their impact will be on the market through the forecast period?
How the new opportunities facilitate the future market growth?
What are the strategic steps undertaken by the major market players and what is the current competitive landscape?
Which region will advance at the fastest rate through the forecast period?
How the consumables segment will progress in the market?
What is the current status of Asia Pacific in the global hemostasis/coagulation analyzers market?