Endoscopic Ultrasound (EUS) Needles Market to Exhibit Lucrative Growth during the Forecast Period
The global endoscopic ultrasound needles market accounted for a value of US$ 289.3 Mn in 2017 and expected to attain US$ 440.4 Mn by 2026. Growing geriatric population coupled with rising prevalence of diseases such as gastrointestinal, lung, liver & hepatobiliary, and pancreatic, worldwide are majorly driving the market growth. Additionally, technological advances in endoscopic ultrasound needles and increasing patient preference for minimally invasive surgeries are anticipated to display significant future outlook over the forecast period from 2018 to 2026. According to the World Health Organization (WHO), the elderly population will surge from 841.0 Mn in 2013 to 962.3 million in 2017 to over 2.0 Bn by 2050 across the globe. According to the United Nations (an intergovernmental organization), by 2050, the elder population may account for 35.0% of the population in Europe, 28.0% in North America, 25.0% in Latin America & the Caribbean, 24.0% in Asia, 23.0% in Oceania, and 9.0% in Africa.
The older population is more prone to develop gastrointestinal (GI) diseases, lung diseases, liver & hepatobiliary diseases, pancreatic diseases among others. As per the data published by World Cancer Research Fund International, worldwide there were 952,000 new cases diagnosed in 2012. In 2015, the WHO reported that about 754,000 deaths occurred due to stomach cancer, lung cancer — 1.69 million deaths, and liver cancer — 788,000 deaths. According to the American Lung Association, in 2018, around 415,000 Americans were diagnosed with lung cancer. In 2016, about 224,390 new cases of lung cancer were diagnosed in the country. On the contrary, risk of complications associated with EUS such as infection, bleeding, pancreatitis, tearing of the intestinal wall or throat are anticipated to limit the use of EUS during the forecast period.
Market Synopsis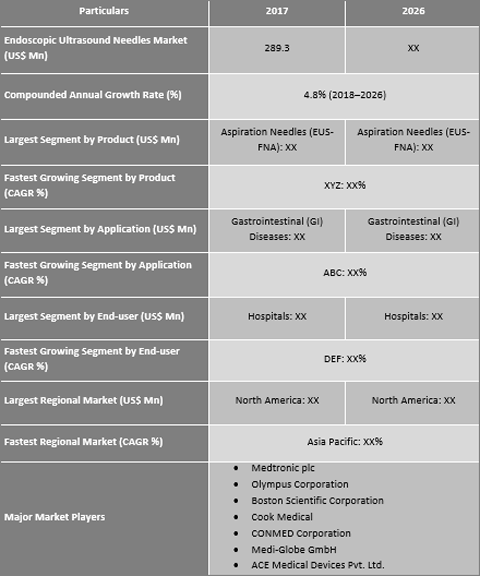 The Aspiration Needles (EUS-FNA) Segment is expected to Register Comparatively Higher Growth over the Forecast Period
Aspiration needles are intended for diagnosis & staging of various lesions located in and around the gastrointestinal tract and of adjacent organs. The EUS-FNA is performed usually at several endoscopic centers and it has a significant impact on the therapeutic management of patients. Rising adoption of aspiration needles for the treatment of gastrointestinal diseases, lung diseases, liver & hepatobiliary diseases, and pancreatic diseases among others expected to continue the dominance of the aspiration needles segment during the forecast period.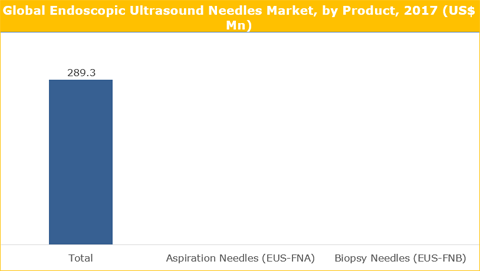 Based on Disease Type, the Gastrointestinal Diseases Segment forecast to Command the Market From 2018 to 2026
Gastrointestinal diseases segment held the highest market share in 2017 due to rising applications of aspiration & biopsy needles in the diagnosis of inflammatory bowel disease (IBD) and cancers such as gastric/stomach, anal & rectal, and esophageal. Endoscopic ultrasonography is majorly used for the diagnosis and loco-regional staging of gastric cancer effectively, that cannot be reliably imaged by using other modalities such as magnetic resonance imaging (MRI), computerized tomography (CT), or diagnosed with conventional biopsies & endoscopy.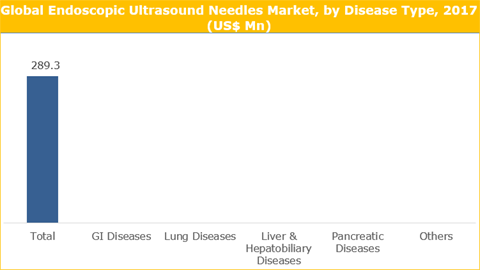 Hospitals Segment Contributes Maximum to the Overall Growth of Endoscopic Ultrasound Needles Market
As per the data provided by an independent source, currently, there are more than 145,000 hospitals across the world. Global surge in the number of hospitals along with comparatively higher use of endoscopic ultrasound needles for the diagnosis of gastrointestinal, lungs, liver, and pancreatic diseases is assisting in the dominance of the hospitals' segment. Ambulatory surgery centers (ASCs) have an ability to improve quality and customer service while simultaneously reducing costs has triggered the gradual rise in the number of endoscopic ultrasound procedures. The ASC vertical demonstrated itself to be ahead of the curve in identifying favourable avenues for improving healthcare delivery, which is supporting the fastest market growth over the forecast period.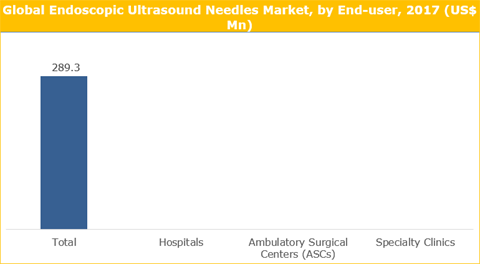 North America Holds Dominant Position Attributed to Higher Demand for Advanced Diagnostic Techniques in Gastroenterology, Pulmonology, and Oncology
North America spearheaded the market in 2017 owing to higher demand for advanced diagnostic techniques in gastroenterology, pulmonology, and oncology; the presence of major market participants, availability of advanced products in the U.S. and Canada, and rising prevalence of cancers such as stomach, pancreatic, metastatic, and lung. Asia Pacific expected to register comparatively higher CAGR during the forecast period due to the presence of target population coupled with the increasing incidence of GI & liver diseases, and growing awareness of endoscopic ultrasound in China, India, and Japan.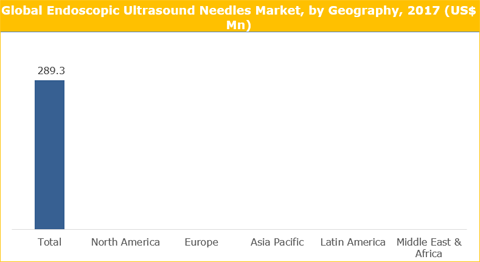 The Presence of Multinational Market Participants Makes Market Penetration Challenging for New Entrants
Major players in this vertical are Medtronic plc; Olympus Corporation; Boston Scientific Corporation; Cook Medical; CONMED Corporation; Medi-Globe GmbH; and ACE Medical Devices Pvt. Ltd. These market players are adopting new product launches, mergers & acquisitions, partnerships, collaborations growth strategies to gain a competitive advantage. For instance, in April 2016, Olympus Corporation launched EZ Shot 3 Plus Single-use Aspiration Needle in Europe & Asia Pacific in order to increase its gastrointestinal product portfolio. Some market participants are raising capital from existing investors to fund commercial growth of their EUS needle products while few players adopted inorganic growth strategy such as acquisition. For instance, in April 2015, Boston Scientific Corporation acquired Xlumena, Inc., a U.S.-based manufacturer of minimally invasive (MI) devices for endoscopic ultrasound-guided transluminal drainage of targeted areas within gastrointestinal tract (GIT), in order to become a market spearhead in the EUS segment.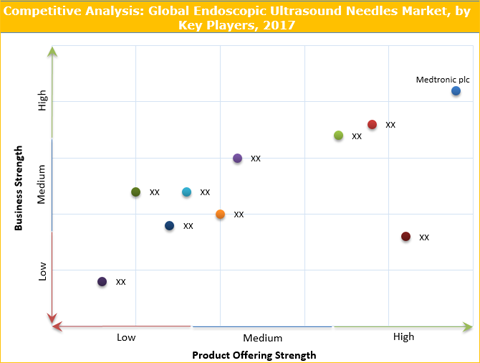 Historical & Forecast Period
2016 — Historical Year
2017 — Base Year
2018–2026 — Forecast Period
This study report represents analysis for each segment from 2016 to 2026 considering 2017 to be the base year. Compounded Annual Growth Rate (CAGR) for each of the respective segments estimated for the forecast period from 2018 to 2026.
Report Scope by Segments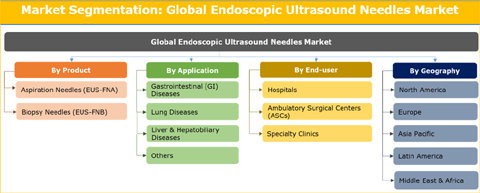 Endoscopic ultrasound needles market encompasses qualitative analysis of current market dynamics & report scope along with quantitative analysis of the global market. The report interprets comprehensive information of global endoscopic ultrasound needles market by segmenting the market based on product, disease type, end-user, and geography. This report would guide Industry Investors, Medical Device Companies, Venture Capitalists, Research & Consulting Firms, and healthcare professionals in decision-making and strategizing the market position.
Product Segment (2016 – 2026; US$ Mn)
Aspiration Needles (EUS-FNA)
Biopsy Needles (EUS-FNB)
Disease Type Segment (2016 – 2026; US$ Mn)
Gastrointestinal (GI) Diseases
Lung Diseases
Liver & Hepatobiliary Diseases
Pancreatic Diseases
Others (lymphatic diseases, periampullary cancer, and uterine, cervical & ovarian cancer)
End-user Segment (2016 – 2026; US$ Mn)
Hospitals
Ambulatory Surgical Centers (ASCs)
Specialty Clinics
Geography Segment (2016 – 2026; US$ Mn)
North America
Europe

U.K.
Germany
Rest of Europe

Asia Pacific

Japan
China
Rest of Asia Pacific

Latin America

Brazil
Mexico
Rest of Latin America

Middle East & Africa

GCC
Rest of Middle East & Africa
The current report also includes qualitative analysis of market variables such as key market drivers, restraints, opportunities, and market trends which provides a better market comprehension of the overall endoscopic ultrasound needles market. Furthermore, the report also encompasses graphical representation of competitive landscape based on their market initiatives & strategies, product portfolio, and business strengths. Prominent market players profiled in the study report are Medtronic plc; Olympus Corporation; Boston Scientific Corporation; Cook Medical; CONMED Corporation; Medi-Globe GmbH; and ACE Medical Devices Pvt. Ltd.
Key questions answered in this report
What are the current market trends and dynamics in the endoscopic ultrasound needles market and valuable opportunities for emerging players?
Which product contributes to the maximum market share?
Which product accounts for the fastest CAGR during the forecast period?
Which disease type held the major market share in 2017?
Which disease type would be the fastest segment during the forecast period?
Which end-user holds a larger market share and why?
What is the impact of high-cost needles on the endoscopic ultrasound needles market?
Are low and middle-income economies investing in the endoscopic ultrasound needles market?
What is the market trend and dynamics in emerging markets such as Japan, Latin America, and Middle East & Africa?