"Increasing Adoption across Automotive and Transportation Sector Aiding the Hi-Speed Camera Market Growth Positively"
The high-speed camera market stood at US$ US$ 405.6 Mn in 2017 and expected to grow at a CAGR of 7.7% during the forecast period from 2017 to 2026. High-speed cameras are defined as any camera capable of capturing at frame rates above 250 frames per second. The major application of these cameras include recording of fast moving objects. The videos captured with high-speed cameras can later be played back in slow motion. In recent years, these cameras have widely been adopted in the sports industry. Soccer stadiums, for example, are typically equipped with high speed cameras that facilitates spectators to see slow motion replays of important game situations that are accurate in every detail. Similarly, it is also used by gymnasts, runners and golfers for motion analysis for improving their performances. Automotive and transportation industry is another major industry where the application of high-speed cameras is high. Functionalities such as tire testing, safety test applications, suspension testing, and transmission testing among others can be carried out with the help of these cameras.
Market Synopsis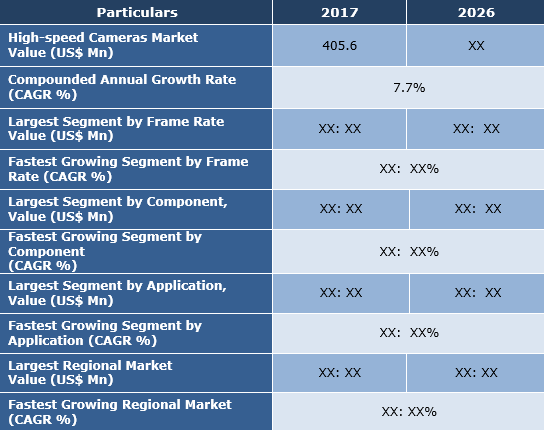 Get a sample copy for more information
"High Cost may Offset Demand in the Coming Years"
Despite the numerous benefits offered by high-speed cameras, restraint in the form of high cost exist for the cameras. Across various application areas such as product testing, material testing, combustion, flow visualization, bio mechanics and fluid dynamics among others high-speed cameras are used for purposes such as research, design and testing.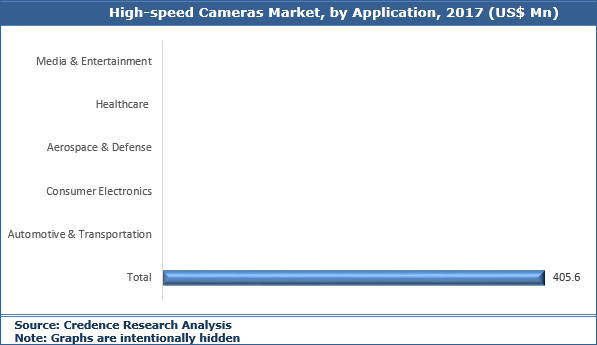 Get a sample copy for more information
"North America Expected to Continue its Dominance throughout the Forecast Period"
North America stood as the largest market for high-speed cameras in 2017 and expected to continue its dominance throughout the forecast period. The region being technologically advanced has helped the high-speed camera market to flourish. The presence of several established companies and research facilities supports the aforementioned sentence. The region having well established industrial bases wherein high-speed cameras are used across various applications is another prominent factor aiding the high-speed cameras market growth in the North America region.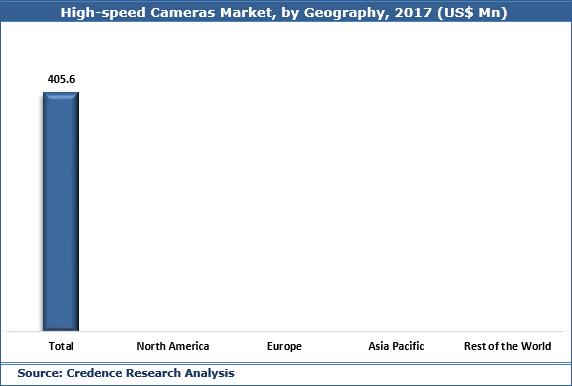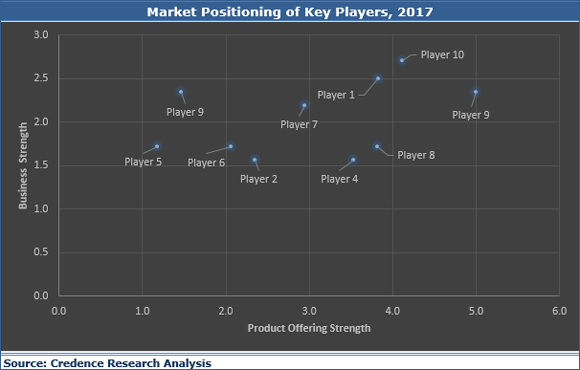 Get a sample copy for more information
Report Scope by Segments
The report elucidates the detailed outline of global high-speed cameras market by categorizing the market in terms of frame rate, component, application and geography.
ATTRIBUTE
DETAILS
Research Period
2017-2027
Base Year
2018
Forecast Period
2019-2027
Historical Year
2017
Unit
USD Million
Segmentation

Frame Rate (2016–2026; US$ Mn)
• 250 to 1,000 FPS
• 1,001-10,000 FPS
• 10,001-30,000 FPS
• 30,001-50,000 FPS
• Above 50,000 FPS

Component (2016–2026; US$ Mn)
• Image sensors
• Processors
• Lens
• Memory
• Fans and Cooling

Application (2016–2026; US$ Mn)
• Automotive & Transportation
• Consumer Electronics
• Aerospace & Defense
• Healthcare
• Media & Entertainment

Geography Segment (2016–2026; US$ Mn)
• North America (U.S., Canada)
• Europe (U.K., Germany, France, Rest of Europe)
• Asia Pacific (China, Japan, India, Rest of APAC)
• Rest of the World (Middle East & Africa, Latin America)
Key players profiled in the report include Olympus Corporation, Photron, Mikrotron GmbH, DEL Imaging, NAC Image technology, Motion Capture Technologies, iX Cameras, Vision research. Inc., Fastec Imaging and Fastec Imaging among others.
Key questions answered in this report
What was the global smartwatch market size in 2017 and forecast for 2026?
What are the current trends in the high-speed cameras market?
What are the various valuable opportunities for the players in the market?
Which is the largest regional market for high-speed cameras market?
Which region expected to be the fastest growing and why?
What are the future prospects for the high-speed cameras market?
What are the major drivers and restraints influencing the market growth?
What are the new innovations by the leading players?
What are the key strategies adopted by the leading players in market?