Key Market Insights
"Growing applications of IoT in aviation driving the market growth"
The rapid progress in the field of digital communication and networking has greatly influenced the aviation industry across the world. By adopting new and advanced technologies, the aviation industry is reshaping itself to improve its operational efficiency and passenger experience. Many companies are investing in IoT that has the ability to connect technology, processes, people, and culture to deliver seamless air travel experience. With the growing number of air passengers across the world, especially the Asia Pacific, there is an annual growth of 5% investment in the overall aviation industry. Market players such as SAP SE, Microsoft and others have already started investing in IoT technology to lead the market share. For instance, Rolls-Royce, an aero-engine manufacturer have started integrating Microsoft Azure IoT Suite and Cortana Intelligence Suite in its service solutions. This will also support Rolls-Royce's next-generation intelligent engines in the future.
With the launching of 5G technology, millions of devices expected to communicate with each other in the future. This, in turn, will help aviation companies to leverage the power of IoT and big data to improve their fleet management, fuel savings, and safety & security standards. However, the lack of a single owner who can control the whole systems in commercial aviation that are flooded with an increasing number of airlines and MROs expected to restraint the adoption rate of IoT.
Overall, the global IoT in the aviation market was US$ 554.2 Mn in 2018 and expected to reach US$ 2,685.1 Mn by 2027, growing at a CAGR of 19.3% from 2019 to 2027.
Market Snapshot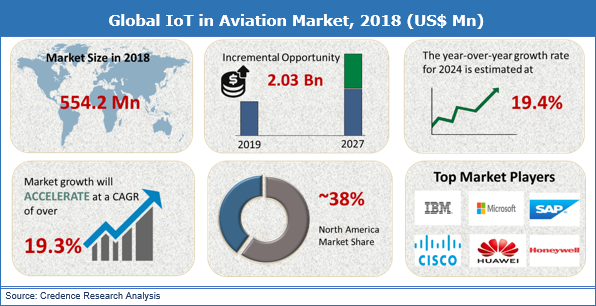 Get a sample copy for more information
End-user Segment Analysis
"Airport expected to lead the market share"
Airport segment expected to lead the market during the forecast period. Increasing passenger traffic affected the travel experience causing issues like flight disruption, baggage, and ticketing. Thereby, many airport authorities are shifting towards smarter airports to improve their efficiency of passenger handling. This has influenced the demand for IoT technologies such as IoT baggage tracking, IoT Queuing solutions, biometric security checks, and passenger management.
Beijing's 5G equipped smart airport, JAL smart airport of Japan and Hamad International airport, Qatar are some of the ongoing airports transforming themselves into IoT-based smart airports. For instance, in September 2019, NEC Corporation conducted trials of IoT at Haneda airports of Japan to improve airport operations.
Get a sample copy for more information
Regional Analysis
"North America dominating the world market"
North America accounted for the largest share of the market in 2018. A large number of airlines operating in the region that are flying over 6700 flights daily boarding over 2.7 million passengers every day. A large number of air travel passengers provide high potential for IoT implementation to improve their flying experience. This has influenced the market players to install IoT in the regional airlines. Some of the companies present in the region include are IBM, Microsoft, SAP SE, and Honeywell. These companies are launching innovative software to enhance airlines efficiency. For instance, Travel Accelerator of SAP SE, integrated with Gigya technology offers predictive analytics and demand-driven material requirement helps in an increase in profit and performance management.
On the other hand, a growing number of passenger travel due to the rise in disposable income and increasing private sector investment in the aviation sector of Asia Pacific has high potential to improve the operation, maintenance, and efficiency of the regional aviation industry. The region provides large opportunities for IoT in aviation sector.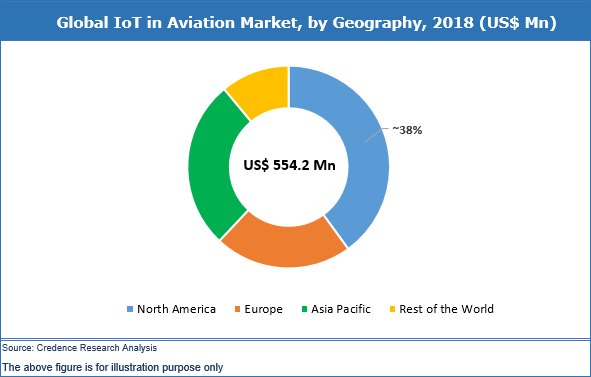 Get a sample copy for more information
"Technological advancement is keeping the market competitive"
The global IoT in aviation market is competitive in nature. Some of the major players of the market are IBM (U.S.), Microsoft Corporation (U.S.), SAP SE (U.S.), Fujitsu (Japan) and Huawei (China) among others. These market players are adopting strategies such as partnership with other companies having excellence in technology, and launching new and advanced solutions to stay competitive in the global market. Following is the list of players included in the published reports.
List of Companies Covered:
IBM
Microsoft Corporation
Wind River
Amadeus IT Group SA
Cisco
SAP SE
Huawei Technologies Co., Ltd.
Honeywell International Inc.
Aeris
Sendum Wireless Corporation
GlobeRanger (Fujitsu)
Others
Key Industry Development:
In July 2018, Airbus Interior Services partnered with Fujitsu to improve the inspection, maintenance and other daily operational tasks on the aircraft. Together both the companies have rolled-out Smart Emergency Equipment Manager (S-EEM) system that digitally inspects cabin emergency equipment, simplifying the checking of service, security and availability of safety equipment in the aircraft. With this collaboration, both companies are benefitting in terms of improved MRO efficiency; thereby, increasing aircrafts flying hours.
In June 2018, Huawei Technologies Co., Ltd. launched Smart Airport 2.0 Solution consist of IoT and visualized safety, service and operation processes. Smart Airport 2.0 focused more on linked technologies such as video surveillance, big data, artificial intelligence, and IoT. This, in turn, enhancing the airport operations and delivers comfortable air travel experience to passengers.
Historical & Forecast Period
The research report presents the analysis of each segment from 2017 to 2027 considering 2018 as the base year for the research. Compounded annual growth rate (CAGR) for each respective segments calculated for the forecast period from 2019 to 2027.
Market Segmentation
ATTRIBUTE
DETAILS
Research Period
2016-2026
Base Year
2017
Forecast Period
2018-2026
Historical Year
2016
Unit
USD Million
Segmentation

Component Segment (2017-2027; US$ Mn)
• IoT Hardware
• IoT Software

Application Segment (2017-2027; US$ Mn)
• Ground Operations
• Asset Management
• Passenger Experience
• Air Traffic Management

End-user Segment (2017-2027; US$ Mn)
• Airlines
• Airports
• MROs
• Manufacturers

Geography Segment (2017-2027; US$ Mn)
• North America (U.S., Rest of North America)
• Europe (U.K., Germany, France, Rest of Europe)
• Asia Pacific (Japan, China, India, Rest of APAC)
• Rest of the World (Middle East & Africa, Latin America)
The current report also comprehends qualitative market valuation factors such as key market drivers, market trends, restraints and opportunities that give a better market understanding of the global IoT in aviation market. Additionally, the global report also comprises a graphical representation of a competitive landscape based on their market initiatives and strategies, product portfolio and business strengths.
Unique data points of this report
Recent trends across different regions in terms of development of IoT in aviation market
Attractive investment proposition for application segment as well as geography
Key questions answered in this report
What was the market size of IoT in aviation market in 2018 and forecast up to 2027?
What are the key factors driving the global IoT in aviation market?
What are the key market trends and high-growth opportunities observed in the IoT in aviation market?
Which is the largest regional market for IoT in aviation market?
Which segment will grow at a faster pace? Why?
Which region will drive the market growth? Why?
Which players are leading the IoT in aviation market?
What are the key strategies adopted by the leading players operating in the market?