Market Insights
In dairy products, locust bean gum play as a water carrying agent, preventing the development of frozen dairy food, ice crystals, and sweet food to cultivate the taste. Locust bean gum plays very crucial role in improving water binding capability as well as freezing and melting stability. It aids in the management of dough water absorbency and increases the properties and consistency of dough to extend the ageing period in flour products. Locust beam gum has a wide range of uses in the cosmetics and clothing industries. The most common color found in powder is white or light yellow. The global locust bean gum is likely to witness moderate growth rate of slightly over 5.5% over the span of analysis period. The incremental market expected through the forecast period will be around USD 23 million.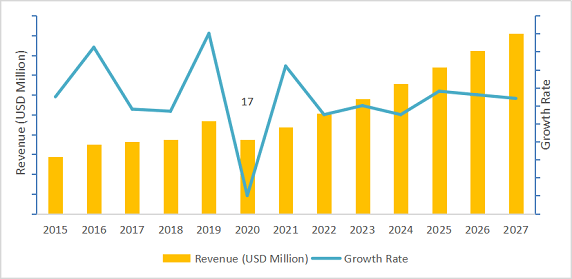 Locust Bean Gum to Take Over Guar Gum in Host of Applications
Locust bean gum possess huge replacement potential over guar gum. Locust bean gum has shown similar properties than those of guar gum and poised to play important role as a thickening agent in textile, food additives and chemical industries. Guar gum and locust bean gum differs in their functionalities and properties, they are mainly employed as a thickening agent in food additives industry. Locust bean gum being cost effective as compared to guar gum, is increasingly being accepted by the Applications in most of the application.
Lack of Scalability of Its Production
Carob tree is major feedstock used in the manufacturing of locust bean gum. Carob tree find its origin in Mediterranean region. Morocco, Spain, Italy, Portugal, etc. are the major countries where Carob trees grows. Hence, production of locust bean gum has been highly concentrated in above mentioned countries. Morocco, Spain, Italy and Portugal control over 75% share of the total production in the world. As the raw materials are confined to Mediterranean region the production capacities can not be increased outside the region. This in turn resulted into major hurdle for the growth of this industry.
Food Industry
Because of its low cost, locust bean gum is replacing guar gum in the food and beverage industries. This is expected to be a major factor in the global locust bean gum market's growth. Furthermore, rising demand for snack foods due to evolving eating habits and a busy lifestyle is driving locust bean gum demand. Locust bean gum is growing in its popularity as a thickening agent owing to its stabilizing properties. As locust bean gum is obtained from the natural sources, the demand is likely to surge in the years to come. Moreover, the study on effects of locust bean gum on human health has proved that the intake of locust bean gum can potentially control cholesterol level. Consistent intake of around 10-to-30-gram locust bean gum for 7 to 8 weeks can effectively cholesterol level. However, locust bean gum also finds applications in other industries including textile, printing, coating, etc.
COVID 19 Had Severe Impact on Locust Bean Gum
COVID 19 impact on locust bean gum market was intensive. Spain, Portugal and Italy are the major regions for the production as well as consumption of locust bean gum and were severely affected by the outbreak of COVID 19 pandemic. Strict lock down and stringent restrictions on mobility caused significant drop in demand as well as production of locust bean gum. Locust Bean Gum market has witnessed drop in market size between 15 to 20%.
Rising Demand for Clean Label Ingredients to Keep Europe at the Forefront in Locust Bean Gum Industry
Locust Bean Gum market has been traditionally dominated by the strong demand from Europe. Increasing demand for natural and clean label food ingredients in Europe is a major growth driving factor for the dominance of Europe in this industry. UK is a net importer of locust bean gum followed by the Germany. Spain and Italy are leading consumption countries followed by France and Portugal.
Although growing in adoption, future growth path is tough for locust bean gum in Asia Pacific and North America due to lack of availability and limited production in the region. Moreover, guar gum and many other substitute products are available in those regions and hence demand is mainly confined to Europe region.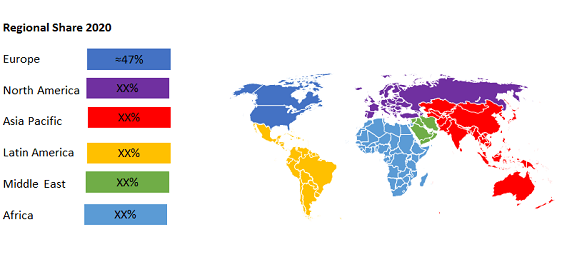 Rich Gold Locust Bean Gum to Lead the Product Type
Some of the major variants of locust bean gum available in the market include Rich Gold Type, Pale Gold Type, Copper Type and Rich Pale Gold Type. In 2020, Rich Gold Type held the highest share of the type segment and is likely to continue during the forecast period. Rich Gold Type is growing in its demand from the food industry owing to better functionalities offered by the variant.
Frequently asked questions about global Locust Bean Gum industry
Which are the key types of Locust Bean Gum?
Ans: Copper Type, Pale Gold Type, Rich Pale Gold Type and Rich Gold Type are the types of Locust Bean Gum. Rich Gold is a leading type of locust bean gum
What are the different applications of Locust Bean Gum?
Ans: Food, Printing Industry, Coating Industry and Plastic Industry are different applications of Locust Bean Gum. Food is likely to lead the demand for locust bean gum
Who are the key players in the global Locust Bean Gum industry?
Ans: DuPont Nutrition & Health, Scalzo Food Industries, TIC Gums Incorporation, Gum Technology Corporation, Ceamsa, Kerry Group, CP Kelco, G Araouzos & Son, Fiberstar Inc., FMC Specialty Chemicals, LBG Sicilia ingredients, and Cargill are the key players operating in this market
Which is the fastest growing application segment for global Locust Bean Gum industry?
Ans: Food Industry application offers tremendous opportunities to players
Which is the leading regional market for global locust bean gum industry?
Ans: Europe has the largest share of the market
What will be the CAGR (2021 - 2027) of in global industry?
Ans: The market is anticipated to grow at a CAGR of 5.6% throughout the forecast period