Robust Industrial Manufacturing & Processing Sector in Asia Pacific to Ensure Promising Growth for Machine Tools Market
Machine tools market was valued at US$ 83.70 Bn in 2017 and expected to continue growing with a CAGR of 4.5% during the forecast period from 2018 to 2026. The market is highly driven by the consistently rising industrial manufacturing sector worldwide. Revival of the automotive industry (in terms of production) has played a major role in ensuring robust demand for related machine tools. Further, availability of wide range of machine tools in CNC as well as manual control configuration has ensured strong penetration of these tools across wide array of industrial verticals. With consistent efforts by the manufacturers towards betterment of products, the market would continue exhibiting strong growth over the forecast period. The market is mainly governed by Asia Pacific, Western Europe and the U.S., collectively commanding over 80% of the global market.
Market Synopsis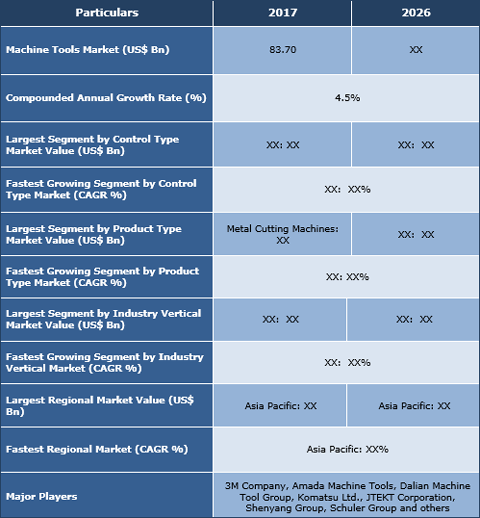 Get a sample copy for more information
Metal Cutting Machine Tools Segment to Retain Dominant Position
The metal cutting tools segment led the overall machine tools market worldwide in 2017, contributing to nearly 2/3rd of the total market value. Industrial sectors including automotive, aerospace & defense, machine tools & parts manufacturing and several others have material cutting as a major application. With consistent growth observed across these verticals, the metal cutting tools segment would continue exhibiting promising growth over the forecast period. The segment comprises variety of machines including drilling & boring, lathe, milling & machining centers, grinding, lapping, honing & polishing machines and others.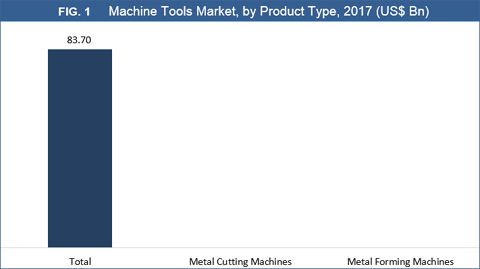 Get a sample copy for more information
Asia Pacific Dominates the Market with More than 50% Market Share
Asia Pacific leads the overall machine tools market worldwide, accounting for more than 50% of the total market value, as of 2017. Presence of huge industrial manufacturing sector encompassing automotive, aerospace & defense, parts manufacturing, electrical & electronics and several others, primarily govern the market here. Due to factors such as abundant availability of resources and cheap labor, the manufacturing sector here is expected to continue flourishing over the following years, thereby enabling the region to retain its dominance. China plays the most prominent role in Asia Pacific as well as the global machine tools market. With continued expansion in its manufacturing sector over the decades, China has emerged as the world's largest consumer as well as producer of machine tools.
Europe follows Asia Pacific, in terms of revenue, in the overall machine tools market. Prominent markets for machine tools in the region include Germany, Italy, France, the U.K., Spain, Russia and Poland among others. The demand here is mainly backed by the presence of automotive, aerospace and electrical & electronics manufacturing sector. Further, North America is expected to portray promising growth over the forecast period. During August 2017, the U.S. manufacturing companies purchased (ordered) machine tools worth nearly US$ 380 Mn, registering growth of 14.3% as compared to August 2016. This is attributed to continued growth in industrial production here since the year 2016.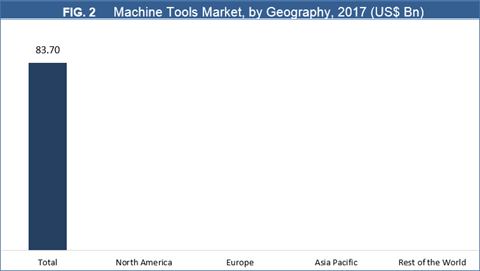 Get a sample copy for more information
Geographic Expansion and Service Enhancement to Remain the Key Strategies
The overall machine tools market is highly competitive in nature, with major players emphasizing on development of more efficient automated products. Over the period, CNC machines have witnessed tremendous penetration across different verticals. Subsequently, market players' focus moved on developing sophisticated CNC machine tools. Companies manufacture sophisticated machine tools and follow a trend of exhibiting them in tradeshows and other such events. In addition, geographic expansion is another prominent strategy observed in the market with an aim of serving wide array of customers worldwide. Majority of the companies are involved in expanding their network of distribution to ensure their presence across multiple geographies. For instance, in January 2018, Toyoda Americas Corporation announced Stone Machinery, a machine tools distributor in the U.S., as its new distributor. The partnership allows the company to increase its reach in states such as Minnesota, North Dakota, South Dakota, Iowa and Western Wisconsin.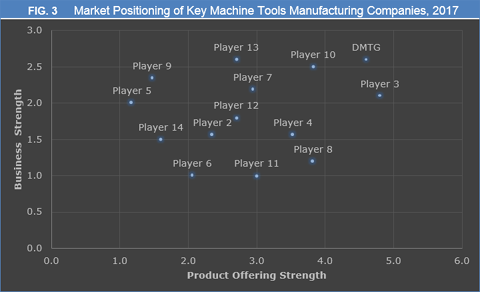 Historical & Forecast Period
This research report presents the analysis of each segment from 2016 to 2026 considering 2017 as the base year for the research. Compounded Annual Growth Rate (CAGR) for each respective segments calculated for the forecast period from 2018 to 2026.
Report Scope by Segments
The machine tools market report provides market size and estimates based on market dynamics and key trends observed in the industry. The report provides a holistic view of global machine tools market based on control type, product type, industry vertical and geography. Key segments covered in the report are as follows:
ATTRIBUTE
DETAILS
Research Period
2016-2026
Base Year
2017
Forecast Period
2018-2026
Historical Year
2016
Unit
USD Billion
Segmentation

Control Type Segment (2016–2026; US$ Bn)
• Conventional Machines
• CNC Machines

Product Type Segment (2016–2026; US$ Bn)
• Metal Cutting Tools
o Drilling & Boring Machines
o Lathe Machines
o Milling & Machining Centers
o Grinding
o Lapping, Honing & Polishing Machines
o Gear Cutting
• Metal Forming Tools
o Bending & Forming Machines
o Punching & Shearing Machines
o Metal Working Presses
o Stamping

Industry Vertical Segment (2016–2026; US$ Bn)
• Automotive
• Aerospace & Defense
• Electrical & Electronics Manufacturing
• Consumer Goods Manufacturing (Ceramics, Plastics, Glass etc.)
• Machine Tools & Parts Manufacturing
• Shipbuilding
• Others (Construction, Mining etc.)

Geography Segment (2016–2026; US$ Bn)
• North America (U.S., Rest of North America)
• Europe (U.K., Germany, France, Italy, Spain, Rest of Europe)
• Asia Pacific (China, Japan, South Korea, India, Rest of Asia Pacific)
• Rest of the World (Middle East & Africa, Latin America)
Key questions answered in this report
What was the market size of machine tools in 2017 and forecast up to 2026?
Which is the largest regional market for machine tools?
What are the top consuming and producing countries for machine tools?
What are the key market trends observed in the machine tools market?
Which is the most promising control type and product type in machine tools market?
Who are the key players leading the market?
What are the key strategies adopted by the leading players in market?
Unique data points of this report
Statistics on industrial sectors (such as automotive, aerospace & defense etc.) worldwide
Top machine tools producing countries
Top machine tools consuming countries
Attractive investment proposition for product type segment as well as geography
Comparative scenario for all the segments for years 2017 (actual) and 2026 (forecast)