"Increasing Inclination towards Adopting Managed IT Services to Pave Way for Customer Communication Management (CCM) Managed Services"
CCM managed services market stood at US$ 423.9 Mn in 2017 and expected to cross the US$ 1,200 Mn mark by 2026. CCM managed services cover outsourced processes related to CCM on a 'pay-as-you-go' model. This ensures effective flow of CCM processes with minimal cost as compared to the in-house CCM suite management. With the overall growing inclination towards managed services, especially in North America and Europe, CCM managed services have witnessed robust demand in the regions since the past few years. Factors such as continually growing adoption of cloud services and higher inclination of small & medium enterprises (SMEs) towards these services would ensure optimum market growth over the forecast period. However, concerns related to data breach from web-based CCM platforms remains a major challenge for the market growth.
Market Synopsis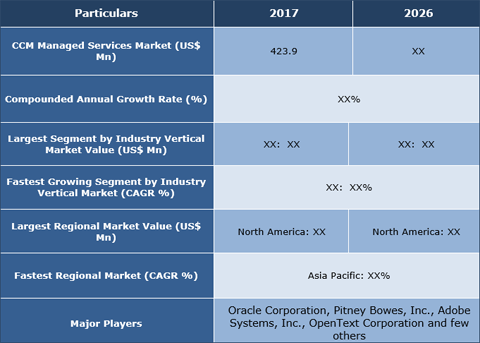 Get a sample copy for more information
"IT & Telecom Segment to Continue Leading the Market; Hospitality & Travel Segment to Demonstrate the Highest Growth Rate"
In 2017, the global CCM managed services market was led by IT & telecom and BFSI segments. The two segments collectively account for more than 40% of the total market value in 2017. Presence of strong IT & telecom and BFSI sectors with strong focus on effective customer engagement is the most prominent factor supporting the segment growth. With consistently increasing penetration of cloud services and managed IT services in Asia Pacific, the IT & telecom segment would continue dominating the market. In the following years, hospitality & travel segment is projected to register high growth rate over the forecast period.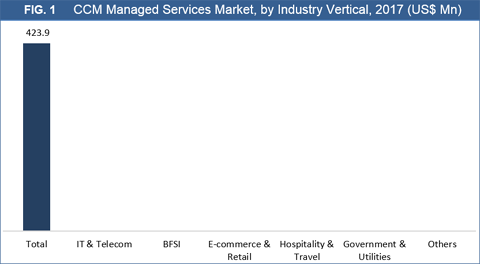 Get a sample copy for more information
"North America to Continue Dominating the Market; whereas Asia Pacific to Emerge as the Most Promising Market"
In 2017, North America led the overall CCM managed services market in terms of value. The region contributed to more than 1/3rd of the total market value generated worldwide. The U.S., accounting for nearly 1/4th of the overall IT industry revenue, represents the largest market in North America. Factors such as higher degree of sophistication among customers and higher labor costs have resulted in greater adoption of CCM solutions in North America. In addition, higher focus towards enhanced customer engagement coupled with presence of significant number of managed services providers is another prominent factor supporting the market growth. With continued need for effective customer engagement, North America would continue leading the market over the forecast period.
Europe follows North America, in terms of market value, in the overall CCM managed services market. The market here is mainly governed by Western Europe having robust IT & telecom sector along with significant penetration of managed IT services. In Europe, Germany, U.K., France, Italy and Spain collectively control nearly 2/3rd of the total IT industry across the region. Nevertheless, in the following years, Asia Pacific would exhibit the fastest growth in CCM managed services market. Countries such as Japan, China, South Korea, India and some of the Southeast Asia countries are expected to emerge as prominent markets for overall managed IT services on account of continually growing IT industry here. Subsequently, the region would demonstrate high growth during the forecast period.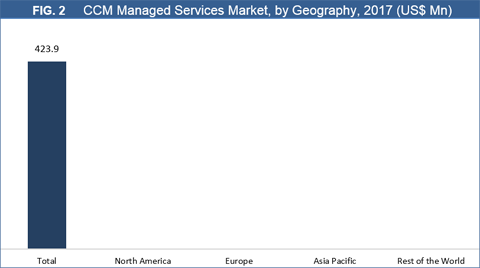 Get a sample copy for more information
"Geographic expansion and service enhancement to remain the key strategies"
Some of the major players operating in the market include Oracle Corporation, Pitney Bowes, Inc., Adobe Systems, Inc., OpenText Corporation, GMC Software AG, SmartComms SC Ltd., XMPie (Xerox Corporation), Ecrion, Inc., Zoho Corporation, Striata, Cincom Systems, Inc., Kofax, Inc., Newgen Software, Inc., Intense Technologies Ltd., Dell, Inc., ISIS Papyrus Europe AG, Fidelity National Information Services, Inc. and Doxee S.p.A. among others. Prominent players in the CCM managed services market are focused on strengthening their product portfolios with more secure and efficient communication software and platform. Introduction of new and improved software with multichannel communication and advanced features are few of the prime strategies adopted by the market players. Emerging players in the market are expected to experience tough competition and will have to plan better strategies to survive in this highly competitive market in the near future due to increase in competition between the market leaders and the already existing players during the forecast period.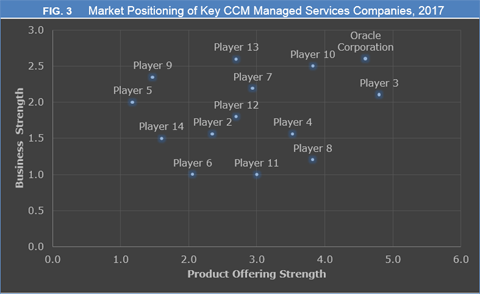 Historical & Forecast Period
This research report presents the analysis of each segment from 2016 to 2026 considering 2017 as the base year for the research. Compounded Annual Growth Rate (CAGR) for each respective segments are calculated for the forecast period from 2018 to 2026.
Report Scope by Segments
The CCM managed services market report provides market size and estimates based on market dynamics and key trends observed in the industry. The report provides a holistic view of global CCM managed services market based on industry vertical and geography. Key segments covered in the report are as follows:
ATTRIBUTE
DETAILS
Research Period
2016-2026
Base Year
2017
Forecast Period
2018-2026
Historical Year
2016
Unit
USD Million
Segmentation

Industry Vertical Segment (2016–2026; US$ Mn)
• IT & Telecom
• Banks, Financial Services & Insurance (BFSI)
• E-commerce & Retail
• Hospitality & Travel
• Government & Utilities
• Others (Healthcare, Education, Media & Entertainment etc.)

Geography Segment (2016–2026; US$ Mn)
• North America (U.S., Rest of North America)
• Europe (U.K., Germany, France, Italy, Spain, Rest of Europe)
• Asia Pacific (China, Japan, Rest of Asia Pacific)
• Rest of the World (Middle East & Africa, Latin America)
Key questions answered in this report
What was the market size of CCM managed services in 2017 and forecast up to 2026?
Which is the largest regional market for CCM managed services?
What are the top countries/regions for overall managed IT services?
What are the key market trends observed in the CCM managed services market?
Which is the most promising industry vertical in CCM managed services market?
Who are the key players leading the market?
What are the key strategies adopted by the leading players in the market?
Unique data points of this report
Analysis on cloud services adoption across different regions/countries worldwide
Current scenario of overall managed IT services across the globe
Attractive investment proposition for industry vertical segment as well as geography
Comparative scenario for industry vertical segments for years 2017 (actual) and 2026 (forecast)