Industry Outlook
The global orthobiologics market to reach US$ 8,136.9 Mn in 2026 and projected to exhibit a compound annual growth rate (CAGR) of 5.7% during the forecast period from 2018 to 2026. Orthobiologics refer to biologics and cellular therapies in orthopedics made of range of products such as recombinant growth factors, bone void fillers, stem cells and grafts. Orthobiologics has evolved in the last two decade resulting in significant role in modern orthopedic surgeries and therapies. Extensive understanding of stem cells and, biological growth factors in the healing process of musculoskeletal injuries, bone regeneration, tendon and ligament repair has stimulated the application of orthobiologics in various orthopedic ailments. The various products in orthobiologics include platelet rich plasma (PRP), stem cells, bone grafts, autologous conditioned serum and growth factors. There is a growing uptake of orthobiologics in sports medicine owing to its lower side effects and shorter recovery time. PRP has demonstrated promising results in treatment of tendonopathies in adults and is being used as an aide in other sports injury treatment. Other orthopedic application of orthobiologics in sports medicines include ACL rupture treatment, cartilage damage, among others. According to Centers for Disease Control and Prevention (CDC), more than 3.5 million children below age 14 receive medical treatment for sports injuries each year in U.S. alone. Thus, growing sports injuries is a major driver for the growth of orthobiologics market. As orthobiologics treatment are in nascent stage, the treatment cost is higher as compared to traditional invasive therapies. Moreover, lower insurance coverage for orthobiologics would further hinder the market growth in the developing nations.
Market Synopsis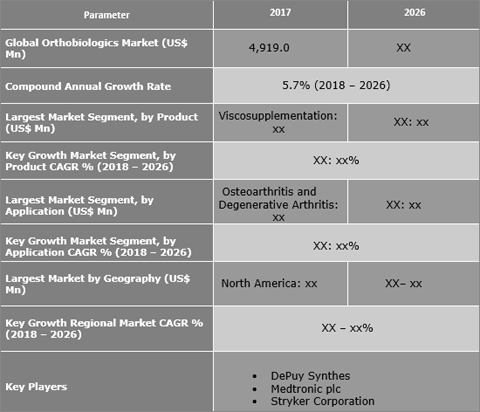 Get a sample copy for more information
"Osteoarthritis Prevalence to Drive Orthobiologics Market"
In 2017, osteoarthritis and degenerative arthritis held the largest share in the global orthobiologics market owing to rise in target population suffering from degenerative arthritis, growing public awareness regarding side effects of continuous oral medications, and introduction of products with better clinical outcome in osteoarthritis management. Spinal fusion segment is projected to exhibit fastest growth rate during the forecast period owing to increase in the number of spinal fusion surgeries globally. American Academy of Orthopedic Surgeons (AAOS) suggests that a total of 0.46 million spinal fusion surgeries was performed in U.S. in 2011. Advent of minimally invasive surgeries have further boosted the successful outcomes of spinal surgeries. Demand for bone grafts and stem cells have soared high owing to the growing number of orthopedic procedures; consequently driving the orthobiologics market.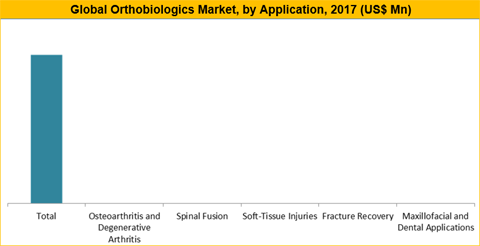 Get a sample copy for more information
"North America Held the Pole Position in Global Orthobiologics Market"
In 2017, North America held the largest share in the global orthobiologics market due to factors such as developed healthcare facilities, patient awareness towards biologics and minimally invasive surgeries, affordability towards expensive therapies and growing research and development of orthobiologics for various orthopedic disorders. Moreover, growing prevalence of obesity and high population of baby boomer susceptible for orthopedic degenerative ailments further boost the orthobiologics market. As per the CDC Report 2015, osteoarthritis affects approximately 30 million U.S. adult population. Asia Pacific is projected to grow at fastest growth rate owing to budding biopharmaceutical and medical devices companies, government initiatives to develop the healthcare infrastructure, flourishing medical tourism industry in countries such as India, Thailand and Indonesia. Large patient pool and growing geriatric population in Japan and China further boosts the demand for orthobiologics market.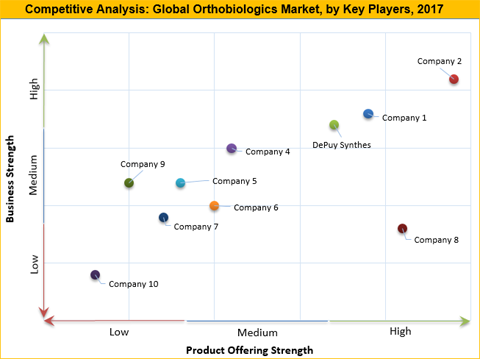 Get a sample copy for more information
Historical & Forecast Period
This research report presents the analysis of each segment from 2016 to 2026 considering 2017 as the base year for the research. Compounded annual growth rate (CAGR) for each respective segments calculated for the forecast period from 2018 to 2026.
Report Scope by Segments
Orthobiologics market report furnishes quantitative analysis along with its latest market trends. The market is segmented based on product type, application and geography.
ATTRIBUTE
DETAILS
Research Period
2016-2026
Base Year
2017
Forecast Period
2018-2026
Historical Year
2016
Unit
USD Million
Segmentation

By Product Type (2016–2026; US$ Mn)
• Viscosupplementation Products
• Demineralized Bone Matrices
• Synthetic Orthobiologics
• Bone Morphogenic Protein
• Allografts
• Plasma-Rich Protein
• Bone Marrow Aspirate Concentrate

By Application Segment (2016-2026; US$ Mn)
• Osteoarthritis and Degenerative Arthritis
• Spinal Fusion
• Soft-Tissue Injuries
• Fracture Recovery
• Maxillofacial and Dental Applications

Geography Segment (2016–2026; US$ Mn)
• North America (United States and Canada)
• Europe (U.K., Germany, Rest of Europe)
• Asia Pacific (China, Japan, Rest of Asia Pacific)
• Latin America (Brazil, Mexico, Rest of Latin America)
• Middle East and Africa (GCC, Rest of MEA)
Market is studied in order to understand the current and future market trends in the orthobiologics market. The market is estimated by providing the compounded annual growth rate (CAGR) and data forecast from 2018 to 2026. Strategic merger, acquisition and collaboration among the key players for developing innovative product pipeline mentioned in the business strategy section. The key players currently engaged in the orthobiologics market are DePuy Synthes, Stryker Corporation, Medtronic plc, NuVasive Inc., Zimmer Biomet, Globus Medical, Inc., Orthofix Internamtional NV, Harvest Technologies Corporation, Seaspine Holdings Corporation, RTI Surgicals among others.
Key questions answered in this report
How the global orthobiologics market will perform during the forecast period from 2018 to 2026?
What are the latest trends in the orthobiologics market and valuable opportunities for key players?
Who are the leading players in the global orthobiologics market?
Which is the leading/and fastest region in the global orthobiologics market?
Currently, what are the reimbursement scenario and regulatory structure for the orthobiologics?
What are drivers and restrains governing the global orthobiologics market?