Patient infotainment terminals are primarily bedside terminals that allow patients to access various multimedia files, play games and make phone calls. In addition, these systems allow Internet access through which patients can check emails, messages and perform regular work functions. Patient infotainment systems can also be connected to the hospital intranet enabling medical staff to easily access patient's medical information. Medical staff can make use of these terminals to look up electronic patient records, test results, medication history, and monitor vital signs at the point of care. Thereby, a single integrated solution can provide digital entertainment and clinical services, along with communication to the point-of-care.
Patient infotainment terminals have gained immense popularity in the recent years. With growing demand for higher patient satisfaction and easy access to medical information, these systems have become ubiquitous in most of the developed nations. In addition, providing access to various internet and multimedia services to the patients offer additional revenue streams for the hospitals.
The market is largely driven by increasing need for hospitals to achieve higher patient satisfaction and to provide efficient access to medical information at the point of care. In addition, rising number of private hospitals in China and high-end specialty hospitals in countries such as the UAE, Singapore and South Korea, among others are further expected to strengthen growth in the overall patient infotainment terminals markets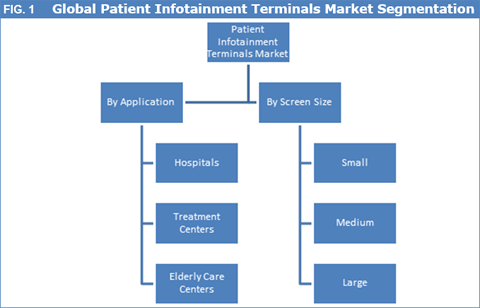 The report titled "Global Patient Infotainment Terminals Market- Growth, Share, Opportunities and Competitive Analysis, 2016 – 2024" offers strategic insights into the global patient infotainment terminals market along with the market size and estimates for the duration 2014 to 2024. The said research study covers in-depth analysis of multiple market segments based on applications, screen size and cross-sectional study across different geographies and sub-geographies. The study covers the comparative analysis of different segments for the years 2015 & 2024. The report also provides a prolific view on market dynamics such as market drivers, restraints and opportunities. In addition, the report covers a section providing analysis on the adoption of patient infotainment systems in various healthcare settings including hospitals, treatment centers, and elderly care centers, among others.
In order to help strategic decision makers, the report also includes competitive profiling of the leading patient infotainment terminals providers, their SCOT (Strength, Challenges, Opportunities and Weaknesses) analysis, market positioning and key developments. Some of the major players profiled in the report are Advantech Co., Ltd., ClinicAll International Corporation, BEWATEC Kommunikationstechnik GmbH, ARBOR Technology Co., Ltd., Barco N.V., PDi Communications Systems, Inc., ITI Technology Co., Ltd., SCHRACK SECONET AG, Teguar Corporation, and Onyx Healthcare Inc.
Other in-depth analysis provided in the report includes:
Current and future market trends to justify the forthcoming attractive markets within the healthcare industry
Market fuelers, market impediments, and their impact on the market growth
In-depth competitive environment analysis
Trailing 2-Year market size data (2014 – 2015)
SRC (Segment-Region-Country) Analysis
Overall, the research study provides a holistic view of the global patient infotainment terminals market, offering market size and estimates for the period from 2016 to 2024, keeping in mind the above mentioned factors.