Physical security refers to the protection of various buildings and sensitive sites against any physical attack or damage. Physical security encompasses various aspects of building protection including video surveillance of the site, access control for personnel entry, intruder detection, entrance control, and network infrastructure, among others. Thereby, physical security solution providers offer integrated security systems which cover numerous above mentioned systems to ensure optimum security solutions. Apart from systems, companies also offer numerous physical security services in a subscription based model. These services include video surveillance as a service (VSaaS), access control as a service (ACaaS), remote monitoring services, and other security system integration services, among others.
Physical security solutions have become pivotal for various institutions all across the world due to rising threats and physical attacks and damage. Organizations from various end-use industries including banking and finance, education, healthcare, commercial, government, manufacturing and industrial, retail, events, transportation, residential, utilities and energy, among others seek to deploy physical security solutions to ensure safety for the property and personnel.
One of the major factors driving the growth of the physical security equipment and services market is the rising threat of terrorism all across the globe. It has become imperative for various organizations and governments across the world to invest in latest and advanced security solutions to ensure public and private safety of physical sites and people visiting or working there. Other factors such as rise in thefts and espionage have further fuelled the growth in the global physical security equipment and services market. Some of the factors restraining the growth in this market include high initial costs, and limited storage capacities, among others. However, with increasing demand for security and rise of subscription based models, the overall physical security and equipment market is expected to witness substantial growth during the forecast period.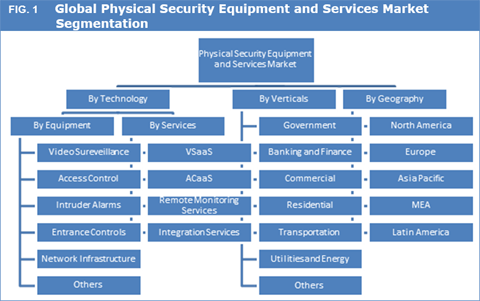 The report titled "Global Physical Security Equipment and Services Market- Growth, Future Prospects and Competitive Analysis, 2016 – 2024" offers strategic insights into the global physical security equipment and services market along with the market size and estimates for the duration 2014 to 2024. The said research study covers in-depth analysis of multiple market segments based on technology (equipment and services), verticals and cross-sectional study across different geographies and sub-geographies. The study covers the comparative analysis of different segments for the years 2015 & 2024. The report also provides a prolific view on market dynamics such as market drivers, restraints and opportunities. In addition, the report covers a section providing analysis on the types of security systems used i.e. analog and IP-based.
In order to help strategic decision makers, the report also includes competitive profiling of the leading providers of physical security equipment and services, their SCOT (Strength, Challenges, Opportunities and Weaknesses) analysis, market positioning and key developments. Some of the major players profiled in the report are Tyco International Ltd., ADT LLC., Hikvision Digital Technology Co., Ltd., SECOM Co., Ltd., Honeywell International, Inc., Stanley Security Solutions, Bosch Sicherheitssysteme GmbH, United Technologies Corporation (UTC), G4S Plc., Siemens AG, China Security and Surveillance Technology, Inc., S1 Corporation, Panasonic Corporation, ALSOK (Sohgo Security Services Co. Ltd.) and Zhejiang Dahua Technology Co., Ltd.
Other in-depth analysis provided in the report includes:
Current and future market trends to justify the forthcoming attractive markets within the physical security industry
Market fuelers, market impediments, and their impact on the market growth
In-depth competitive environment analysis
Trailing 2-Year market size data (2014 – 2015)
SRC (Segment-Region-Country) Analysis
Overall, the research study provides a holistic view of the global physical security equipment and services market, offering market size and estimates for the period from 2016 to 2024, keeping in mind the above mentioned factors.