The Point of Sale (POS) terminal market has witnessed a dramatic turn-around and development with the advancement in technology and growth of POS terminal solutions. The POS terminals are slowly and steadily migrating towards digital format, with e-mailed receipts and electronic signature capture enabling paper free transactions. Increased adoption of credit and debit cards coupled with the escalating demand for POS terminals is driving the overall POS terminals market.
In addition, advancements in payment technologies and move towards EMV (Europay, MasterCard, Visa) chip card payment is expected to fuel market momentum in the coming years. These factors are cumulatively expected to contribute towards a compounded annual growth rate (CAGR) of 12.9% during 2015 – 2022. In recent years, the POS terminals market had been plagued by privacy and security concerns related to data breaches.
However, migration of the global payments industry towards more secure chip card technology is expected to subdue the impact of this challenge during the forecast period. The Point-of-Sale terminals market was valued at US$ 40.20 Bn in 2014, and is expected to reach US$ 103.20 Bn by 2022, expanding at a CAGR of 12.9% from 2015 to 2022.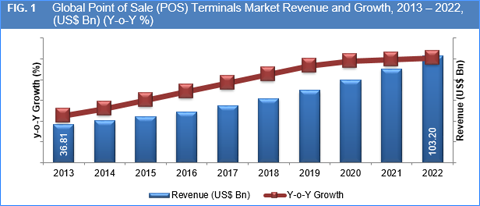 Purpose of the Report
The purpose of this strategic research study titled "Global POS Terminals Market- Growth, Share, Opportunities, and Competitive Analysis, 2015 – 2022" is to provide company executives, industry investors, and industry participants with in-depth insights to enable them make informed strategic decisions regarding the opportunities in the global Point-of-Sale (POS) terminals market.
Target Audience
Industry Investors
POS Terminal Hardware Providers/Vendors
POS Terminal Software Providers
SMBs and Micro-merchants
Other End-users
USP and Key Offerings
The report titled "Global Point of Sale (POS) Terminals Market - Growth, Share, Opportunities, and Competitive Analysis, 2015 – 2022" offers strategic insights into the global POS terminals market along with the market size and estimates for the duration 2015 to 2022. The said research study covers in-depth analysis of multiple market segments based on product type, component, end-users, and cross-sectional study across different geographies. In order to help strategic decision makers, the report also includes competitive profiling of the leading POS terminal vendors (both hardware and software), their expansion strategies, market positioning, and latest developments. Other in-depth analyses provided in the report include:
Current and future market trends to justify the forthcoming attractive markets within POS terminal industry
Market fuelers, market impediments, and their impact on the market growth
In-depth competitive environment analysis
Trailing 2-Year market size data (2013 – 2014)
SRC (Segment-Region-Country) Analysis
Overall, the research study provides a holistic view of the global POS terminal market, of growth, offering market size and estimates for the period from 2015 to 2022, keeping in mind the above mentioned factors.