Smart irrigation refer to advanced irrigation systems that are equipped with sensor networks for real-time monitoring of weather and soil conditions. Sensors are used to monitor various parameters such as soil moisture content, humidity, temperature and others. The irrigation controller then operates water application based upon the sensor data. Rising population worldwide has resulted into the ever-increasing demand for food products over the period of time. Additionally, growing water scarcity issues coupled with uncertain/unfavorable climatic conditions is another major challenge for the agriculture sector. As a result, people are now turning towards advance farming practices as an effort to overcome these challenges and increase agricultural yield. This is the prime factor bolstering the smart irrigation systems market growth.
The smart irrigation systems market is majorly fueled by the modernizing agriculture practices worldwide. With the advancement in the sensor-based networks, these are increasingly being used across different applications. Irrigation systems are expected to emerge among the most promising applications of sensor networks in the coming years. Due to rising population as well as the food requirement worldwide, the adoption of more efficient and automated irrigation systems is expected to expand significantly in the coming years. This in turn is expected to boost the demand for smart irrigation systems designed specifically for optimum water efficiency and convenience. However, high initial and maintenance costs of these irrigation systems is major concern for the market growth.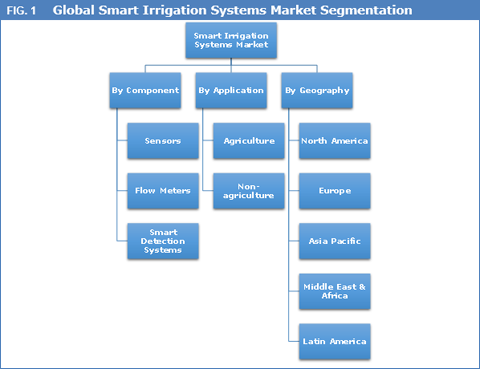 The report titled "Global Smart Irrigation Systems Market- Growth, Share, Opportunities and Competitive Analysis, 2016 – 2022" offers strategic insights into the global smart irrigation systems market along with the market size and estimates for the duration 2014 to 2022. The said research study covers in-depth analysis of multiple market segments based on components, applications and cross-sectional study across different geographies. Based upon the components, the market is further segmented into sensors, flow meter and smart detection systems. The study covers the comparative analysis of different segments for the years 2015 & 2022. The report also provides a prolific view on market dynamics such as market drivers, restraints and opportunities.
In order to help strategic decision makers, the report also includes competitive profiling of the leading smart irrigation system manufacturers, their SCOT (Strength, Challenges, Opportunities and Weaknesses) analysis, market positioning and key developments. Some of the major players profiled in the report are Netafim Ltd., Toro Company, T-L Irrigation Company, Hunter Industries, Inc., Baseline, Inc., Rain Bird Corporation, Weathermatic and others. Other in-depth analysis provided in the report includes:
Current and future market trends to justify the forthcoming attractive markets within the irrigation systems industry
Market fuelers, market impediments, and their impact on the market growth
In-depth competitive environment analysis
Trailing 2-Year market size data (2014 – 2015)
SRC (Segment-Region-Country) Analysis
Overall, the research study provides a holistic view of the global smart irrigation systems market, offering market size and estimates for the period from 2016 to 2022, keeping in mind the above mentioned factors.