Industry Outlook
Sound sensors are simple transducers which are used to measure physical parameters such as acoustics or surface vibrations. These sound sensors are also used to measure or sense different physical parameters such as pressure, temperature, humidity, viscosity, torque, mass, and chemical vapor. Thes sensors are extensive across several end-user applications as feedback to the centralized system. Based on the feedback, the centralized command system will undertake proportional action in order to maintain the sanity of the system. Consequently, sound sensor has become a critical part of any industry as well as domestic automation. Furthermore, rapid evolution in telecommunication sector is also contributing to the encourage the demand for sound sensors.
Market Synopsis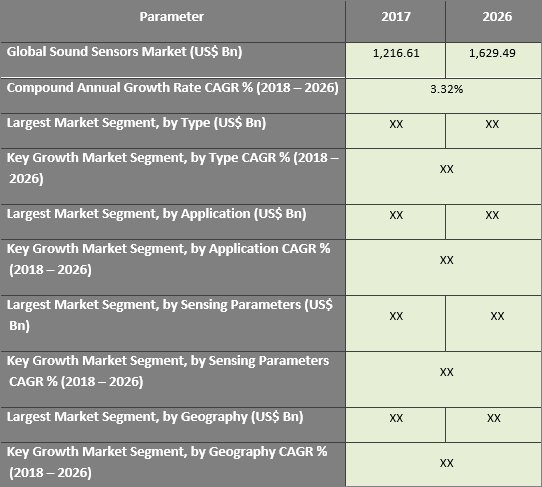 Get a sample copy for more information
"Growth in Automotive Industry Provided Strong Encouragement for Sound Sensors Market Growth"
Post economic recession, automotive industry has emerged as one of the strongest sectors in terms of market growth. Growing purchasing power of consumer in developing region of Asia Pacific gave the liberty to the automotive manufacturers to introduce more sophisticated and advanced automotive loaded with features. This certainly stimulated the demand for the sound sensor in automotive sector and therefore, automotive application emerged as the biggest consumer of sound sensor amongst other applications. Trailing by a short margin, healthcare is incipient as strong contender to automotive application. Use of sound sensors is medical and healthcare devices is a common practice from past few years and the proliferation of sensor in future devices is helping healthcare application to gain top spots among other applications.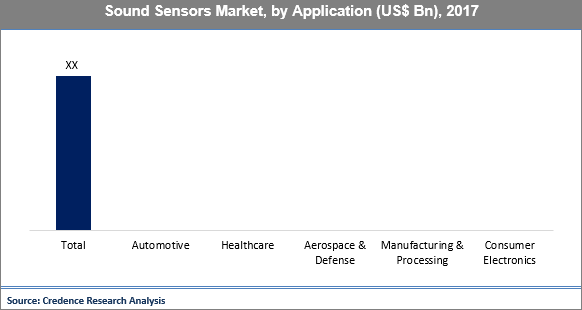 Get a sample copy for more information
"Asia Pacific Expected to Overtake North America in Global Sound Sensors Market"
At present, North America is at the center of global automation and smart devices and therefore, encouraged the demand for sound sensors market in this particular region. The region is home to some of the major sound sensors manufacturers and has a high acceptance rate for new technology. Consequently, North America emerged as the global leader in sound sensors market. However, automation is changing the face of industrial manufacturing & processing and other end-user application in Asia Pacific. Such radical changes are encouraging the demand for sound sensors in Asia Pacific. Besides, consistently growing economic capability and spending power of consumer has uplifted the demand for smart devices, smart automotive and consumer electronics. All these factors are contributing to the growing sound sensor market in Asia Pacific and expected to overtake the market in North America during the forecast period from 2018 to 2026.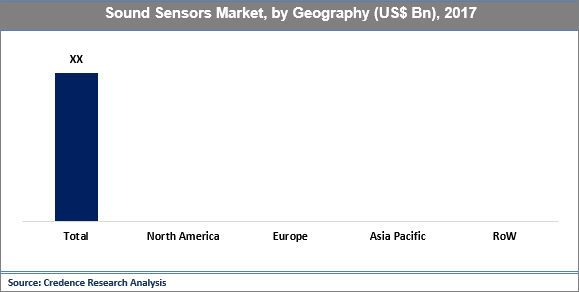 Get a sample copy for more information
Market Segmentation
ATTRIBUTE
DETAILS
Research Period
2016-2026
Base Year
2017
Forecast Period
2018-2026
Historical Year
2016
Unit
USD Billion
Segmentation

by Type (2016–2026; US$ Bn)
• Surface Acoustic Wave (SAW) Sensor
• Bulk Acoustic Wave (BAW) Sensor

by Application (2016–2026; US$ Bn)
• Automotive
• Healthcare
• Aerospace & Defense
• Manufacturing & Processing
• Consumer Electronics

by Sensing Parameters (2016–2026; US$ Bn)
• Temperature
• Torque
• Pressure
• Mass
• Humidity
• Viscosity
• Chemical Vapor

Geography Segment (2016–2026; US$ Bn)
• North America (U.S., Canada)
• Europe (U.K., Germany, France, Rest of Europe)
• Asia Pacific (China, Japan, India, Rest of Asia Pacific)
• Rest of the World (Middle East & Africa, Latin America)
Competitive Landscape
The research study covers some of the leading sound sensor manufacturers including Honeywell International Inc., Epson Toyocom Corporation, Panasonic Corporation, Teledyne Microwave Solutions, API Technologies Corp, Boston Piezo-optics INC., Phonon Corporation, CTS Corporation, Vectron International and CeramTec. Sound sensors market is highly fragmented market with several local as well as international players contributing to the overall market value. Major sound sensors manufacturers are coming up with business prepositions in order to maintain their market position without compromising on their profit share. Strategies such as miniaturization of sound sensors and boosting the accuracy & precision of their product are on top priorities of several international players. Furthermore, expansion of their geographical presence by entering into developing markets is also a prime strategy incorporated by these companies. However, simplicity of device and low cost of production attracted several small companies to enter into the market to claim their share. The market is expected to become highly competitive further in coming years.