Strippable coatings also known as peelable coatings. It is a non-flammable, water-based coating which is easily detached from surfaces and discards the use of paint strippers and cleaners. These coatings comprise water-based acrylic polymers, vapor phase corrosion inhibitors, and a thixotropic thickener that aids in enhancing barrier and surface protection properties. These coatings are majorly applied by brush, spray, dip, and roll up, where coat layers vary up to a thickness of 2 mils. Strippable coatings find extensive usage on bare metal and painted surfaces, where surface protection and corrosion inhibition are obligatory. Apart from this, strippable coatings witness high demand compared to conventional coatings owing to strong, cohesive features, which ease its removal from the substrate without breaking.
The market is witnessing significant growth owing to growing applications of strippable coatings in the protection of metal surfaces at times of shipping and storage. Zero VOC content, ease of application, and easy disposability are some of the other significant factors for market growth. Strippable coating being specially formulated spray-able coatings, provides a tough and impervious dry film on the surfaces requiring protection from dirt and scratches. Strippable coatings exhibit a cost-effective method of removing particle contaminants from the surface of high-quality parts and protecting the clean parts from surface damage. Therefore, these coatings witness extensive applications in end-user industries. Rising applications of peelable/strippable coatings in removing debris and dust from coated lenses, mirrors, and other optical surfaces is an emerging factor for market growth. Additionally, the surging demand of peelable coatings in decontaminating hazardous and radioactive materials from the optical surfaces further augments the market growth.
However, the presence of contaminants (such as grease and oil) in large concentrations leads to poor adhesion of coatings to the surface, affecting the film's release from the surface. Thus, coatings cling to the irregular surfaces after losing its coherence and break into pieces on peeling. Therefore, the aforementioned factor is exhibited to restrain the market growth during the forecast period.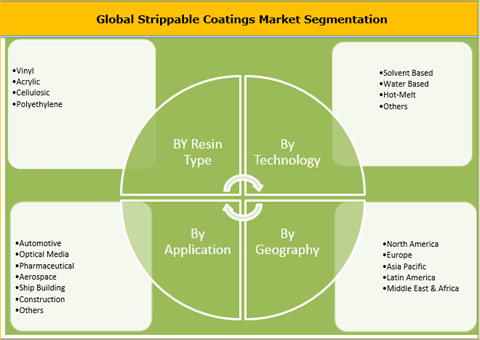 Geographically, Asia-Pacific dominated the market and is also projected to grow rapidly during the forecast period due to rapid industrialization and the flourishing automotive industry, majorly in countries such as Japan, China, Korea, and Indonesia. Moreover, this region is also marked by the presence of multiple international and regional vendors, thus leading to the increased production and availability of these coatings. On the other hand, tax subsidies, incentives, and other governmental regulations have diverted original equipment manufacturers' (OEMs) focus on countries such as Indonesia, Malaysia, and Thailand for production. However, Europe is expected to be the second largest market for strippable coatings, and North America holding the third position, majorly due to rising demand for peelable coating in the automotive and aerospace industries.
This market's major players include Wacker GmBH, Bemis Company, General Chemical Corporation, DuPont, Cal-West Specialty Coatings, Spraylat International, PPG Industries, Sherwin-Williams, Covestro, Evans Coatings, Kraton Corporation and Holman Paints.
Segmentations
By Resin Type
On the basis of its resin type, the global strippable coatings market is categorized into following segments:
Vinyl
Acrylic
Cellulosic
Polyethylene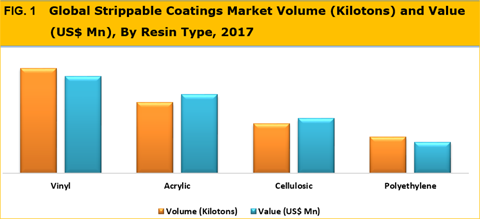 In 2017, vinyl strippable coatings accounted for the maximum market share and is expected to witness significant growth during the forecast period owing to its rising utilization in the protection of precision tools, bright steel, aluminum, enamel surfaces, mirrors, lenses, etc. The coatings are sprayed with 30-40 mils thickness and then dried to form a rubbery film/protective coating. The benefit of using these coatings over its other counterparts is that it requires less drying and curing time and, therefore, is enhanced as a fast protection method during shipment and storage. In addition, other factors such as long life, easy removal, and the ability to coat at irregular surfaces also drive market growth. Apart from this, these coatings are also strippable even after years of protective service, which also stimulates its application such as in spray booths, aircraft protection, tanks, and ships, further driving the market growth.
Cellulosic strippable coatings is another segment which is projected to exhibit major growth potential during the forecast years. These coatings are designed for hot dip applications to withstand the temperature of 177˚C and above, and the thickness of the coating varies from 100 to 200 mils. Rising applications of these coatings in the automotive industry to protect steel and aluminum parts from corrosion enhance the market growth. Moreover, the presence of mineral oil in these coatings increases its tensile strength, thus protecting the surface from corrosion and keeping the coating strippable for a long period.
By Technology
On the basis of its technology, the global strippable coatings market is categorized into following segments:
Solvent Based
Water Based
Hot-Melt
Others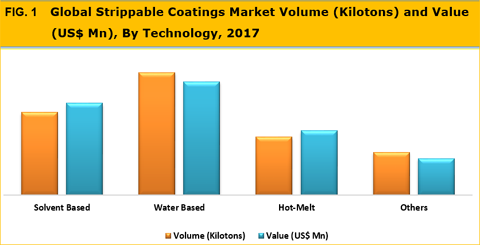 In 2017, water-based strippable coatings accounted for the maximum market share and projected to remain dominant throughout the forecast period. Strippable coatings constitute 75% of water with slight presence of other solvents such as pentaerythritol ethoxylate, castor oil, and glycol ethers. Waterborne strippable coatings are progressively used as environment-friendly coatings due to the presence of zero volatile organic (VOC) content stated by U.S. and European regulatory agencies. In addition, high gloss, better pigmentation, excellent elasticity, and resistance of coating film to certain temperature changes are some of the advantages offered by water-based strippable coatings, which enhance its demand in multiple end-use applications. Currently, these coatings have extensive usage in applications such as floors and countertops, as they are highly susceptible to grease, oil, and dirt. WaterborneWaterborne strippable coatings is therefore applied in liquid form where the coating gets contaminated with the dirt, and removal of these temporary coatings eliminates the contamination, thus, cleaning the surface.
Hot melt coatings are also poised to exhibit significant growth potential in the near future owing to its rising demand for strong, moisture-resistant, rust prevention of cutting tools such as gages, blades, and gears during storage. These coatings save time and space and are easily removable after 1 to 2 minutes. In addition, these coatings are increasingly used for the identification of a product, enhancing product appearance, as well as inventory control which is projected to stimulate the market.
By Application
On the basis of its applications, the global strippable coatings market is categorized into following segments:
Automotive
Food and Beverage
Pharmaceutical
Aerospace
Ship Building
Construction
Others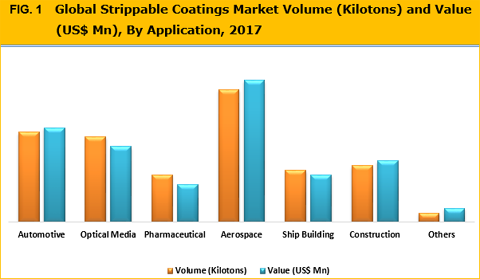 In 2017, aerospace and defense application dominated the market and is projected to maintain its dominance during the forecast period. This growth is majorly attributed to the rising use of peel-able coatings as windshields in helicopter windows to inhibit the formation of the layer of rust and dust during shipping, transit, and storage. In addition, industry players such as General Chemical Corporation have designed line of eco-friendly strippable coatings to be utilized in the paint removal of aircraft parts and surfaces. These coatings form a skin-tight protective film around the substrates required during the fabrication, assembly, and shipment. Furthermore, rising applications of strippable coatings to protect the metal from harsh chemical milling solutions is another significant factor for market growth.
Automotive and construction application segments exhibit huge market potential over the forecast period. The rising use of strippable coatings to protect automobiles from rock chips, adverse weather conditions, and salted roadways is poised to be a significant factor for market growth. Additionally, there is the increased use of peel-able coatings in the construction industry for the protection of glass, aluminum, steel, and PVC. Furthermore, certain new building laws direct the use of low emissivity (low-e glass) glass. Therefore, the rising adoption of peel-able coatings for the protection of expensive low emissivity glass is a significant factor fueling the market growth.
By Geography
Based on geographical distribution, the global strippable coatings market is segmented into following regions and countries:-
North America
Europe

Germany
Spain
France
UK
Rest of Europe

Asia Pacific

Japan
China
India
Rest of Asia Pacific

Latin America

Brazil
Mexico
Rest of Latin America

Middle East & Africa

GCC
Rest of Middle East & Africa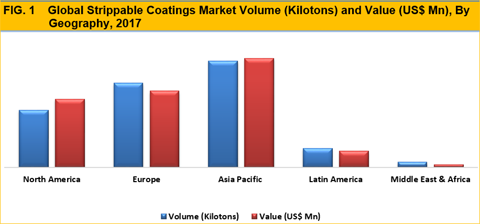 Asia-Pacific dominated the market in 2017 and is expected to maintain its dominance in future years. Asia-Pacific being a hub of multiple end-user industries such as construction, electronics and automotive, and the use of strippable coatings among the aforementioned industries is expected to surge the market growth. The growing trend of partnerships of coating manufacturers with material suppliers, such as with companies manufacturing flooring, glass, and ceramic tiles in order to provide the customers with ready coated products, also boost the product demand. Additionally, the rising demand for environment-friendly coatings, especially in China, comprising of zero VOC content such as strippable coatings, drives the market to a greater extent. Moreover, these coatings improve the life span of end-user products with less material and energy consumption, acting as another factor driving the market growth. Apart from this, stringent environmental regulations over the emission of VOCs led to the implementation of tax on low-solids solvent borne coatings which in turn drives the use of strippable coatings in this region.
Europe and North America are projected to witness moderate growth in the near future. Regulatory scenarios among these regions have prompted coating manufacturers to develop sustainable, multi-functional coatings specifically for architectural, furniture, marine, woods, and furniture industries.