Wood is essential in building material. Wood Preservative chemicals safeguard the longer life of wood by keeping it safe from the attack of any insects, fungus or bacteria. Wood preservative chemical are used to control wood degradation due to fungal decay, molds, sap stain, or wood extinguishing insects. There are various types of preservatives of which most common varieties is oil-borne preservatives include creosote and pentachlorophenol. Creosote have been used for the treatment of outdoor wood structures to prevent decay such as railroad ties and bridgework. Water-borne preservatives are the cheapest preservative due to the presence of water it often lead to swelling and distorting of the wood to be treated particularly porous. Major factor driving grow of global wood Preservative chemical market is high growth in residential construction activity, led to the utilization of wood preservatives in various application, such as decking, siding, and furniture. Increasing utilization of non-wood materials in various applications is expected to hamper the growth of this market in near future. For instance, preservatives will be limited in siding, where the demand of wood is expected to reduce and faces huge competition from the substitutes. North America is projected to have the highest market share globally followed by Europe in near future. Asia Pacific is emerging as fastest growing region over the forecast period. Growth of Asia Pacific region is encouraged by various activities such as increasing urbanization, growing infrastructural activities.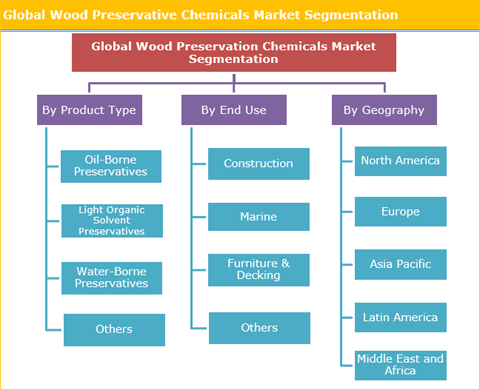 The report titled "Wood Preservative Chemicals Market - Growth, Future Prospects and Competitive Analysis, 2017– 2025" offers strategic insights into the wood preservative chemicals market along with the market size and estimates for the duration 2015 to 2025. The said research study covers in-depth analysis of multiple market segments based on product type, end use, and cross-sectional study across different geographies. The study covers the comparative analysis of different segments for the years 2016 & 2025. The report also provides a prolific view on market dynamics such as market drivers, trends, restraints and opportunities. The report incorporates a separate section highlighting key trends analysis of the overall wood Preservative chemicals market.
In order to help the strategic decision makers, the report also includes profiles of the leading wood preservative chemicals manufacturers, their business strategies and key developments. Some of the major players profiled in the report are BASF SE, Janssen Preservative and Material Protection, KMG Chemicals Inc, Kop-Coat Incorporated, Kurt Obermeier GmbH & Co. KG, Lapeyre SA, Osmose Inc., Lonza Group Ltd., Rio Tinto Borax, RUTGERS Organic and Viance LLC., Osmose Inc. The section further includes a brief on key strategies adopted by the major players operating in the market. Other in-depth analysis provided in the report includes:
Current and future market trends to justify the forthcoming attractive markets within the wood preservative chemicals market
Market drivers, market impediments, and their impact on the market growth
In-depth competitive environment analysis
Trailing 2-Year market size data (2015 – 2016)
SRC (Segment-Region-Country) Analysis
Overall, the research study provides a holistic view of the wood preservative chemicals market, offering market size and estimates for the period from 2017 to 2025, keeping in mind the above mentioned factors.