Industry Outlook
Growing prevalence of chronic diseases, particularly in the geriatric population, significant advancement in lasers in terms of safety and outcomes, growing demand for cosmetic interventions and minimally invasive ophthalmic procedures are the major drivers of the global surgical lasers market. The advent and surge in demand for non-invasive and minimally invasive surgeries has been a key attribute supporting the growth of this market. Markets such as China, Brazil, South Korea, and India have prominent opportunities for the international market players. Growing demand for cosmetic procedures and correction interventions, growing lifestyle associated diseases and increasing investments by prominent market players are therefore driving the emerging markets towards the growth.
Regardless the type of laser used for surgical application, the laser effects can be classified into tissue heating, vaporization, coagulation, non-linear effects, photo-dissociation and photochemistry. Often referred as bloodless surgery, the heat generated by the laser keeps germ-free surgical site, and thus reduced risk of infections. Furthermore, it also offers more precision, little damage to the surrounding tissue, convenient access, and no contact technique to the procedures. Major types of surgical lasers include carbon dioxide lasers, argon lasers, diode lasers, nd:yag (neodymium:yttrium-aluminum-garnet) lasers and others including, erbium (er)-yag (yttrium-aluminum-garnet) laser, copper vapor and copper bromide laser, pulsed dye laser, potassium titanyl phosphate crystal laser, and krypton laser. Laser beams can be precisely projected to small treatment targets with minimum damage to the surrounding healthy tissue. It can also pass through flexible endoscopes and therefore become efficient in selective targeting of cells. Lumenis, Cynosure, Inc., Alma Lasers, Alcon, Boston Scientific Corporation, Spectranetics Corporation, Biolitec AG, Fotona d.o.o., and Bison Medical are some of the key players in the surgical lasers market.
Market Synopsis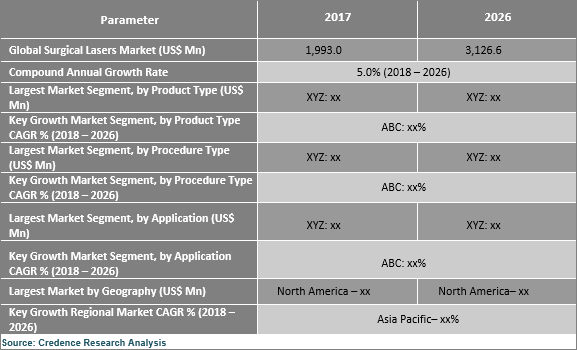 Laparoscopy to Hold a Prominent Market Prospect during the Forecast Timeframe
Technological advancement in the field of endoscopy and minimally invasive surgeries have enabled the advent of laparoscopic surgeries. Laser laparoscopy is amply used in several gynecologic operative procedures in treatment of painful periods, excessive bleeding, pelvic pain and also infertility. It has been widely used all across the world and has turned out to be a very versatile, effective and safe surgical modality in gynecology and general surgery. Conditions causing pelvic pain include adhesion, blocked tubes, endometriosis, cysts and other abdominal abnormalities. Many surgeons make use of Co2 lasers for treating such disorders through laparoscopy.
Demand for Minimally Invasive Surgeries to Determine the Uptake of Surgical Lasers
Endometriosis, lithotripsy, spinal decompression are some of the most common procedures worldwide. The procedure rate of these surgeries have grown significantly due to the technological innovation and therefore high adoption of minimally invasive procedures. Laparoscopy has become a mainstay in several treatment areas such as in gastroenterology, gynecology, orthopedic and urology. The vast and rapidly growing endoscopy techniques are also facilitating the penetration of surgical lasers. The introduction of pulsed laser with selective photothermolysis makes it a viable treatment for several skin, and pigmented lesions with minimal side effects, and also remove tattoos. Laser resurfacing treatments are also used for treating keloids, skin wrinkles, and hypertropic scars. Laser is also widely used in plastic surgery and dermatology in treating skin vascular lesions such as capillary vascular malformations, rosacea, telangiectasias, hemangiomas, lymphatic malformations, venolymphatic malformations, spider veins etc.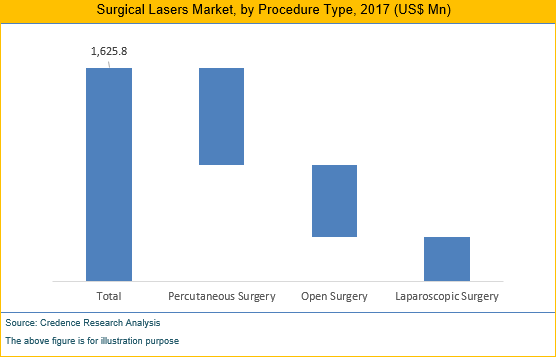 Ophthalmology to Remain the Most Prominent Surgical Application
Due to the chronological sequence of introduction, the first section of laser application is ophthalmology. Even today, several of the medical lasers used are applied in ophthalmology. Dentistry was the second application where lasers are introduced. However, despite considerable research being conducted in this field, lack of sufficient evidence and good results, the application of lasers in dentistry is restricted. Currently, a major effort of surgical laser research is focused on treatment of various types of tumors with photodynamic therapy, and laser induced interstitial thermortherapy. The use of these modalities also play a significant role in other surgical areas such as neurology, gynecology and urology. Due to prominent research advancements in the nature of laser devices and minimally invasive surgeries, several new techniques are under investigation in the field of cardiology. Some interesting laser applications have been discovered in the areas of orthopedics and dermatology. Recently, successful laser treatments have been performed in gastroenterology. Therefore, it is concluded that laser medicine is swiftly growing in both research and practical application. Furthermore, considering the pace of research being conducted in this area, it is expected that additional growth shall be witnessed in laser surgery in the coming years.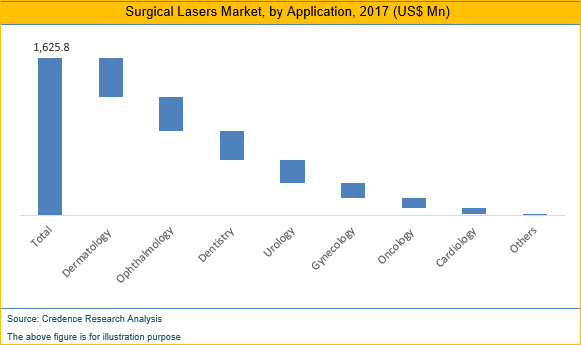 Asia Pacific Estimated to be the Fastest Progressing Regional Market
Geographically, the global surgical lasers market is segmented into North America, Europe, Asia Pacific, Latin America and Middle East & Africa. Among these, North America is estimated to be the largest regional market for surgical lasers. Presence of a multitude of cosmetic surgery centers in the region, greater awareness and evolved reimbursements play a key role in pronouncing the dominance of North America market. On the other hand, Asia Pacific is anticipated to be the fastest progressing market for surgical lasers. Some of the major attributes driving the growth of Asia Pacific market are increasing demand for minimally invasive and endoscopic surgeries, growing prevalence of ophthalmologic, dermatologic, and urologic disorders. Growing medical expenditure is also driving the Asia Pacific surgical lasers market.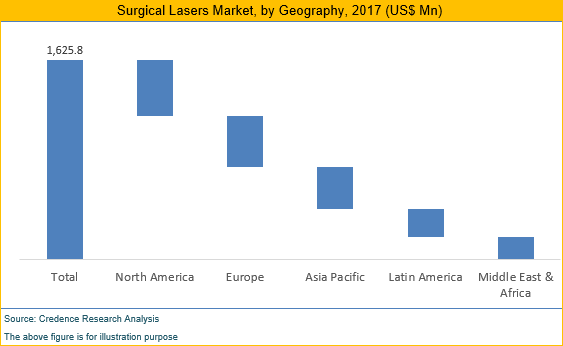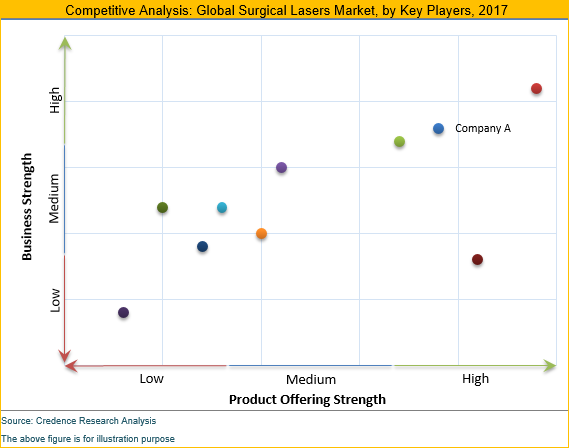 Historical & Forecast Period
2016 – Historical Year
2017 – Base Year
2018-2026 – Forecast Period
This research report presents the analysis of each considered segment for the period from 2016 to 2026, having 2017 as the base year for estimations. Compounded annual growth rates (CAGRs) for each segment are calculated for the forecast period from 2018 to 2026.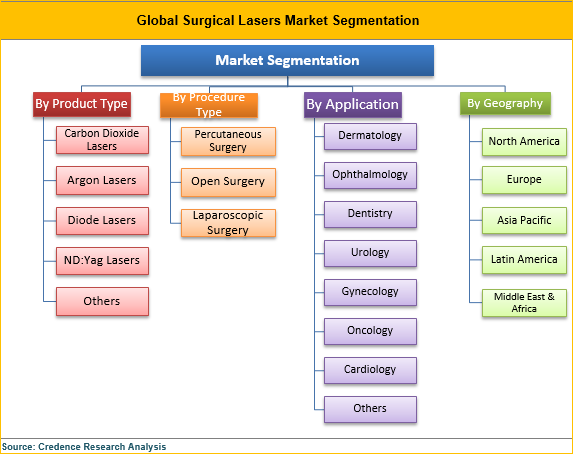 Report Scope by Segments
The structural heart devices market report provides quantitative assessment of the industry terms of current and forecasted market size, while also presenting the market dynamics. This market is segmented based on product type, procedure type, application, and geography.
By Product Type (2016–2026; US$ Mn)
Carbon Dioxide Lasers
Argon Lasers
Diode Lasers
ND:Yag (Neodymium:Yttrium-Aluminum-Garnet) Lasers
Others
By Procedure Type (2016–2026; US$ Mn)
Percutaneous Surgery
Open Surgery
Laparoscopic Surgery
By Application (2016–2026; US$ Mn)
Dermatology
Ophthalmology
Dentistry
Urology
Gynecology
Oncology
Cardiology
Others
Geography Segment (2016–2026; US$ Mn)
North America

Europe


U.K.
Germany
Rest of Europe

Asia Pacific (APAC)

Latin America (LATAM)


Brazil
Mexico
Rest of Latin America

Middle East and Africa (MEA)


GCC
Rest of Middle East and Africa
This report also gives key insights on the trends prevailing in the considered segment for the forecast period. Overall market dynamics such as drivers, challenges and opportunities are studied in this report as a past of separate section, which also comprises other assessment tools such as competitive landscape of the major players and attractive investment proposition for the considered regional markets. Furthermore, this report also comprises a section profiling the key market players. Such profiling is performed based on basic parameters such as company description, financial information, product portfolio and key developments. The major companies profiled in this report are Lumenis, Cynosure (Hologic), Alma Lasers, Johnson & Johnson, Boston Scientific Corporation, IPG Photonics Corporation, Spectranetics Corporation (Royal Philips), Biolitec AG, Bison Medical Co., Ltd., Fotona D.O.O., Alcon (Novartis), IRIDEX Corporation and Syneron Medical Ltd.
Key questions answered in this report
What is the current and projected position of the global surgical lasers market in terms of revenue?
Are there any future technologies anticipated in the market?
Which are the most prominent factors that are driving the surgical lasers market?
Which application currently deploys the largest number of lasers?
What is the future of dermatological lasers during the forecast period?
Which region currently dominates the global surgical lasers market?
What has Asia Pacific to present to the global market in terms of growth opportunity?