In the field of electrical engineering, an electric switchgear is defined as a combination of devices which include switches, fuses, isolators, circuit breakers, relays, control panels, lightning arrestors, current transformers and potential transformers, among others. The switchgear is typically used to detect faults and disconnects the corrupted section from the circuit to prevent any possible damage to the system. The switchgear equipment is essentially concerned with switching and interrupting currents either under normal or abnormal operating conditions. The use of switchgears, instead of fuse, offers superior benefits such as reliability, certain detection of faulty circuits, quick operation and provision of manual control. Owing to the aforementioned merits switchgears have been extensively used to protect electrical equipment for a variety of electrical end-users.
Switchgear protection plays a vital role in every step of modern day electrical system such as generation, transmission, and distribution. It prevents the loss of expensive electrical equipment from a variety of electrical abnormalities including over current, short circuit and any other faults in the system. Switchgears are available in a wide range, rating, and variety depending on the applications. Apart from power system networks, switchgears are also extensively used for industrial works, industrial projects, domestic and commercial buildings, marine applications and mining, among others. With growing trend of electrical network up-gradation, growing infrastructure for non-conventional energy systems and establishment of smart electric grids, switchgears provide a very crucial aid in the field of electrical system automation. Consequently, the demand for switchgears is expected to grow consistently with the smart grid applications across the globe.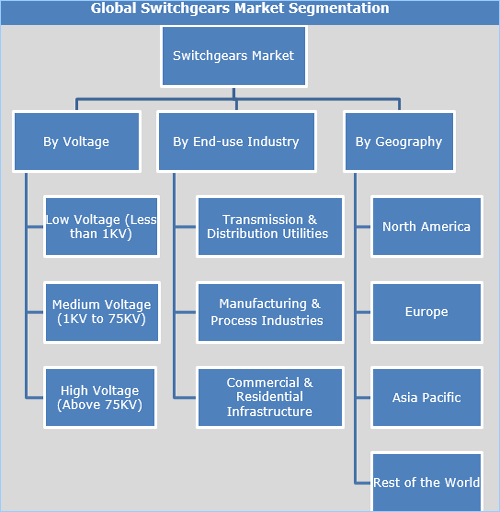 The report titled "Switchgear Market- Growth, Future Prospects and Competitive Landscape, 2017-2025" offers strategic insights into the global switchgears market with a focus on the market size and estimates for the duration 2015 to 2025. The said research study covers in-depth analysis of market segments based on voltage, end-use industry and cross-sectional study across different geographies. The study covers the comparative analysis of each sub-segment for the years 2016-2025. The report also provides a prolific view on market dynamics such as market drivers, restraints, and opportunities.
In order to help strategic decision makers, the report also includes competitive profiling of the leading switchgear manufacturers, their strategies, market positioning and key developments. Some of the major players profiled in the report include ABB Ltd., Eaton Corporation PLC, General Electric Company, Mitsubishi Electric Corporation, TE Connectivity Ltd., Toshiba Corporation, Schneider Electric SA, Siemens AG, Hitachi Ltd, Crompton Greaves Ltd., Alstom SA, and Hyundai Heavy Industries Co. Ltd.
Other in-depth analysis provided in the report includes:
Current and future market trends to justify the forthcoming attractive markets within the switchgears industry
Market fuelers, market impediments, and their impact on the market growth
Market inclination insights and key trend analysis for switchgears market
In-depth competitive environment analysis
Trailing 2-Year market size data (2015 – 2016)
Overall, the research study provides a holistic view of the global switchgear market, offering market size and estimates for the period from 2017 to 2025, keeping in mind the above-mentioned factors.