Temperature controlled containers are able to maintain temperatures to freeze, chill or heated levels according to the needs of the cargo or storage items inside refrigerated container. There are two basic types of temperature controlled container, namely, active temperature control container and passive temperature control container. Both containers enable the transportation of commodities, in the air, sea and on the ground.
In active temperature controlled container, machinery is integrated into to the back of the container or either runs on a generator when it is on wheels or rail, plugged into a power source when they are at the dock, on a ship, or plugged into a static electrical supply provided by a land based electrical supply, typically between 380V to 440V 3 phase.
The temperature controlled containers market has been growing significantly at a healthy CAGR of 8% due to an overall growth in food & beverages and healthcare industry across the globe. Since temperature controlled containers maintain the properties, hygiene and nature of a product in transportation irrespective of the exterior atmospheric condition and the problems faced during transportation, the demand for temperature controlled containers has increased over the past few years regardless of the geographical location.
By type, temperature controlled containers market segmentation includes active system containers and passive system containers. Active system containers are available in two types: systems with cooling only, and systems with both heating and cooling. These containers use both cooling media such as dry ice, PCM and others and also compressor cooling powered by batteries or external electrical source. These type of containers are cost effective when payload is maximized, these are ideal for bulk shipment.
North America is the largest market for temperature controlled containers. The market offer significant potential due to increasing application scope of temperature controlled containers in the North America market. Asia-Pacific is witnessing the fastest growth between 2017 and 2025, owing to surging demand from growing healthcare and food & beverages industries of China and India.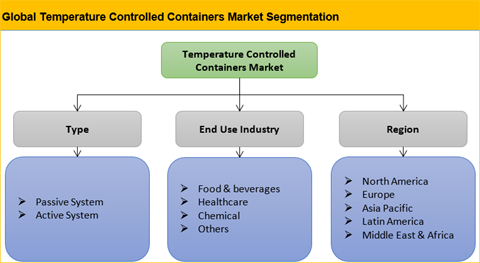 The report titled "Global Temperature Controlled Containers Market - Growth, Future Prospects, and Competitive Analysis, 2017 – 2025" offers strategic insights into the global temperature controlled containers market along with the market size and estimates for the duration 2015 to 2025. The said research study covers in-depth analysis of multiple market segments based on type, application and cross-sectional study across different geographies. The study covers the comparative analysis of different segments for the years 2016 & 2025. The report also provides a prolific view on market dynamics such as market drivers, restraints and opportunities.
In order to help the strategic decision makers, the report also includes profiles of the leading temperature controlled containers manufacturers, along with their, product portfolio and key developments. Other in-depth analysis provided in the report includes:
Current and future market trends to justify the forthcoming attractive markets within the temperature controlled containers industry
Market fuelers, market impediments, and their impact on the market growth
In-depth competitive environment analysis
Trailing 2-Year market size data (2015 – 2016)
SRC (Segment-Region-Country) Analysis
Overall, the research study provides a holistic view of the global temperature controlled containers market, offering market size and estimates for the period from 2017 to 2025, keeping in mind the above mentioned factors.