"Technological advancements To Ensure Rapid Growth in the USB Controller Market"
Globally, the USB controller market is expected to grow with a CAGR of 15.5% during the forecast period from 2019 to 2027. USB controllers are the devices that supports the communication between a computer and a USB device. These devices are largely adopted across the globe as the demand for external data storage devices and data transfer systems is increasing. The major factors fueling the growth of the USB controllers market are technological advancements, increasing research and development investments to produce and launch new and innovative next generation controllers and increasing demand for flexible and easy to handle devices. Furthermore, customers also look to adopt products that consume less power and can be operated easily without obstructions, which provides the key players with significant growth opportunities in the industry. These and many such factors are currently stimulating the growth of the USB controllers market. However, lack of technical knowledge, high cost of the modern devices and lack of support services in case of damage or technical issues are likely to hamper the growth of this market during the forecast period.
Market Synopsis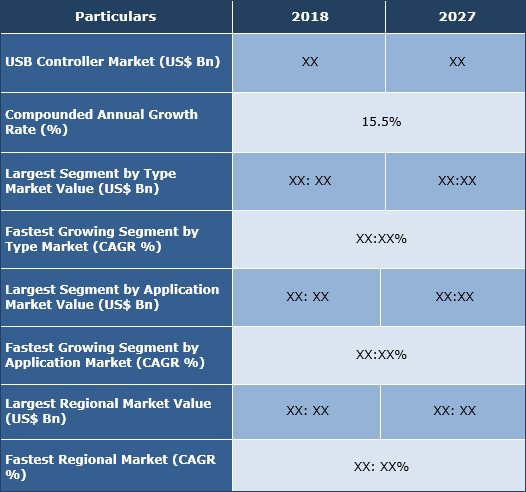 Get a sample copy for more information
"Type C USB controllers are likely to witness a fastest growth during the forecast period"
By type, the USB controllers market is segmented into Type A, Type B, and Type C. Type A and B are available in the industry since many years and have established a good market share in the global market. However, companies are now developing and launching Type C controllers, an advanced version of Type A and B. This segment is projected to witness a growth of around 40% during the forecast period. It advanced features such as problem solving capability, high speed and easy connection, small size less power consumption are primarily driving attention of the customers and fueling the growth of this market segment. Companies such as Cypress, Microchip, Zhaoxin and many others are launching Type C USB controllers and contributing to the high growth rate of this market segment.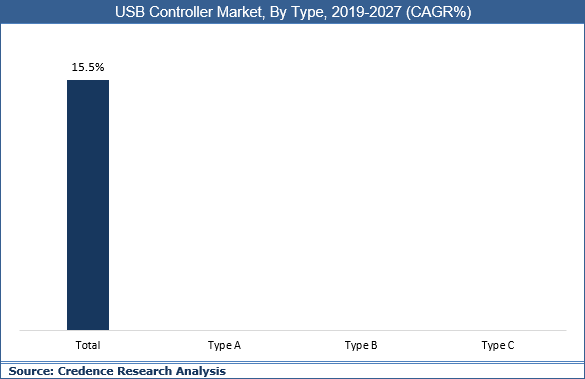 Get a sample copy for more information
"North America Dominates the Market by Region"
USB Controller market is led by North America due to the presence of various key players present in the region. As North America is considered to be a technological hub, large number of advanced products are developed and adopted in this region. In North American market, the US is holding the largest market share followed by Canada and Mexico. However, Asia-Pacific region is expected to be the fastest growing market due to increasing adoption of advanced technologies, expansion of key players in this high growing regional segment, and rapidly growing information technology industry. Countries such as China, and India offer lucrative growth opportunities to the key players operating in the global USB controllers market.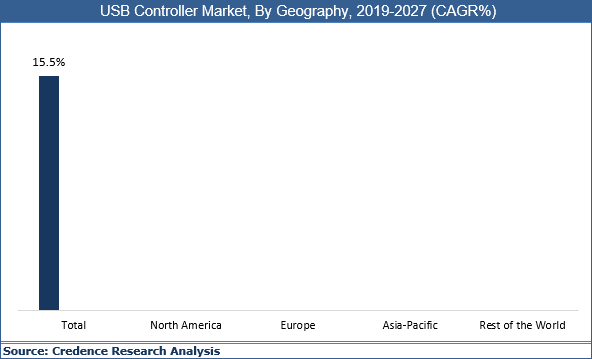 Get a sample copy for more information
Some of the prominent players operating in the USB Controller market include Cypress Semiconductor, Molex Woodhead, Microchip, ABB, Exar, Maxim, Texas Instruments, Eaton, Silicon Labs, Crouzet Automation, FTDI Chip, Diodes Inc., Panasonic Corporation , Omron Automation, and Fairchild Semiconductor among others.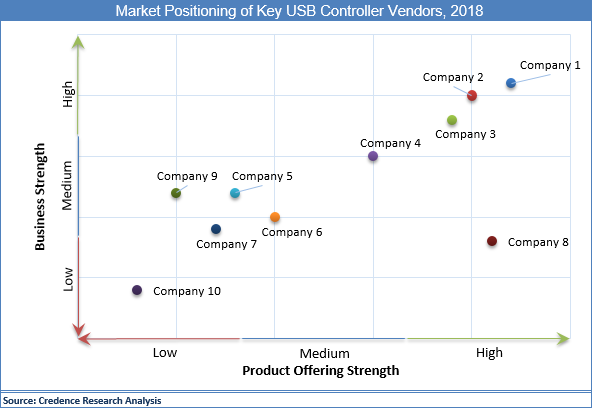 Historical & Forecast Period
This research report presents the analysis of each segment from 2017 to 2027 considering 2018 as the base year for the research. Compounded Annual Growth Rate (CAGR) for each respective segment calculated for the forecast period from 2019 to 2027.
Report Scope by Segments
The USB Controller market report provides market size and estimates based on market dynamics and key trends observed in the industry. The report provides a holistic view of global USB Controller market based on type, application, end user and geography. Key segments covered in the report are as follows:
ATTRIBUTE
DETAILS
Research Period
2017-2027
Base Year
2018
Forecast Period
2019-2027
Historical Year
2017
Unit
USD Billion
Segmentation

Type Segment (2017–2027; US$ Bn)
• Type A
• Type B
• Type C


Application (2017–2027; US$ Bn)
• Data Storage
• Data Transfer
• Others

End User (2017–2027; US$ Bn)
• Automotive
• Consumer Electronics
• Industrial
• Healthcare
• Others

Geography Segment (2017–2027; US$ Bn)
• North America (U.S., Rest of North America)
• Europe (U.K., Germany, France, Rest of Europe)
• Asia Pacific (China, Japan, India, Rest of Asia Pacific)
• Rest of the World (Middle East & Africa, Latin America)
Key questions answered in this report
What was the market size of USB Controller in 2018 and forecast up to 2027?
Which is the largest regional market for automotive industry applications?
What are the major trends followed in USB Controller market across different regions?
Who are the key USB Controller companies leading the market?
What are the key strategies adopted by the leading USB Controller companies in market?
Unique data points of this report
Statistics on USB Controller penetration and spending worldwide
Recent trends across different regions in terms of adoption of USB Controller for various vehicles
Notable developments going on in type C USB controllers market
Attractive investment proposition for segments as well as geography
Comparative scenario for all the segments for years 2018 (actual) and 2027 (forecast)