"Prevalence of neurological disorders has risen significantly on a global scale"
The global vagus nerve stimulator market is growing competently, expected to grow at a CAGR of 7.4%. Globally, increasing open and minimally invasive neurological surgeries along with VNS therapies has significantly increased the revenue of vagus nerve stimulator devices. Increasing population globally, costs of medical expenditure for stroke and dementia, burden of dyskinesia and neurological tremors and new technology expansion will enhance the growth of the global vagus nerve stimulator market.
Market Synopsis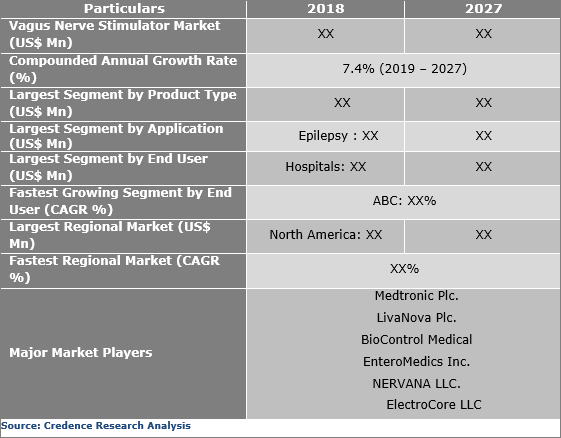 Get a sample copy for more information
"Implantable VNS segment is expected to register higher growth by the end of 2027"
In June 2017, FDA approved LivaNova's vagus nerve stimulation therapy system for epilepsy in children as young as four years. Utilization of implantable VNS devices is associated with abnormal complexities such as dysrhythmia, paresthesia, cough, voice alteration, pain, and surgically related infections. New and advanced vagus nerve stimulation devices (external) have been approved in Europe to treat depression, epilepsy, and pain. A similar noninvasive device was recently approved by the FDA for the treatment of cluster headaches in the U.S. FDA approval of new products, higher efficacy of implantable devices, increasing applications for epilepsy, along with awareness, offers potential advantage as an elective treatment to high-cost surgical procedures.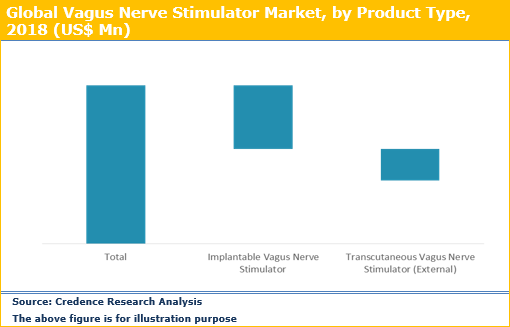 Get a sample copy for more information
"Epilepsy segment is expected to register higher growth by the end of 2027"
The global market is witnessing a gradual shift towards modern VNS devices, the demand for minimally invasive procedures has been rising over the past five years. Enhanced applications for partial epilepsy (aged 12 and older), generalized epilepsy, Lennox-Gastaut syndrome (LGS) will drive the market growth. Development in the field of VNS therapy along with the usage and benefits for external device stimulation will enhance the market growth. Vagus nerve stimulator devices can be utilized for normalizing other neurological conditions such as Crohn's disease, migraines, Asthma, headaches depression, and numerous cardiovascular diseases.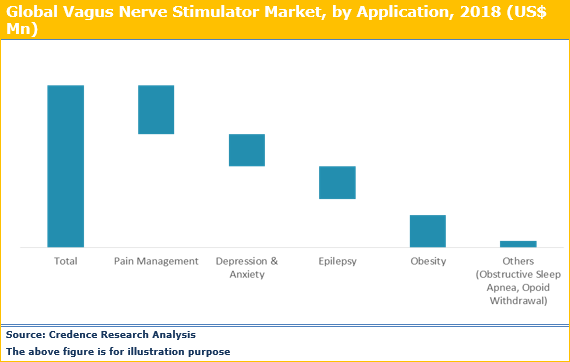 Get a sample copy for more information
"Increasing hospital admissions, rising medical expenditure and the presence of top companies holds the U.S. in dominant position"
In 2018, the U.S. generated maximum revenue in the vagus nerve stimulator market due to an increase in prevalence for neurological disorders. The market in this region is driven by the significant prevalence of neurological disorders such as Parkinson's disease, Alzheimer's disease, depression, spinal cord injury, epilepsy, and traumatic brain injury in the U.S. market. Increasing procedures for intractable epilepsy and treatment-resistant depression along with technology advancement in minimally invasive surgery will drive the market growth. New technology expansion in the developing nations (mainly in the Asia Pacific region), higher patient pool for brain-related disorders along with surgery, enhanced applications for epileptic seizures, pain management, tinnitus, and depression & anxiety will drive the demand for implantable VNS devices in the near future.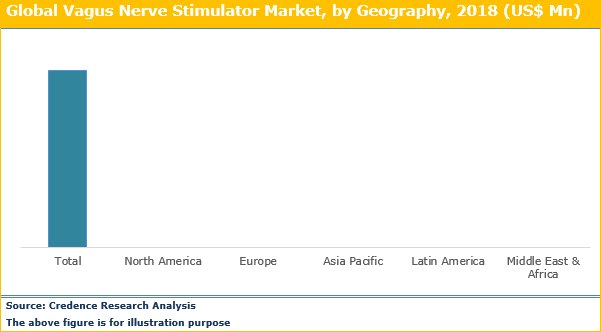 "Increased research and development with strong product portfolio in the developed regions"
Major players in the vagus nerve stimulator market are Medtronic Plc., LivaNova Plc. BioControl Medical, EnteroMedics Inc., NERVANA LLC., ElectroCore LLC, Cerbomed GmbH, ReShape Lifesciences, Inc, Parasym Health, Innovative Health Solutions INC, Beijing PINS Medical Co., Ltd., Aleva Neurotherapeutics SA, and others. Major implantable VNS device and external VNS device manufacturers are focused on producing top quality products with enhanced biomaterials. Partnerships, product launch, and improved R&D will upsurge the development of the vagus nerve stimulation in the near future.
Historical & Forecast Period
This study report represents analysis for each segment from 2017 to 2027 considering 2018 to be the base year. Compounded Annual Growth Rate (CAGR) for each of the respective segments estimated for the forecast period from 2019 to 2027.
Report Scope by Segments
Market Segmentation
ATTRIBUTE
DETAILS
Research Period
2017-2027
Base Year
2018
Forecast Period
2019-2027
Historical Year
2017
Unit
USD Million
Segmentation

Product Type (2017–2027; US$ Mn)
• Implantable Vagus Nerve Stimulator
• Transcutaneous Vagus Nerve Stimulator (External)

Application (2017–2027; US$ Mn)
• Pain Management
• Depression & Anxiety
• Epilepsy
• Obesity
• Others (Obstructive Sleep Apnea, Opioid Withdrawal)

End-User (2017–2027; US$ Mn)
• Hospitals
• Specialty Clinics
• Ambulatory Surgical Centers

Geography (2017–2027; US$ Mn)
• North America (U.S., Canada)
• Europe (U.K., Germany, Rest of Europe)
• Asia Pacific (Japan, China, Rest of Asia Pacific)
• Latin America (Brazil, Mexico, Rest of Latin America)
• Middle East & Africa (GCC, Rest of Middle East & Africa)
The current report also comprehends qualitative and qualitative market valuation factors such as key market drivers, market trends, restraints and opportunities that give a better market understanding of the overall vagus nerve stimulator market. Additionally, the global report also comprises graphical representation of competitive landscape based on their market initiatives and strategies, product portfolio and business strengths.
Key questions answered in this report
What are the current market trends and dynamics in the vagus nerve stimulator market and valuable opportunities for emerging players?
Which segment accounts for the fastest CAGR during the forecast period?
Which product type segment holds a larger market share and why?
Are low and middle-income economies investing in the vagus nerve stimulator market?
What is the market trend and dynamics in emerging markets such as Asia Pacific, Latin America, and Middle East & Africa?