Industry Outlook
Virus filtration market accounted for a market value of US$ 2,151.1 Mn in 2017 and projected to grow at a CAGR of 9.5% during the forecast period from 2018 to 2026. Virus filtration through membranes with pores
Market Synopsis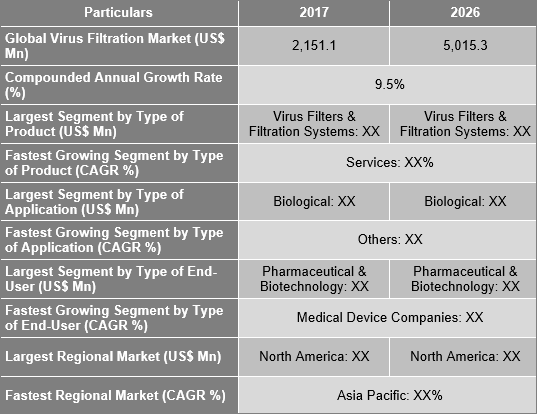 Get a sample copy for more information
"Virus filters & filtration systems segment is the largest product segment and expected to maintain its dominance throughout the forecast period"
In 2017, virus filters & filtration systems accounted for the largest market, as these are highly expensive compared to kits & reagents and services. The virus filtration systems for large water purifying and pharmaceutical industrial plants are huge and designed on customized requirement due to which the cost of these products is high and expected to remain high throughout the forecast period. However, kits & regents was expected as the fastest growing segment throughout the forecast period due to high demand and it's reordered repeatedly till the filtration system is in use.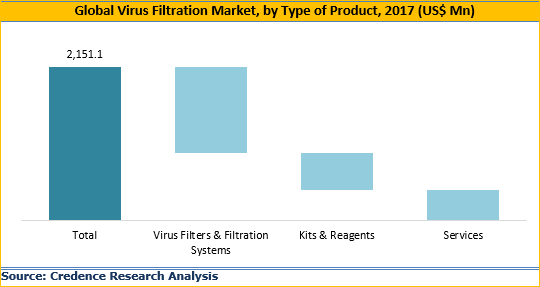 Get a sample copy for more information
"Increasing development in healthcare industry of developing countries from Asia Pacific such as India & China will assist the demand growth throughout the forecast period"
Asia Pacific identified as the fastest growing virus filtration systems market due to increase in number of biotechnology & pharmaceutical industries, adoption of stringent regulatory policies against quality of healthcare products, and increasing awareness related to virus-specific risk associated with vaccine or injectable production. India and China are the key countries that will experience this exceptional growth from 2018 to 2026.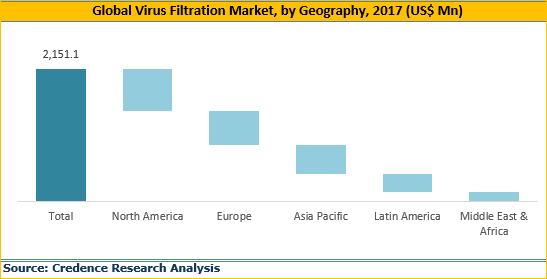 Get a sample copy for more information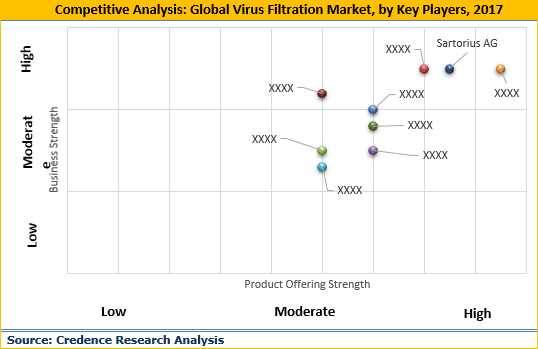 Historical & Forecast Period
The virus filtration market analyzed considering current market trends for base year 2017 and based on future trends CAGRs calculated for the forecast period from 2018 to 2026.
Report Scope by Segments
This report include in-depth analysis of virus filtration market comprising qualitative and quantitative data points along with the major market drivers, restraints & opportunities that possess positive or negative effects on the overall global market. An in-depth analysis provided for market drivers, challenges & opportunities for a country-level market in the specific regional segments. This report covers detailed information related to the global virus filtration market with segments such as types of product, applications, end-users, and geography. The report comprises competitive analysis of the key players operating in virus filtration market that includes data related to competitive landscape of the market and the current strategies assisting or affecting the market in the near future.
ATTRIBUTE
DETAILS
Research Period
2017-2027
Base Year
2018
Forecast Period
2019-2027
Historical Year
2017
Unit
USD Million
Segmentation

Type of Products Segment (2016–2026; US$ Mn)
• Virus Filters & Filtration Systems
• Kits & Reagents
• Services

Type of Application Segment (2016-2016; US$ Mn)
• Biological
o Vaccines and Therapeutics
o Blood and Blood Products
o Cellular and Gene Therapy Products
o Tissue and Tissue Products
o Stem Cell Products
• Medical Device
• Others (Air Purification, & Water Purification)

End-User Segment (2016–2026; US$ Mn)
• Pharmaceutical & Biotechnology
• Contract Research Organizations
• Academic Research Institutes
• Medical Device Companies

Geography Segment (2016–2026; US$ Mn)
• North America (U.S., Canada)
• Europe (U.K., Germany, Rest of Europe)
• Asia Pacific (Japan, China, Rest of APAC)
• Latin America (Brazil, Mexico, Rest of LATAM)
• Middle East and Africa (GCC, Rest of MEA)
The key players included in the market study investigated based on attributes such as financial information, product portfolio, recent market updates, and important market strategies. This report also covers attractive investment proposition analyzed with an exhaustive geographical research based on PESTEL analysis. The companies profiled in the report are Merck KGaA, Thermo Fisher Scientific, Inc., Medical Respiratory Devices PendoTECH, Lonza, Sartorius AG, Charles River Laboratories, General Electric, Asahi Kasei Corporation, Danaher, PendoTECH, and Lonza among others.
Key questions answered in this report
Which is the trending product type in the market preferred for virus filtration & Why?
What are the recent market strategies followed by key players & competitive analysis specific to virus filtration market?
Which are the major geographical markets (regions and countries) in virus filtration market?
Which is the largest and fastest growing virus filtration application globally?
How is the competitive landscape of virus filtration market and strategies of major players present in this industry?
Which are the key end-users for virus filtration systems?