Wireless speakers and headphones encompass various speakers, sound bars, earphones and headphones which can be used to play audio from various types of electronic devices. Wireless speakers and headphones can be used with television sets, computers, multimedia players and smartphones, among others to enhance the volume and quality of the audio output. With increasing adoption of wireless technology coupled with consumer's inclination towards hassle free connectivity, wireless speakers and headphones have gained immense popularity in the recent years. Such devices communicate with the use of Bluetooth and/or Wi-Fi technology to ensure seamless streaming of audio wirelessly. In terms of technology, Bluetooth enabled audio devices have been immensely popular on account of effortless connectivity coupled with higher degree of mobility. Users can connect their smartphones and tablets with their Bluetooth earphones and headphones to ensure wireless streaming of audio files. In addition, there has been a rising demand for low-end Bluetooth speakers which are easy to carry and offer higher audio output as compared to smartphones and tablets.
Large multiple Bluetooth speakers are widely used in homes across the world to achieve enhanced sound quality and surround sound effect in the viewing area. However, installation of multiple speakers leads to higher overall cost and complications in speaker placement. As an alternative to speakers, sound bars have been gaining popularity on account of its affordability and compact size. Sound bars are relatively thin as compared to traditional speakers and yet incorporate features such as stereo and surround sound audio thereby, making it a popular choice at affordable prices. Furthermore, there has been a rising trend of installing Wi-Fi speakers in multiple rooms within the house in connection with a consolidated home entertainment system. Thereby, with numerous types of devices available for a wide range of applications, the overall wireless speakers and headphones market is expected to witness significant adoption in the following years.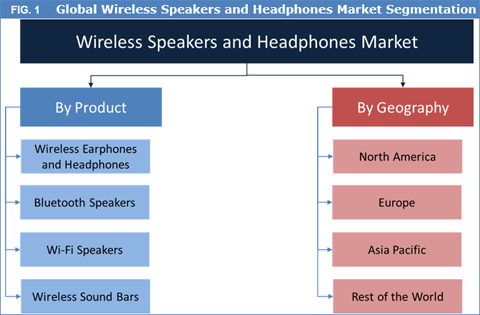 The report titled "Global Wireless Speakers and Headphones Market- Growth, Future Prospects and Competitive Analysis, 2017 – 2025" offers strategic insights into the global wireless speakers and headphones market along with the market value and estimates for the duration 2015 to 2025. The said research study covers in-depth analysis of multiple market segments based on product and cross-sectional study across different geographies and sub-geographies. The study covers the comparative analysis of different segments for the years 2016 & 2025. The report also provides a prolific view on market dynamics such as market drivers, restraints and opportunities. In addition, the report covers a section providing production and pricing trends in some of the major markets.
In order to help strategic decision makers, the report also includes competitive profiling of the leading manufacturers of wireless speakers and headphones, market positioning and key developments. Some of the major players profiled in the report are Apple, Inc., Bose Corporation, DEI Holdings, Inc., HARMAN International Industries, Inc., LG Electronics, Inc., Samsung Electronics Co., Ltd., Sennheiser Electronic GmbH & Co. KG, Sonos, Inc., Sony Corporation, VIZIO, Inc. and VOXX International Corp.
Other in-depth analysis provided in the report includes:
Current and future market trends to justify the forthcoming attractive markets within the wireless speakers and headphones industry
Market drivers, market restraints, and their impact on the market growth
In-depth competitive analysis
Historic 2-year market size data (2015 – 2016)
Overall, the research study provides a holistic view of the global wireless speakers and headphones market, offering market value and estimates for the period from 2017 to 2025, keeping in mind the above mentioned factors.