Industry Outlook
In terms of volume, the global market for yogurt stood at 36,500.1 Kilo Tons in 2017 and expected to reach 49,254.4 Kilo Tons by 2026, expanding at a CAGR of 3.5% during the forecast period from 2018 to 2026. Europe led the yogurt market in 2017 and expected to display similar trend throughout the forecast period. Asia Pacific expected to be the fastest growing market during the forecast period.
Yogurt is a dairy product that is manufactured through the bacterial fermentation of milk. Cow milk is commonly used to manufacture yogurt. Per capita yogurt consumption has increased significantly over the past decade, majorly driven by millenials. New product developments by leading manufacturers has resulted in steady growth of yogurt market over the years, and specifically targeted towards the younger population. Yogurt also consumed as an appetizer, side dish, desserts and snacks among others. Further, yogurt can be made into a drink and can be strained to make it thicker. Essential nutrients included in yogurt is one of the key factors augmenting market growth at present, and is also preferred by the older population as consumption of yogurt contributes to teeth and bone health due to high amounts of calcium present in them. One cup of yogurt includes approximately 20% of calcium and 25% of protein. Further, Greek yogurt has a high protein content, leading to its high preference among consumers. Zinc, phosphorus, riboflavin, and vitamin B12 are some of the other essential nutrients that are present in yogurt. Growing awareness regarding the inclusion of such nutrients in yogurt has created a stir among the population leading to higher consumption, which in turn is pushing market growth.
U.S. is one of the growing markets for yogurt, with Greek yogurt capturing the attention of the consumers, as it is the most consumed type of yogurt within the country. Greater advertising spending on yogurt and rising availability of yogurt in retail chains are some of the key factors responsible for the steady market growth of yogurt in the U.S. However, high sugar and fat content in yogurt is associated with increased risks of obesity, which is a key factor impeding the growth of the market. Only 9% of the several brands of yogurt that are available in retail chains have a low sugar content. Further, only 2% of the yogurts that are targeted towards children have a low sugar content. Daily sugar intake of a child aged between 4-6 years should not exceed 90 grams. However, a single cup of yogurt served to a child aged between 4-6 years could exceed the specified limit of sugar intake recommended for them.
Market Synopsis: Volume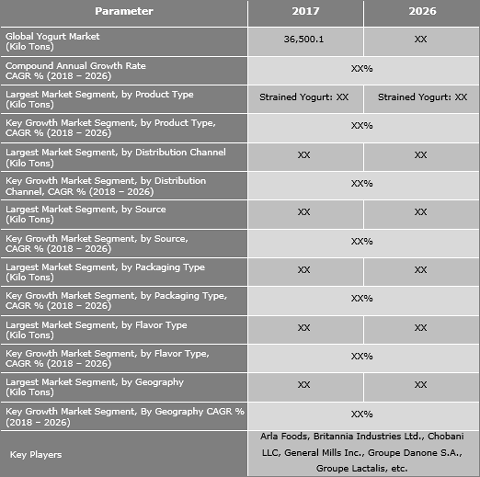 Get a sample copy for more information
"Strained Yogurt Captured Major Chunk of the Market in 2017, and Expected to Display Similar Trend in Coming Years"
In terms of market value, strained yogurt accounted for the major share in 2017, followed by unstrained yogurt. Greek yogurt and Icelandic Yogurt/Skyr are the two major types of strained yogurt. Greek yogurt is particularly famous among consumers, especially in the developed economies of North America and Europe. Greek yogurt is heavily strained in order to remove the whey included in the product to make it thicker, while retaining the sour taste.
Low sugar content in strained yogurts is one of the key factors boosting demand for this segment. Greek yogurts particularly famous among consumers in the U.S., with more than 70% of the Country's population opting for this type of yogurt due to easy digestibility. Further, consumers also prefer Greek yogurt as a breakfast item. Chobani LLC was one of the first manufacturers to introduce Greek yogurt to the U.S. population back in 2005. Chobani accounted for a market share of close to 40% in 2017. These are some of the factors augmenting market growth of Greek yogurt in the country.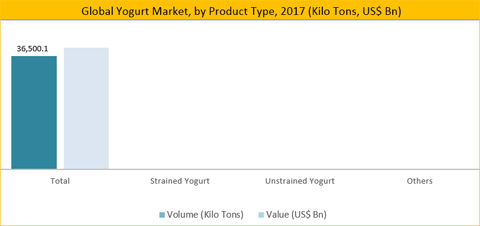 Get a sample copy for more information
"Demand for Plant Based Yogurt is Expected to Display Steady Growth in Coming Years"
Based on source, the plant segment expected to generate the fastest growth during the forecast period from 2018 to 2026. Soy milk, almond milk, and coconut milk are also used to manufacture yogurt. Yogurt made from soy milk is the preferred choice among consumers. Factors such as rising awareness about lactose-free dairy products among consumers, and growing base of lactose intolerance population are contributing to the growth of non-dairy yogurt segment. Soy yogurt is made from soybeans, which contains essential nutrients such as amino acids, vitamins, minerals, and healthy fats. Soy yogurt considered cholesterol free alternative to dairy yogurts. Further, consumption of soy yogurt lowers the cholesterol level in blood and lower the risks of cardiovascular diseases as soy contains polyunsaturated fats that contributes to lowering the risk of heart diseases. Moreover, consuming soy yogurt with a fruit also reduces the incidences of cancer as isoflavones in soy contain estrogen like properties that aids in lowering the risks of cancer. Demand for almond yogurt has also witnessed a steady increase over the past few years. Almond yogurt is made from almond milk, which is made from ground almonds and water. Almond yogurt consists of essential nutrient such as fiber, vitamin E, antioxidants and magnesium among others.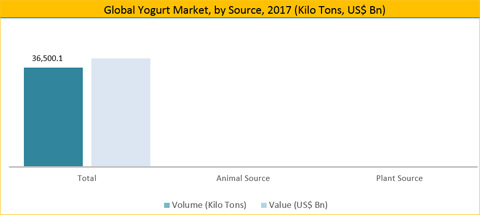 Get a sample copy for more information
"Europe is Likely to Dominate the Global Yogurt Market throughout the Forecast Period"
Based on geography, Europe accounted for major market share in 2017 and likely to continue dominating the market in the coming years. Yogurt is gaining importance among the geriatric population, which is a key factor pushing market growth. Consumption of yogurt reduces the risk of frailty among the elder population. Old age is associated with several health complications and nutritional deficiencies, which includes immunosenescence, and musculoskeletal impairment among others. European countries such as Italy, Germany, France, Portugal and Greece have the highest number of geriatric population and these factors have attributed to the high growth of the yogurt market in the region. Further, Germany, Netherlands, Ireland, France, and Turkey have the highest per capita consumption of yogurt, compared to the other countries across the globe. Lactalis, Danone and Arla Foods are the key players operating in the yogurt market in Europe.
Asia Pacific expected to be the fastest growing market for yogurt during the forecast period with China, India and Japan spearheading the growth of the market. China was ranked as the second largest dairy industry in the world after U.S. with sales crossing the US$ 55 Bn mark in 2017. Consumers in China consider yogurt as a nutritional food product, which also aids in easy digestibility.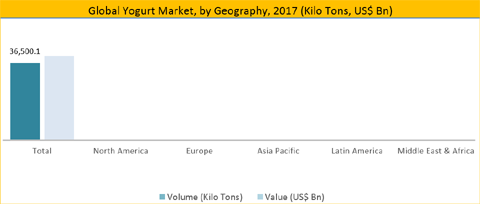 "Product Development is one of the Key Strategy of the Companies Operating in the Yogurt Market"
The global yogurt market is marked by intense competition from major players operating in this market. Strategic mergers & acquisitions, product innovations, joint ventures and partnerships, and geographical expansions are some of the key strategies adopted by the leading players to ensure long-term sustenance in the market. Key players operating in the field of yogurt include Arla Foods, Amul Milk Union Ltd., Britannia Industries Ltd, Chobani LLC, General Mills, Inc., Groupe Danone S.A., Grupo LALA, Groupe Lactalis, Muller Milk & Ingredients, Mother Dairy Fruits & Vegetables Pvt. Ltd., Nestle S.A., and Yakult Honsha Co. Ltd. among others.
In September 2018, Arla Foods created a new innovation with fruit yogurts that debuted in the German market; the new yogurt consists of 75% organic yogurt and 25% organic fruit named as Bio Nur. An average yogurt contains 14 grams of added sugar and this factor has raised serious concerns among the consumers regarding its health benefits. The new product launched by Arla contains no added sugar and contains only 6.8-7.7 grams of sugar, which depends on the type of fruit. This product has been aimed at the health conscious population, and with the introduction of these new products, the demand for yogurt in Germany is expected to maintain its growing trend in the coming years and it is also expected to help Arla Foods to strengthen its position in the yogurt market.
Further, in 2017, Chobani LLC launched Chobani Smooth non-Greek classic yogurt. This product is the Company's maiden venture into the traditional yogurt category, with less amounts of sugar and more protein content compared to the other traditional yogurts that contain fair amounts of sugar in them. Chobani Smooth has been developed with 25% less sugar and approximately 1%-1.5% of fat content and double the protein content compared to other traditional yogurts. It is made by light straining in order to retain the protein content found in milk combined with a unique blend of probiotics and active cultures. This yogurt is blended with natural ingredients along with natural fruits & vanilla.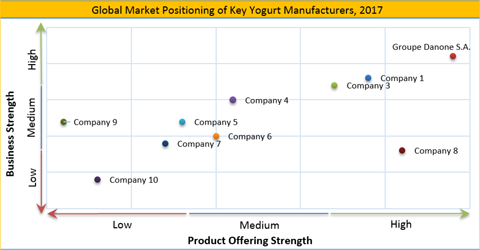 Historical & Forecast Period
Our study analyzed each market segment during the period of 2016 to 2026 with 2017 as the base year. Forecast period between 2018 and 2026 considered for the CAGR calculation.
Report Scope
The report enlightens the thorough outline of global yogurt market by categorizing the market in different segment given below:
ATTRIBUTE
DETAILS
Research Period
2016-2026
Base Year
2017
Forecast Period
2018-2026
Historical Year
2016
Unit
USD Billion
Segmentation

Product Segment (2016–2026; Kilo Tons, US$ Bn)
• Strained Yogurt
o Greek Yogurt
o Icelandic Yogurt/Skyr
• Unstrained Yogurt
o Plain Yogurt
o Australian Yogurt
• Others (yogurt drinks, yogurt powder, etc.)

Distribution Channel Segment (2016–2026; Kilo Tons, US$ Bn)
• Supermarkets
• Hypermarkets
• Online Channels
• Convenience Stores
• Others (departmental stores, grocery stores, etc.)

Source Segment (2016–2026; Kilo Tons, US$ Bn)
• Animal Source
• Plant Source

Packaging Type Segment (2016–2026; Kilo Tons, US$ Bn)
• Tubs
• Cups
• Pouches
• Bottles

Flavor Type Segment (2016–2026; Kilo Tons, US$ Bn)
• Plain Flavor
• Strawberry
• Raspberry
• Black Currant
• Blueberry
• Mango
• Others (vanilla, chocolate, etc.)

Geography Segment (2016–2026; Kilo Tons, US$ Bn)
• North America (United States and Canada)
• Europe (U.K., Germany, Ireland, France, Italy, Netherlands, Rest of Europe)
• Asia Pacific (China, India, Japan, Rest of Asia Pacific)
• Latin America (Brazil, Mexico, Rest of Latin America)
• Middle East and Africa (GCC, Rest of MEA)
This research report describes leading continents and their major countries, along with profiles of key players operating in overall market and their planned developments. Our report further defines the overall market dynamics such as drivers, challenges, and opportunities prevalent in the market to understand global yogurt market more explicitly. Our in-depth quantitative and quantitative analysis of each segment up to country level highlights revenue pockets and investment opportunities in the market.
Key questions answered in this report
Who are the major manufacturers & distributors operating in the yogurt market?
What are the largest segments in the market during the forecast period from 2018 to 2026?
Which are the fastest growing segments in the market during the forecast period?
What are the current market trends in the yogurt market and valuable opportunities for the players?
How are the regulatory frameworks affecting the global as well as regional markets?
Which are the key players operating in the global market and what are the strategies adopted by them?
What are the revenues, business strategy and product portfolio of the top manufacturers operating in the yogurt market?
What is the market size and trend in emerging and developed markets?