Adhesion barriers are used for reducing internal scarring and separating the internal organs and tissues therefore avoiding organ adhesion. These products are predominantly employed in abdominal, orthopedic, reconstructive, urological and gynecological surgeries. Of the various formulations available, adhesion barriers film based products are the most widely used. As the global rate of surgical procedures is consistently increasing, the demand and uptake of adhesion barriers is also expected to rise correspondingly. Adhesion barriers are viewed as an effective tool to reduce the post-surgical complications arising from adhesion of tissues or organs, therefore reducing the risk of follow-up procedures and overall procedural cost. Growing product visibility and competitive prices of adhesion barriers are also expected to assist the market growth during the forecast period.
Apart from the increasing number of abdominal and cardiovascular interventions taking place worldwide, the growing incidence of cancers demanding surgical intervention is also driving the demand for adhesion barriers. In the developing countries, growing awareness regarding the benefits associated with adhesion barriers in reducing the treatment costs will be a prime driver. Further expansion in application areas of these products and product universality across several anatomies will serve as significant growth opportunity during and beyond the forecast period.
Market Synopsis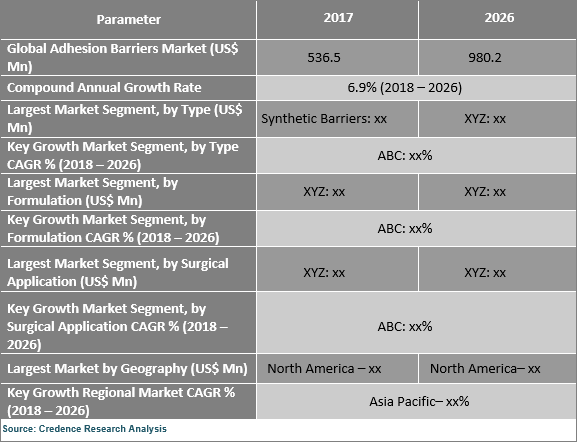 Get a sample copy for more information
"Synthetic Adhesion Barriers to Enjoy the Dominant Market Position"
At present, over half of the adhesion barriers market is occupied by synthetic barrier products. Greater presence in the market is a key attribute of the dominance of this segment. Additionally, the cost effectiveness of synthetic adhesion barriers is better than the natural product variants. This segment is further categorized as Hyaluronic Acid, Polyethylene Glycol (PEG), Regenerated Cellulose and other synthetic products. Among these, the demand for PEG based adhesion barriers is anticipated to be the fastest during the forecast period. Its better biocompatibility and absorption capabilities support the high demand. .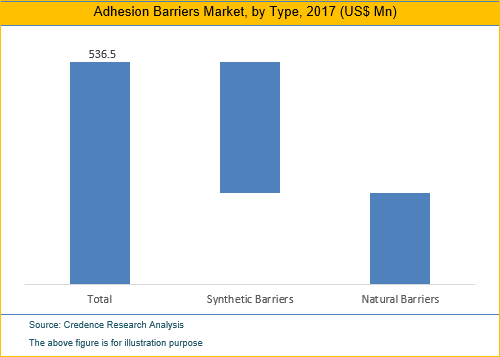 Get a sample copy for more information
Based on formulation types, the global adhesion barriers market is segmented into gels, liquids and films. Films occupy a significant share in the global market. Higher adoption of film/mesh in postoperative procedures, particularly in gynecology and abdominal surgeries along with ease of use are attributed to prominent position of films segment. Gel formulations will progress at faster rate during the forecast period. These formulations are sterile, highly viscous and transparent, and are better barriers to prevent adhesions. Liquid barriers are made of glucose polymers and prevent tissue surfaces from adhesion both during and after surgery. Adept, and Bio-Gide Perio are the most commonly used liquid barriers.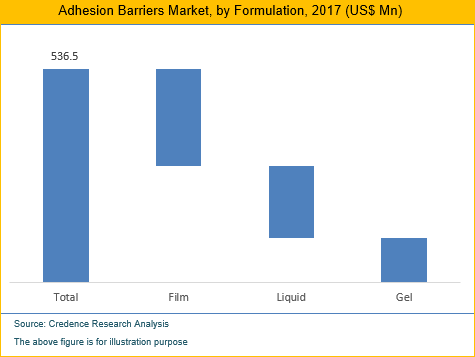 Get a sample copy for more information
"Gynecological Procedures to Spearhead the Global Market"
On the basis of applications, the global adhesion barriers market is segmented into gynecology, abdominal general surgery, cardiovascular, neurology, orthopedic, urology and others. Among these, gynecological surgery application gather the largest revenue share in the global market. Increasing volume of C-section surgeries, hysterectomies, and increasing prevalence of uterine cancers drive the dominance of this segment. In laparoscopic gynec surgeries the adoption of film and gel based adhesion barriers is the highest.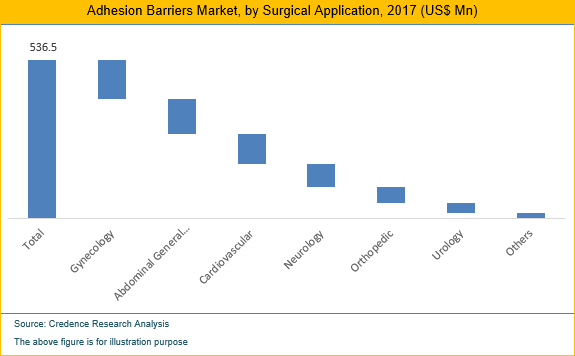 "Asia Pacific Estimated to be the Fastest Progressing Regional Market"
Large procedural rate of surgical interventions, swift approval to novel products and favorable reimbursements are the major factors that have made North America the largest regional market for adhesion barriers. North America accounts for approximately 34% of the global market share, and is followed by Europe. Domicile of several major market players also supports the dominant position of North America and Europe markets. Asia Pacific is the fastest progressing regional market for adhesion barriers. A major factor supporting the rapid growth of Asia Pacific market are growing awareness about the benefits associated with adhesion barriers in general surgeries in terms of reducing the rate of follow-up surgeries for eradicating adhesion complications. Increasing count of surgeries in the region due to rapidly increasing pool of chronic diseases and geriatric population, and flourishing medical tourism are some other prime reasons that are driving the growth of Asia Pacific market.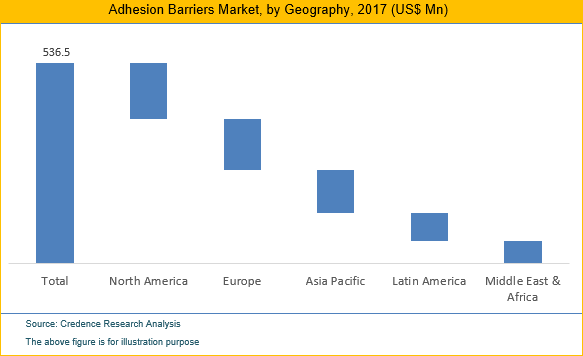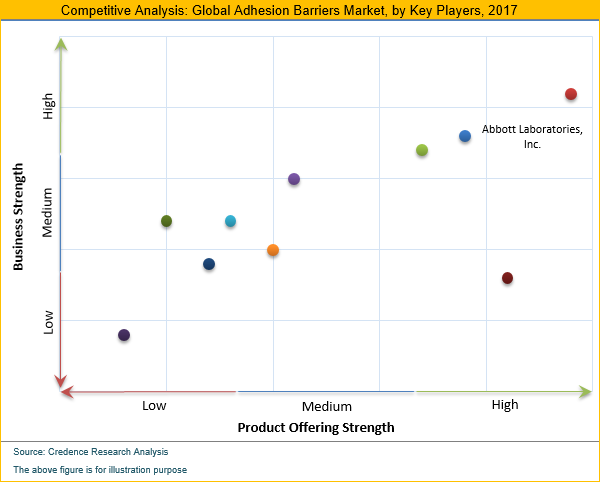 Historical & Forecast Period
This research report presents the analysis of each considered segment for the period from 2016 to 2026, having 2017 as the base year for estimations. Compounded annual growth rates (CAGRs) for each segment are calculated for the forecast period from 2018 to 2026.
Report Scope by Segments
The adhesion barriers market report provides quantitative assessment of the industry terms of current and forecasted market size, while also presenting the market dynamics. This market is segmented based on device type, formulation, surgical application, and geography.
ATTRIBUTE
DETAILS
Research Period
2016-2026
Base Year
2017
Forecast Period
2018-2026
Historical Year
2016
Unit
USD Million
Segmentation

By Type (2016–2026; US$ Mn)
• Synthetic Barriers
• Hyaluronic Acid
• Polyethylene Glycol (PEG)
• Regenerated Cellulose
• Others
• Natural Barriers
• Fibrin
• Collagen & Protein

By Formulation (2016–2026; US$ Mn)
• Gels
• Liquid
• Film

By Surgical Application (2016–2026; US$ Mn)
• Gynecology
• Abdominal General Surgery
• Cardiovascular
• Neurology
• Orthopedic
• Urology
• Others

Geography Segment (2016–2026; US$ Mn)
• North America (United States and Canada)
• Europe (U.K., Germany, Rest of Europe)
• Asia Pacific (China, Japan, Rest of Asia Pacific)
• Latin America (Brazil, Mexico, Rest of Latin America)
• Middle East and Africa (GCC, Rest of MEA)
Along with the market size and forecast, this report also includes qualitative analysis of each of the considered segment in terms of the prevailing trends and future outlook for such segments. This report also includes an exclusive section analyzing the market dynamics such as challenges, restraints and opportunities. Market competition landscape, and attractive investment proposition are also presented in the same section of the study. Moreover, this report also includes brief profiling of the major market players namely Johnson & Johnson, Anika Therapeutics, C. R. Bard, Inc., FzioMed, Baxter International, Sanofi-Aventis U.S. LLC, W. L. Gore & Associates, MAST Biosurgery, Inc., Integra LifeSciences Holdings Corporation, Becton Dickinson and Company, and Atrium Medical Corporation. This profiling is made based on parameters such as company overview, product portfolio, financial information and key developments.
Key questions answered in this report
What the most lucrative opportunities for growth in the global adhesion barriers market?
Which type of barrier formulation is in the highest demand globally?
Which surgical application is anticipated to witness the fastest market growth during the forecast period?
Will the demand for natural barriers surpass the incumbent position of synthetic barriers segment?
Who are the major players in the global adhesion barriers in the market?
What are the key strategies adopted by such players for retaining their market position?