Adipic acid is an organic compound which is most commonly used to produce industrial fibers. It is a synthetic dicarboxylic acid produced from oxidation of various fats. It is majorly used as a raw material for manufacturing of nylon. It is also used in the chemical industry as a raw material for manufacturing of coatings, detergents and also as a plasticizer.
The ever growing auto industry is one of the major factors driving the demand for adipic acid. It is also used by the electronic and electrical industry. For the last decade the world has seen an increasing in spending on infrastructure and thus a rising demand for paints and coating and consequently an increase in the demand of adipic acid. Apart from this derivatives of adipic acids are also used as vehicle for administering drugs that is it helps to deliver the drug to your body.
India and China are expected to be both leading producers and consumers of the adipic acid owing to the fact that they receive high demands from automotive manufacturing industry and have relatively less stringent regulations. Africa and Middle East areas are also expected to show significant growth.
Manufacturing of adipic acid produces nitrous oxide, a greenhouse gas that causes ozone depletion thus raising concern towards adverse environmental impact. This will hinder its market growth and force industries to shift to other viable greener alternatives.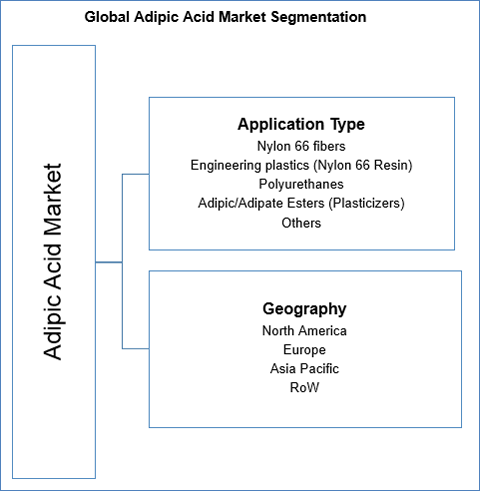 The report titled "Global Adipic Acid Market- Growth, Share, Opportunities and Competitive Analysis, 2015 – 2022" offers strategic insights into the global adipic acid market along with the market size and estimates for the duration 2014 to 2022. The said research study covers in-depth analysis of multiple market segments based on applications and cross-sectional study across different geographies. The study covers the comparative analysis of different segments for the years 2014 & 2022. The report also provides a prolific view on market dynamics such as market drivers, restraints and opportunities.
In order to help the strategic decision makers, the report also includes profiles of the leading adipic acid manufacturers, their SCOT (Strength, Challenges, Opportunities and Weaknesses) analysis and key developments. The major players profiled in the report are BASF, Rhodia, INVISTA, Ascend Performance Materials, Liaoyang Petrochemical, Radici, Asahi Kasei, Lanxess, Shandong Haili Chemical Industry Company, Ltd. (BOHUI) and Shandong Hongye Chemical Company, Ltd. Further, the report also covers market positioning of the key players operating in the adipic acid market. Other in-depth analysis provided in the report includes:
Current and future market trends to justify the forthcoming attractive markets within the adipic acid industry
Market fuelers, market impediments, and their impact on the market growth
In-depth competitive environment analysis
SRC (Segment-Region-Country) Analysis
Overall, the research study provides a holistic view of the global adipic acid market, offering market size and estimates for the period from 2015 to 2022, keeping in mind the above mentioned factors.