The global agricultural drones market has been witnessing incremental growth over the last few years. The trend shall prolong as market continues to evolve, offering significant growth and investment opportunities for manufacturers during the forecast period 2018 – 2026. The growth in demand can be majorly credited to rising agricultural income and availability of flexible credit facilities for purchasing mechanized agricultural equipment for improving productivity. Steady growth in demand for organic food has increased the worldwide agricultural production Farmers across the globe are looking for advanced solutions to improve farm productivity and profit margins. Using sensors and digital imaging capabilities, agricultural drones allow farmers to collect high resolution pictures of their field, thereby enabling them to monitor crop growth, yield, and improve farm efficiency. Improving farm income, rising demand for organic food products, and shift towards mechanized farming is expected to spur the demand for agricultural drones in the coming years. All these factors are collectively expected to contribute towards a double digit CAGR during the forecast period (2018 – 2026).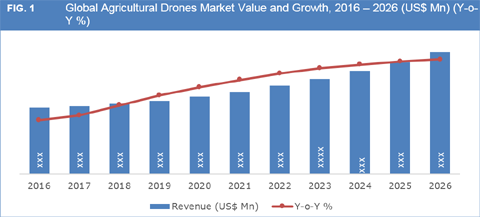 High upfront cost of drones coupled with the technical complexities involved in its installation and operation is identified as the major factor inhibiting the widespread adoption of agricultural drones, especially amongst farmers in price sensitive emerging economies. High cost involved makes it difficult for small-scale farmers to invest in these systems and gain reasonable profits.
The global agricultural drones market is classified into following categories:
By Type

Fixed Wing Agricultural Drones
Multi Rotor Agricultural Drones
Hybrid Agricultural Drones

By Application

Variable Rate Application (VRA)
Crop Scouting
Field Mapping
Others (Livestock, Agriculture Photography, etc.)

By Region

North America

The U.S.
Rest of North America

Europe

The U.K.
Germany
France
Rest of Europe

Asia-Pacific (APAC)

India
China
Japan
Rest of APAC

Rest of the World

Latin America
Middle East and Africa
The research report "Global Agricultural Drones Market – Growth, Future Prospects and Competitive Analysis, 2018 – 2026" delivers qualitative insights on the global agricultural drones market along with the forecasts and market sizing for period from 2016 - 2026. The research report categorizes the global agricultural drones market based on product types, applications, and cross-sectional analysis across geographic regions. The research study delivers a holistic opinion on market dynamics covering opportunities, market drivers, and challenges predominant in the market. In addition, the study covers analysis on the key market trends followed in the market.
To help investors and tactical decision makers to make decisions, the report provides competitive landscape which covers profiling of major agricultural drone manufacturers, their market positioning, SCOT analysis, major business strategies, and recent developments. Major manufacturers profiled in the research study include Honeycomb Corporation, Ageagle LLC, Ursula Agriculture, Delair-Tech SAS, Yamaha Motor Co., Ltd., Eagle UAV Services, DJI, Parrot SA, Precisionhawk, and Trimble Navigation Limited.
Other analysis covered in the research study includes:
Comparative analysis of all sub-segments for years 2017 and 2026
Market sizing for historic years (2016 & 2017)
Segment-Region-Country Analysis
Therefore, the research report offers a 3600 insight of the global agricultural drones market, offering market sizing and forecasts by keeping in mind the aforementioned factors.