Air borne wind energy (AWE) is a technique to generate electricity from wind currents with the help of rotors or turbines supported in the air without any tower installed on the ground. Airborne wind energy is a unique concept to harvest wind energy with lower setup and operating cost as compared to conventional wind turbines. Conventional wind turbines have a limitation with respect to the height of the structure and speed control. However, airborne wind energy (AWE) systems have the capabilities to tap high velocity and steady winds found above a certain altitude. In addition, this technique is more economical and efficient as compared to other conventional horizontal and vertical axis wind energy turbines in terms of energy generation and stability.
Rising carbon percent and increasing atmospheric temperature have greatly affected the atmospheric condition in the past few years. Numerous environmental organizations and government agencies across the globe have been increasingly concerned towards reducing pollution caused by the fossil fuel for energy generation. Therefore, adoption of new non-conventional energy sources such as airborne wind energy (AWE) systems has been boosted significantly in the recent times. Several developed countries including the U.S., the U.K., the Netherlands, and Germany, among others have started to harvest airborne wind energy (AWE) for power generation. In addition, multiple strategic alliances between airborne wind energy (AWE) system manufacturers and research centers have resulted in further development of pre-existing designs. Heavy investments made by many multinational companies for making the airborne wind energy (AWE) systems efficient and cost effective is one of the prime driving factor in the airborne wind energy (AWE) systems market.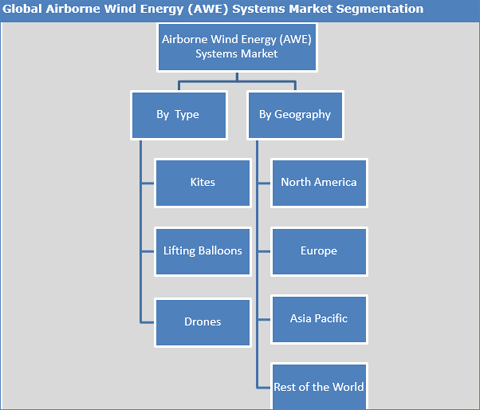 The report titled "Airborne Wind Energy Market- Growth, Future Prospects and Competitive Landscape, 2017-2025" offers strategic insights into the global airborne wind energy market with a focus on the market size and estimates for the duration 2015 to 2025. The said research study covers in-depth analysis of market segments based on type and cross-sectional study across different geographies. The study covers the comparative analysis of each sub-segment for the years 2016-2025. The report also provides a prolific view on market dynamics such as market drivers, restraints, and opportunities.
In order to help strategic decision makers, the report also includes competitive profiling of the leading airborne wind energy (AWE) system manufacturers, their strategies, market positioning and key developments. Some of the major players profiled in the report include Ampyx Power, E-Kite Netherlands BV, EnerKite GmbH, Altaeros Energies, eWind Solutions, Kite Power Solutions, Ltd., Kite Gen Research, Makani Power, SkySails GmbH & Co. KG, Windlift LLC, Twingtec AG, Omnidea, Lda, Kitenergy S.r.l., kPower LLC, and KiteMill. Other in-depth analysis provided in the report includes:
Current and future market trends to justify the forthcoming attractive markets within the airborne wind energy (AWE) system
Market fuelers, market impediments, and their impact on the market growth
Market inclination insights and key trend analysis for airborne wind energy (AWE) system market
In-depth competitive environment analysis
Trailing 2-Year market size data (2015 – 2016)
Overall, the research study provides a holistic view of the global airborne wind energy (AWE) system market, offering market size and estimates for the period from 2017 to 2025, keeping in mind the above-mentioned factors.