Amphibious vehicles are the wheeled or tracked vehicles which can be used on both land as well as water surface. Since its inception, the utility of amphibious vehicles was acknowledged in various military applications during the World War II. A variety of amphibious vehicles were created during the World War II for varied military and defense applications including surveillance, rescue and assaults. With technological advancements and its growing popularity in the recent years, amphibious vehicles are being used for a variety of applications including sports and recreation, excavations, transportation and research applications and not just limited to the defense activities.
Leading amphibious vehicle manufacturing giants across the globe have been engaging themselves in introducing innovative amphibious vehicle variants for a variety of applications. Modern amphibious vehicles are capable of transporting large and heavy cargo including military vehicles such as tanks and trucks. Defense agencies across numerous countries have considered to incorporate amphibious vehicles on account of their exceptional capabilities over land and water. Moreover, amphibious vehicles such as hovercrafts have added another dimension to the modern day amphibious vehicles. The advancement in design, growing trend of owing amphibious vehicles and utilization of amphibious vehicles for a variety of security applications have positively supported the growth of overall amphibious vehicles market.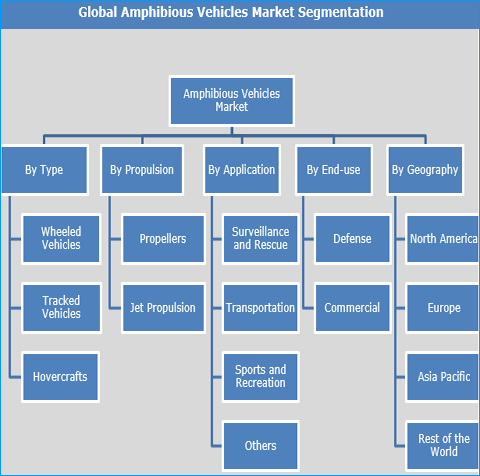 The report titled "Amphibious Vehicles Market- Growth, Future Prospects and Competitive Landscape, 2017-2025" offers strategic insights into the global amphibious vehicles market with a focus on the market size and estimates for the duration 2015 to 2025. The said research study covers in-depth analysis of market segments based on type, propulsion, applications, end-use and cross-sectional study across different geographies. The study covers the comparative analysis of each sub-segment for the years 2016-2025. The report also provides a prolific view on market dynamics such as market drivers, restraints, and opportunities.
In order to help strategic decision makers, the report also includes competitive profiling of the leading amphibious vehicles manufacturing companies, their strategies, market positioning and key developments. Some of the major players profiled in the report include BAE Systems AB, General Dynamics Corporation, Lockheed Martin Corporation, Rheinmetall AG, Hitachi Construction Machinery Co., Ltd., Griffon Hoverwork Ltd. (GHL), Gibbs Sports Amphibians, Inc., Rinspeed AG, Cool Amphibious Manufacturers International, LLC., WaterCar, Science Applications International Corporation (SAIC), Textron, Inc., Kurganmashzavod JSC, and Hanjin Heavy Industries & Construction Co., Ltd.
Other in-depth analysis provided in the report includes:
Current and future market trends to justify the forthcoming attractive markets within the amphibious vehicles industry
Market fuelers, market impediments, and their impact on the market growth
Market inclination insights and key trend analysis for amphibious vehicles market
In-depth competitive environment analysis
Trailing 2-Year market size data (2015 – 2016)
Overall, the research study provides a holistic view of the global amphibious vehicles market, offering market size and estimates for the period from 2017 to 2025, keeping in mind the above-mentioned factors.