Application specific integrated circuits (ASICs) are defined as non-standard integrated circuits designed specifically for a particular application. In this case, the entire system or design is integrated into a single chip, virtually eliminating the need for any other components. Thus, ASICs are being seen as a potential milestone in the overall electronics industry. ASICs offer several advantages over general integrated circuits. Since ASIC eliminates the need for most of the additional components, the overall size of the system is reduced significantly. In addition, due to their small size, ASIC require low power with high speed as compared to the general ICs. Moreover, there are no timing issues as the system comprises single-chip designs. As a result, ASICs have witnessed profound penetration across different applications, over the period of time.
Another major factor propelling the market growth is the consistently rising consumer electronics and telecommunication industry worldwide. Over the past few years, mobile devices such as smartphones, tablets and laptops have witnessed immense penetration worldwide. In addition, the advent of 'smart' technology has led to profound advancement across the home appliances and other consumer electronics. Similarly, the ASIC market is strongly driven by the rising automotive industry, especially in the Asia Pacific region. Growing use of electronics in the industry would further spur the demand for ASICs during the forecast period. Due to continued growth anticipated across the consumer electronics and automotive industry, the ASIC market would continue to demonstrate healthy growth throughout the forecast period. However, the market growth is remarkably hampered due to high cost of design and manufacturing required for these ICs.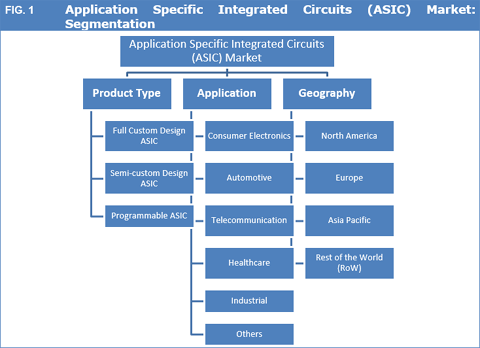 The report titled "Global Application Specific Integrated Circuits (ASIC) Market- Growth, Future Prospects and Competitive Analysis, 2017 – 2025" offers strategic insights into the global ASIC market along with the market size and estimates for the duration 2015 to 2025. The said research study covers in-depth analysis of market segments based on product type, application and cross-sectional study across different geographies and sub-geographical regions. The study covers the comparative analysis of different segments for the years 2016 & 2025. The report also provides a prolific view on market dynamics such as market drivers, restraints and opportunities.
In order to help strategic decision makers, the report also includes competitive profiling of the leading ASIC vendors, their business strategy analysis, market positioning and key developments. Some of the major players profiled in the report are NXP Semiconductors NV, Texas Instruments, Inc., STMicroelectronics, Infineon Technologies AG, Renesas Electronics Corporation and others. Other in-depth analysis provided in the report includes:
Current and future market trends to justify the forthcoming attractive markets within the ASIC industry
Market fuelers, market impediments, and their impact on the market growth
In-depth competitive environment analysis
Trailing 2-Year market size data (2015 – 2016)
SRC (Segment-Region-Country) Analysis
Overall, the research study provides a holistic view of the global ASIC market, offering market size and estimates for the period from 2017 to 2025, keeping in mind the above mentioned factors.