Industry Outlook
Automatic teller machine (ATM) is a device that allows to carry out multiple activities associated with bank or financial institutes besides cash dispensing. ATM machines are becoming an indivisible part of modern day economy and one of the most reliable & referred sources for cash transaction. Economic reforms in developing countries helped ATM market to reach a market value of US$ 13.64 Bn in 2017. The market expected to reach a mark of US$ 26.88 Bn in 2026 growing with a considerable growth rate of 7.8% throughout the forecast period from 2018 to 2026. The market projected to lose its momentum of growth due to rising prevalence of mobile and internet banking. However, automatic teller machines contemplated to emerges as the first preference for consumer for any cash related transaction and thus, extending the lifeline of the market.
Market Synopsis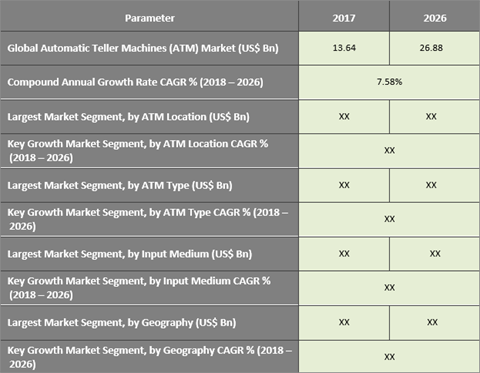 Get a sample copy for more information
Offsite ATM is on Growth Streak Surpassing Onsite ATM in Terms of Market Value
The initial part of the automatic teller machines market was extensively dominated by onsite ATM machines. The number of ATMs was limited at that time and banks were slowly exploring possibilities and shortcoming under keen eye of their issuing branches. Subsequnet rise in security and sophistication installed courage in banks and other financial institutes to take their ATM offsite. The installation of ATM at malls, public transport stations, multiplexes, marketplaces, educational institutes & marketplaces shown a significant rise and thus offsite ATM market surpassed onsite ATM in terms of market value. Further with the introduction of mobile ATMs and white label ATMs, offsite ATM expected to take undisputed lead in coming years.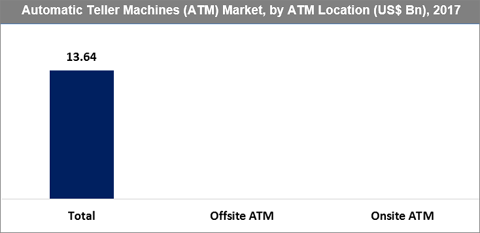 Get a sample copy for more information
White label ATMs Not Living up to Expectation to Overcome Brown Label ATMs
The ATMs managed by other companies but financially governed by certain financial institute or bank is known as brown label ATM. In 2017, brown label ATM dominated the global automatic teller machines market in terms of volume as well as market value. Banks often prefer to contract ATM vendors to manage and handle the technical aspects of ATMs while managing the financial aspects by themselves. This type of services allows the banks to cater their customer needs by reducing the overheads to maintain the systems. However, white label ATMs that are set-up and operated by non-banking entities lacks spark to outgrow brown label tags. Consequently, later segment is not showing intent to grow with a notable growth rate in coming years.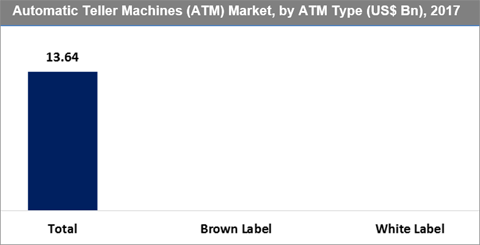 Get a sample copy for more information
Developing Economies Held Asia Pacific on Top In Automatic Teller Machines (ATM) Market
The world is witnessing a radical development of countries in Asia Pacific with respect to economy as well as industries. Renowned banks across the globe have their presence in these developing economies such as China, India, South Korea, and Taiwan. The banks helped these countries for developing financial literacy and convenient technology such as ATMs. This helped the region gain dominance over other regions in terms of market value and number of ATMs installed. North America trails Asia Pacific further trailed by Europe. North America including the U.S. and Canada continuously boosting ATM count per 100K people across the country. However, Asia Pacific expected to outshine another region in ATM market in coming years.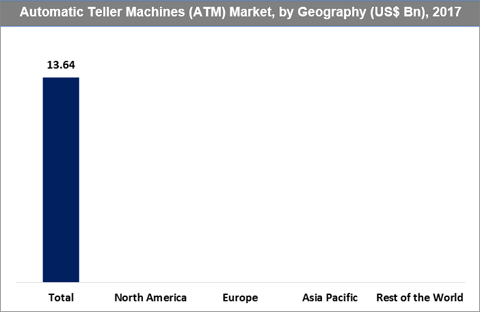 Market Segmentation
ATTRIBUTE
DETAILS
Research Period
2016-2026
Base Year
2017
Forecast Period
2018-2026
Historical Year
2016
Unit
USD Billion
Segmentation

By ATM Location(2016–2026; US$ Bn)
• Onsite ATM
• Offsite ATM

By ATM Type (2016–2026; US$ Bn)
• Brown Label ATM
• White Label ATM

By Input Medium (2016–2026; US$ Bn)
• Touch Screen Input
• Keypad Input

Geography Segment (2016–2026; US$ Bn)
• North America (U.S. and Canada)
• Europe (U.K., Germany, France, and Rest of Europe)
• Asia Pacific (Japan, China, India, and Rest of Asia Pacific)
• Rest of World (Middle East & Africa (MEA), Latin America)
Huge Potential Drawn Automatic Teller Machine Giants into the Field for Face-off
Automatic teller machines (ATM) Market have tremendous potential and several ATM manufacturers are facing each other in intense competitive environment to claim their share of market. The companies are continuously trying enter into long terms partnerships with leading bank across the globe to provide automatic teller machines and managed services. The companies are also paying special attention towards fortifying their machines against any possible threat of fraud or break-ins. The research study include business strategies and recent development of few of the most prominent players in automatic teller machines market includes Hitachi-Omron Terminal Solutions, Mitsubishi Electric Corporation, NCR Corporation, Sharp Electronics Corporation, Tianma Micro-electronics Co., Triton Systems of Delaware, GRG Banking, Intertech Bilgi, Oki Electric Industry Co., AU Optronics Corp., Fujitsu Frontech, KYOCERA Corporation, HESS Cash Systems GmbH, Nautilus Hyosung Corp., and Dibold Nixdorf among others.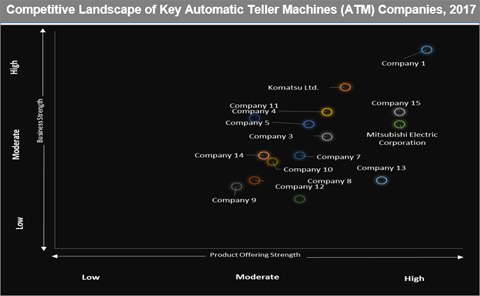 Key questions answered in this report
What are the most recent trends in the automatic teller machines market and potential prospects for the players?
How economic development and financial literacy made an impact on the global as well as regional automatic teller machines (ATM) market?
Which are the largest and fastest growing segment in terms of ATM location, and ATM type?
Which is the most attractive geographical region/country for overall automatic teller machines (ATM) market?
How ATM security and other payment avenues play a vital role in overall automatic teller machines market in coming years?
What is the market size and trends in developing regions such as Asia Pacific, Middle East & Africa, and Latin America?