Advanced materials play a vital role in boosting the fuel efficiency of new vehicles along with ensuring high performance and safety. Light weight vehicles require less energy in acceleration and also increase the vehicle efficiency than heavier vehicles and deliver 6%-8% lesser fuel consumption. Substituting cast iron and steel components with lightweight materials such as advanced high-strength steel (AHSS), aluminum alloys, magnesium alloys, plastics, and thermosetting composites help to reduce the overall weight of a vehicle's chassis and body by 50% which in turn helps to minimize the consumption of fuel.
The global automotive lightweight materials market is anticipated to grow at a CAGR of 13.1% during 2017-2025, due to government regulations on vehicles and emission standards. Growing emphasis on strict safety regulations are altering the trends in vehicle production leading to increasing adoption of lightweight materials. All these factors contribute to the immense growth of automotive lightweight materials market.
Aluminum and AHSS are the fastest growing lightweight materials segments. Manufacturers are adopting aluminum instead of traditional material, which led to the swift demand for aluminum in structural and exterior applications such as panels and closures. AHSS provides remarkable formability and strength, and is used for frame and structure applications.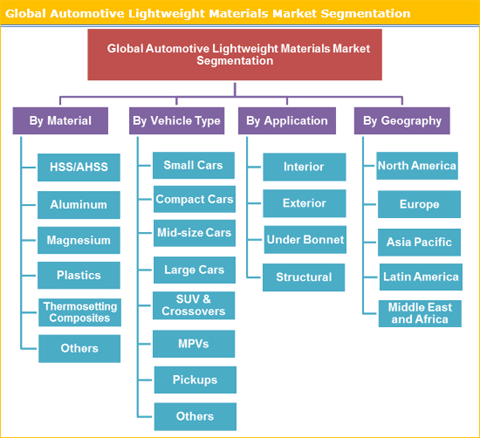 The report titled "Automotive Lightweight Materials Market - Growth, Future Prospects and Competitive Analysis, 2017– 2025" offers strategic insights into the automotive lightweight material market along with the market size and estimates for the duration 2015 to 2025. The said research study covers in-depth analysis of multiple market segments based on material, application, and cross-sectional study across different geographies. The study covers the comparative analysis of different segments for the years 2016 & 2025. The report also provides a prolific view on market dynamics such as market drivers, trends, restraints and opportunities. The report incorporates a separate section highlighting key trends analysis of the overall automotive lightweight material market.
In order to help the strategic decision makers, the report also includes profiles of the leading automotive lightweight material manufacturers, their business strategies and key developments. Some of the major players profiled in the report are Alcoa, Inc., BASF SE, Thyssenkrupp AG, Covestro AG, Arcelormittal S.A., Lyondellbasell Industries N.V., Novelis, Inc., Toray Industries, Inc., PPG Industries, Inc., and Owens Corning. The section further includes a brief on key strategies adopted by the major players operating in the market. Other in-depth analysis provided in the report includes:
Current and future market trends to justify the forthcoming attractive markets within the automotive lightweight materials market
Market drivers, market impediments, and their impact on the market growth
In-depth competitive environment analysis
Trailing 2-Year market size data (2015 – 2016)
SRC (Segment-Region-Country) Analysis
Overall, the research study provides a holistic view of the automotive lightweight materials market, offering market size and estimates for the period from 2017 to 2025, keeping in mind the above mentioned factors.