Rising vehicle maintenance and repair expected to bolster the demand for automotive refinish coatings
Automotive refinish coatings market expected to grow with a CAGR of 6.5% during the forecast period from 2018 to 2026. Automotive refinish coatings are products that enhance the appearance of vehicles subjected to accidents and wear & tear damages. Moreover, refinish coatings protect the surface of the vehicle from further damages including UV exposure, stones, debris, pebbles, and extreme temperatures. Rising disposable income and the adoption of newer technologies is expected to propel the market growth in terms of maintenance. China leads the number of road accident fatalities followed by India and Brazil. Lack of proper roads, highways and safety rules in developing countries are the prime cause for the growing number of accidents. Axalta Coating Systems expected to be one of the most prominent player and accounted for a quarter of the market share in 2017. Superior environment friendly corrosion protection waterborne coatings and lush base coats provided by Axalta leads to flawless finish even during toughest weather and variant road conditions.
Market Synopsis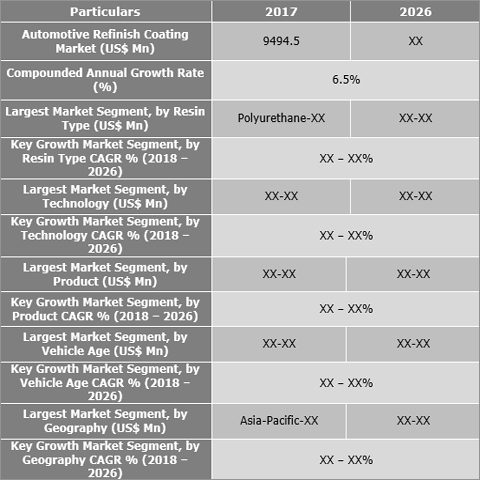 Polyurethane coatings propelling the growth of automotive refinish coating market
In 2017, polyurethane resins accounted for the major market value and is projected to maintain its dominance throughout the forecast period. Polyurethane resins are widely deployed in automotive refinish coatings owing to their superior properties such as exceptional performance in various environmental conditions as well as resistance to extreme temperatures. Polyurethane allows the paint and coatings to be formulated to superior gloss levels, and thus, offers consistent finish and improved self-cleaning by easy removal of dirt & dust by water. In addition to it, acrylic resins are expected to witness remunerative growth throughout the forecast period owing to its increasing use in paints and coatings due to excellent aesthetics, performance and lower costs in terms of price.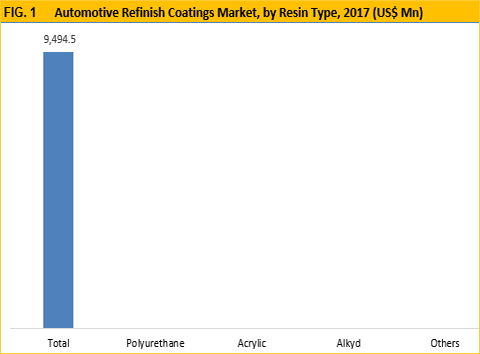 Waterborne coatings segment to record highest CAGR during the forecast period
Waterborne technology is superior compared to solvent borne technology on account of properties including environment friendly nature, accurate mixing, easier blending, superior metallic control, higher opacity, lesser product needed and low hazardous waste. Waterborne coatings comprise 80% of water content along with small quantities of solvents including glycol ether. Majorly used waterborne coatings include water-soluble paints, water-dispersible paints, water-based alkyds and emulsions. Adherence to regulations levied in the U.S. and Europe pertaining to the VOC (Volatile Organic Compounds) content in coatings is expected to play a crucial role in driving waterborne coatings market growth. In 2017, solvent borne technology segment held largest market share by value and expected to maintain its position throughout the forecast period. Axalta Coating System is amongst the prominent players offering solvent borne coatings as these coatings contain high level of organic compounds that facilitate quick drying and formation of regular & durable paint films on automotive surfaces. However, recent, developments in technology and innovation has led to the development of high solid formulations. High solid formulations are widely used owing to high quality finish and reduced emissions expected to provide solutions to paint suppliers and automotive refinishers. High solid coatings are widely used owing to excellent operational benefits including easy color blending along with easy application of thick and thin coats. Growing demand for high solids technology on account of environmental benefits such as low VOC and overspray is expected to spur the market growth.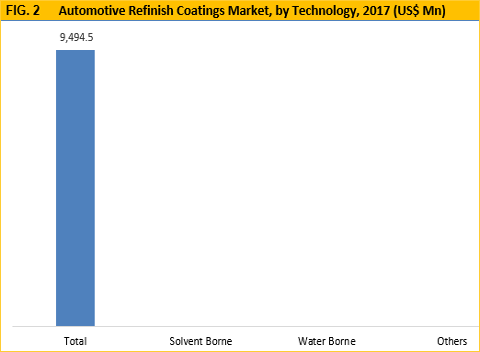 Basecoat product segment to record highest CAGR during the forecast period
Automotive basecoat formulations, owing to its lower volatile organic compound (VOC) content and low odor is particularly used for interior automotive basecoats, which acts as a prime factor for market growth. Moreover, basecoat widely used as automotive refinish coatings owing to excellent corrosion control, color effects and superior coverage over metallic surface and expected to drive market growth. Automotive basecoat is applied immediately after primers as to provide visual properties, color along with improved aesthetic appeal to the product. Basecoat used in automotive refinish coatings are usually divided into metallic, solid and pearlescent paints. Increasing demand for solid paints in motorcycles, trucks and cars owing to ease of application coupled with basic color effect will fuel market growth. Metallic paint is used in automotive refinishing on account of creating grainy and sparkling effects along with consistent finish to metallic surfaces. Pearlescent paint is final basecoat used in automotive refinishing in order to impart color sparkle and improve the overall look of the automotive product. Activated basecoat creates a cohesive bond with the foundation coat along with glossy finish, thus enhancing the market growth.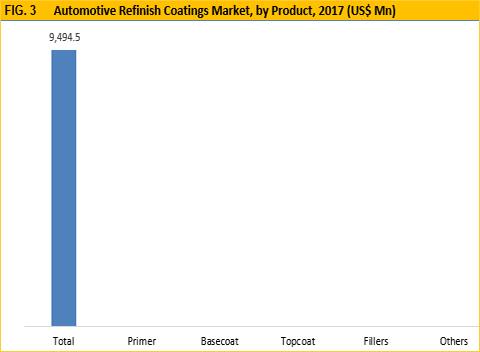 5 to 10 Years vehicle age segment to record highest CAGR during the forecast period
Consumers tend to spend less on vehicles on account of rising vehicle prices, costly finance schemes, heavy loan interest rates and financial glitches. Vehicle aged between 5 to 10 years require more maintenance and repair as well as paint works owing to fading color and metallic corrosion. This segment is estimated to witness highest growth rate owing as consumers generally install aftermarket paints and equipment in their aged vehicles to maintain and provide their vehicles a fresh look. This is expected to be the key aspect for market growth. Built quality of cars and trucks has drastically improved leading consumers to retain their existing vehicles. Moreover, road accidents leads to vehicle damage and thereafter unwanted consequences. Automotive refinish coatings market is expected to witness significant growth in this market segment on account of repairs owing to ageing vehicles, growing road accidents and demand for aftermarket modifications.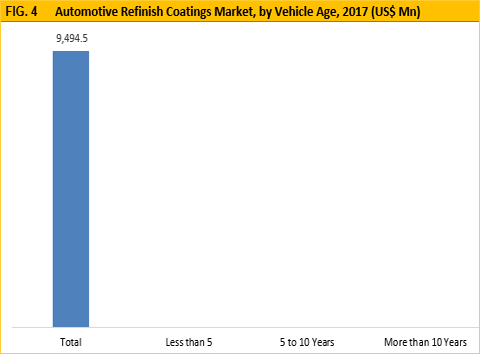 Rapid demand for automotive refinish coatings in Asia Pacific projected to catapult the market growth
North America with key players located there stands distinctly with a significant market share owing to robust manufacturing base and rapid growth of automotive industry, especially, in the U.S. This is projected to augment the demand for vehicle sales and will therefore, drive the need for repair, maintenance and customization over the upcoming years. Asia Pacific, on the other hand is recognized as the fastest growing markets tailing Europe owing to presence of robust manufacturing base of automotive industry in China, Japan and India along with increasing passenger vehicles sales. Less developed road networks, lack of proper security laws and rising need for vehicle maintenance & repair are expected to have a positive impact on the automotive refinish coatings market. However, development and expansion of road networks in China, India and Malaysia amid the commitment of governments towards infrastructure improvement is expected to decrease vehicles accident in the region and expected to restrain the market in the near future.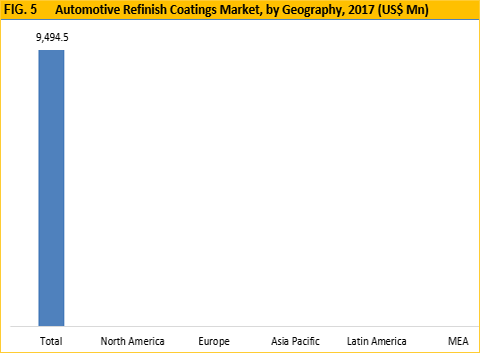 Investment of €140 Million in China, BASF is one of the promising players in the automotive refinish coatings market
In December 2017, BASF, opened a world scale automotive coatings plant in Shanghai, China valued at Euro 140 million. This expansion complemented the existing production facility of automotive coating plant developed as a joint venture between BASF and Shanghai Huayi Fine Chemical Co., Ltd. This strategic move by BASF will support the growth of performance coatings business in China. The new plant will help BASF in strengthening its market position in entire Asian economy by increased local production capacity of waterborne coatings and support to customer industries. Other notable players in the market include Nippon Paints, Kansai Paint, Valspar Corporation, KCC Corporation, and Berger Paints.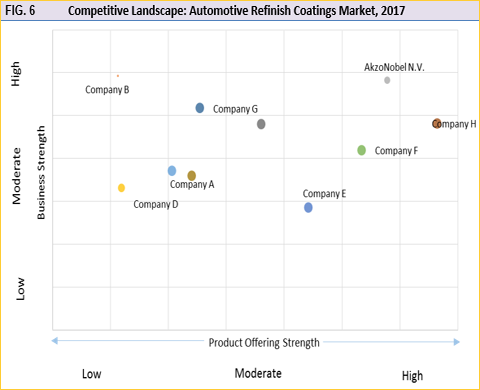 Historical & Forecast Period
2016 – Historical Year
2017 – Base Year
2018-2026 – Forecast Period
This research report presents the analysis of each segment from 2016 to 2026 considering 2017 as the base year for the research. Compounded Annual Growth Rate (CAGR) for each respective segments are calculated for the forecast period from 2018 to 2026.
Report Scope by Segments
Automotive refinish coatings market report presents the current market dynamics along with quantitative analysis of the global market. The report elucidates the detailed outline of global automotive refinish coatings market by categorizing the market in terms of resin type, technology, product, vehicle age and geography. The objective of publishing this extensive research report is to aid the chemical and coating professionals and market stakeholders in making better decisions and strategic initiatives in the automotive refinish coatings market.
Resin Type Segment (2016–2026; Kilotons, US$ Mn)
Acrylic
Alkyd
Polyurethane
Others (Epoxy, Nitrocellulose, etc.)
Technology Segment (2016–2026; Kilotons, US$ Mn)
Solvent Borne
Water Borne
Others (High Solids and Powder)
Product Segment (2016–2026; Kilotons, US$ Mn)
Primer
Basecoat
Topcoat
Fillers
Others (Putty, Activators, etc.)
Vehicle Age Segment (2016–2026; Kilotons, US$ Mn)
Less than 5 Years
5 to 10 Years
More than 10 Years
Geography Segment (2016–2026; Kilotons, US$ Mn)
North America

Europe


Germany
UK
France
Rest of Europe

Asia Pacific (APAC)


Japan
China
India
Rest of APAC

Latin America (LATAM)


Brazil
Mexico
Rest of Latin America

Middle East and Africa (MEA)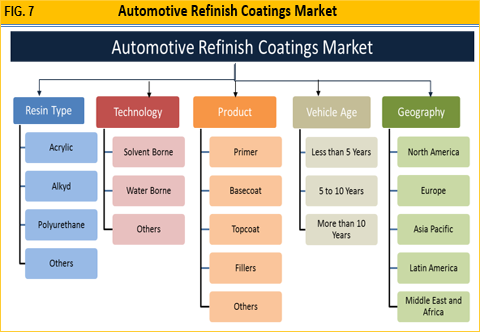 This research report further describes the major qualitative market assessment factors including key market trends, market drivers and restraints, to aid in better understanding of global automotive refinish coatings market. Each market assessment factor including market drivers, challenges and opportunities are extensively explained considering the current market scenario. This report graphically maps the market players based on their market initiatives and strategies, product offering and business strength. Furthermore, the report provides attractive investment proposition based on the extensive geographical research. Key players profiled in the report include Axalta Coating Systems, AkzoNobel, BASF SE, Bayer AG, Berger Paints, Clariant, Kansai Paints, KCC Corporation, Nippon Paints, PPG Industries, and Valspar Corporation.
Key questions answered in this report
What are the current market trends in the automotive refinish coatings market and valuable opportunities for the players?
How the regulatory framework affects the global as well as the regional markets?
Which are the prominent technologies and recent innovations in the market?
Which is the most successful business model implemented in the market?
How does the regulations over the volatile organic compound emissions from automobile refinishing affect the overall market?
What is the market size and trend in emerging markets such as China, India and Brazil?
Which are the prime coatings consumed among different geographies?
Which is the most promising upcoming technology?